FRESH STRAWBERRY SYRUP RECIPE
For this fresh no added sugar Strawberry Syrup recipe, take a handful of strawberries (preferably organic) and place them into a high power blender.
Blend on the highest speed possible for 60 – 90 seconds or until you've reached a smooth syrup.
You can add a tablespoon of water if you'd like.
This recipe has no preservatives, no additives, and no added sugars – you can easily make fresh strawberry syrup in seconds, perfect as a topping for your pancakes or waffles, or ice cream!
Be sure to join our blending-loving tribe for more healthy blender recipes. If you try this one, share your rating with us. 🙂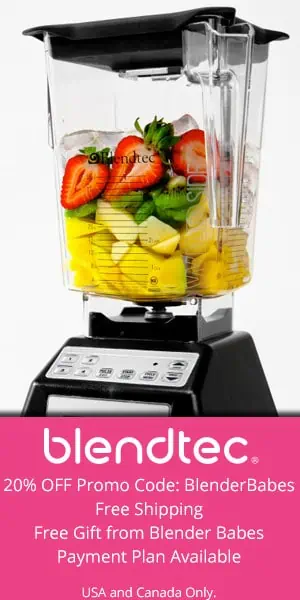 (Note: Blender Babes now wear Activewear!)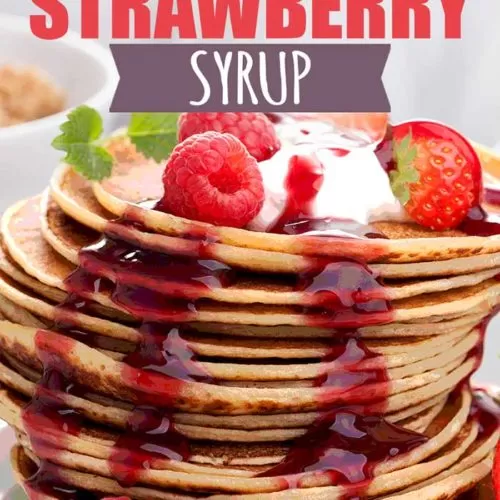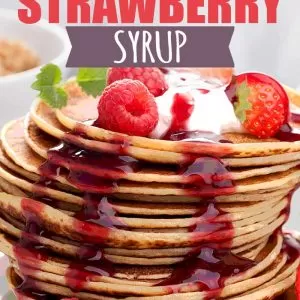 Strawberry Syrup
Ingredients
5 - 25

Strawberries

Organic

1

tablespoon

filtered water

optional
Instructions
Place all ingredients into the blender and secure lid.

For Blendtec:

: Press the SOUPS/SYRUPS button or blend on a High speed for 90 seconds

For Vitamix:

Select VARIABLE, speed #1. Turn machine on and slowly increase speed to VARIABLE, speed #10, then flip it to high. Blend for 90 seconds using tamper as needed, until desired consistency is reached.

All done! Enjoy!! Now take a photo, rate it, and share your accomplishments! 🙂 Tag @BlenderBabes & #BlenderBabes
Notes
For Blendtec: Use Fourside or Twister jar For Vitamix: Use any jar
HEALTH BENEFITS & FUN FACTS
Homemade is usually best, and the case of strawberry syrup is no exception! Just see below all the ingredients often found in strawberry syrup with artificial strawberry flavoring.

Here are the ingredients in Artificial Strawberry Flavoring:

Amyl butyrate, amyl acetate, amyl valerate, anethol, anisyl formate, benzyl acetate, benzyl isobutyrate, butyric acid, cinnamyl isobutyrate,cinnamyl valerate, cognac essential oil, diacetyl, dipropyl ketone, ethyl butyrate, ethyl cinnamate, ethyl heptanoate, ethyl heptylate, ethyl lactate, ethyl methylphenylglycidate, ethyl nitrate, ethyl propionate, ethyl valerate, heliotropin, hydroxyprenyl-2-butanone (10 percent solution in alcohol), a-ionone,  isobutyl anthranilate, isobutyl butyrate, lemon essential oil, maltol, 4-methylacetophenone, metyl anthranilate, methyl benzoate, methyl cinnamate, methyl heptine carbonate, methyl naphtyl ketone, methyl salicylate, mint essential oil, neroli essential oil, nerolin, neryl isobutyrate, orris butter, phenyl alcohol, rose, rum ether, y-undecalactone, vanillin, and solvent.
Scary right??! Obviously it's MUCH BETTER to use fresh strawberries ONLY, to make a healthy strawberry syrup!