SLIMMED-DOWN SHAMROCK SHAKE RECIPE

It's been a long time since we've indulged in the chemical wasteland that is McDonald's, but it's hard to avoid craving their seasonal treats like the super-popular Shamrock Shake! Something about "limited time only" brings us to our knees.
But our shockingly super healthy version is dairy-free, almost fat-free, packed with a protein boost, and doesn't have ANY of those hard-to-pronounce chemical ingredients of the original.
Just toss everything into your Blendtec or Vitamix blender and let it do the work!
You could do it in a "regular" blender as well (just use fresh banana and more ice).
We tested this all kinds of ways – with and without protein powder, using fresh mint as well as peppermint essential oil.
You can also make this a a make this a mint chocolate chip treat by tossing in some raw cacao nibs before serving.
Love our healthy smoothie recipes? Be sure to join our community for more seasonal treats and healthy alternatives to your favorites! 🙂 Share your rating below if you try this one at home!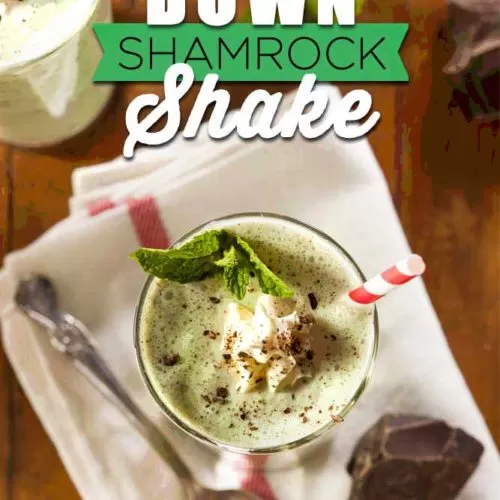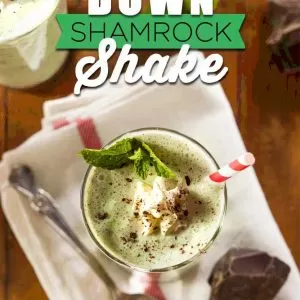 Slimmed-Down Shamrock Shake
Ingredients
1

cup

milk substitute

unsweetened or vanilla

2

frozen bananas

sliced

4

drops mint essential oil OR 1/2 teaspoon mint extract OR 1 cup fresh mint leaves

1.5

teaspoon

vanilla extract

if using plain milk and/or protein powder

1

teaspoon

liquid sweetener of choice

Stevia powder (1 packet) or a few drops of liquid Stevia

2

cups

spinach

1

scoop Vanilla Protein Powder

such as VegaOne

1

cup

ice*

Whipped cream or Vegan Whipped Cream

optional, to garnish
Instructions
Place the ingredients into your blender jar in the order listed (if adding the protein boost, put them in before spinach or ice).

For

Blendtec

: Press the SMOOTHIE button.

For

Vitamix

: Select VARIABLE, speed #1. Turn on machine and quickly increase speed to #10/HIGH. Blend for 60 seconds or until smooth.

Pour into a chilled glass to prevent melting (McD's keeps it frosty with chemicals!), top with

whipped cream

if you like, and sprinkle some extra mint or sprinkles on top before digging in!

All done! Enjoy!! Now take a photo, rate it, and share your accomplishments! 🙂 Tag @BlenderBabes & #BlenderBabes
Notes
* For a creamier texture and another 100 calories, sub the ice for another frozen banana.
Nutrition
Serving:
16
g
Calories:
282
kcal
Carbohydrates:
40
g
Protein:
17.6
g
Fat:
5.3
g
Saturated Fat:
0.7
g
Polyunsaturated Fat:
2.7
g
Sodium:
218
mg
Fiber:
9.7
g
Sugar:
17
g
HEALTH BENEFITS & FUN FACTS

McDonald's Shamrock Shake Ingredients:

Vanilla ice cream: Milk, Sugar, Cream, Nonfat milk solids, Corn syrup solids, Mono- and Di-glycerides, Guar gum, Dextrose, Sodium Citrate, Artificial vanilla flavor, Sodium phosphate, Carrageenan, Disodium phosphate, Cellulose gum, Vitamin A palmitate Shamrock Shake syrup: High fructose corn syrup, Corn syrup, Water, Sugar, Natural flavor (Plant source), Xanthan gum, Citric acid, Sodium benzoate, Yellow 5, Blue 1 + more bad stuff in their "Whipped Cream" & "Maraschino Cherry".

Nutrition Facts: 660 calories, 14g protein, 19g fat (29% daily value), 109g carbs (36% daily value), 93g sugar 510mg calcium (50% daily value), 210mg sodium 75mg cholesterol.

Blender Babes' Slimmed-Down Shamrock Shake: 

Shake: All natural & vegan. One cup of spinach has so much nutrition that it takes this recipe beyond Skinny Shamrock Shake status into SUPER HEALTHY shake land!

Just one cup has 20% of your RDA for dietary fiber, tons of cancer-fighting flavinoids, and two epoxyxanthophylls are present in irregularly high amounts, which will fight inflammation.

The vitamin C, vitamin E, beta-carotene, manganese, zinc and selenium  in spinach all act as powerful antioxidants that fight the onset of osteoporosis, atherosclerosis and high blood pressure.

Both lutein and zeaxanthin are especially bountiful in spinach and protect the eyes from cataracts and macular degeneration.

Spinach is great for your skin, too – drinking this shake is definitely a great, nutritional boost to your day! Vega Protein Powder alone adds – 50%+ of the following vitamins & minerals: Omega 3s, zinc, selenium, phosphorus, manganese, magnesium, iron, copper, calcium, vitamin k, vitamin e, vitamin d, vitamin c, vitamin a, vitamin b6, b5, b3 (niacin), b2 (riboflavin), b12, b1.

Nutrition Facts:(without protein powder) 143 calories, 3g protein, 2g fat, (3% daily value), 32g carbs (25% daily value), 18g sugar, 268mg calcium (27% daily value), 100mg sodium, 0mg cholesterol. Nutrition Facts:(with protein powder)383 calories, 19g protein, (62% daily value), 8g fat (12% daily value), 54g carbs (42% daily value), 19g sugar ,1365mg calcium (137% daily value), 100 mg sodium, 0mg cholesterol, 84% of daily fiber, Per 2 tablespoons of vegan whipped cream add 100 calories.