VITAMIX SIMPLE BLOODY MARY RECIPE (FROZEN!)
This simple Bloody Mary recipe is a frozen version of the classic brunch cocktail, perfect for a hot summer day.
It will remind you of a "true" tomato Bloody Mary but will keep you cool as a cucumber.
It has a slushy smooth texture with a full-bodied taste.
You may be surprised this recipe uses lemon rather than lime juice, but it really works!
Those that love tomato juice will really like this Bloody Mary recipe for your blender.
You can use store bought tomato juice, or make your own by just using fresh tomatoes!
Use a high speed blender, like a Blendtec or Vitamix for the best consistency, and join our community for more nutritious smoothie recipes! Tell us what you think about this Bloody Mary recipe by sharing your rating of it below!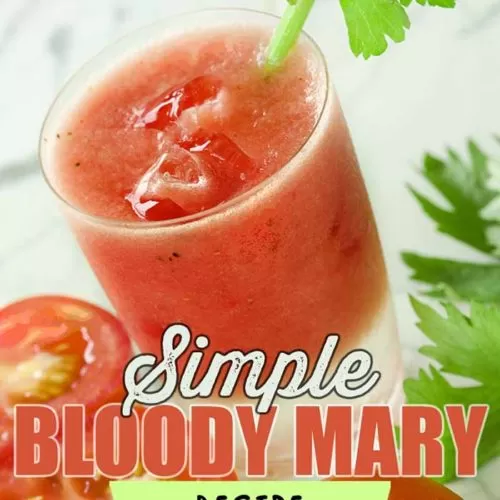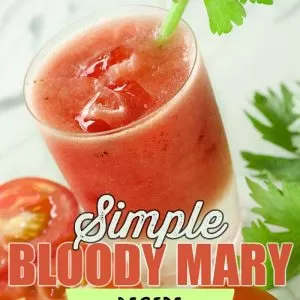 Vitamix Frozen Bloody Mary
Ingredients
3

cups

tomato juice

1

cup

beef or vegetable broth

1

tbsp.

fresh lemon juice

1

tsp

Worcestershire sauce

splash of hot sauce

4

oz

vodka

optional
Instructions
Combine tomato juice, beef or veggie broth, lemon juice, Worcestershire sauce and hot sauce in a non-metal container. Cover and freeze for 5 hours.

Break up frozen mixture into large chunks.

Place mixture and optional vodka if desired and secure lid.

For

Blendtec

PULSE until desired texture is reached.

For

Vitamix

Select Variable Speed 3. Pulse* a few times until slushy, using the tamper to press ingredients towards the blade.

All done! Enjoy!! Now take a photo, rate it, and share your accomplishments! 🙂 Tag @BlenderBabes & #BlenderBabes
Notes
Try adding celery salt, onion powder, horseradish and/or pepper to taste.
Nutrition
Serving:
2.5
g
Calories:
190
kcal
Carbohydrates:
18.5
g
Protein:
3.5
g
Fat:
0.9
g
Saturated Fat:
0.2
g
Polyunsaturated Fat:
0.4
g
Trans Fat:
0.2
g
Cholesterol:
1
mg
Sodium:
1159.7
mg
Fiber:
1.4
g
Sugar:
12.8
g
BLENDER BABES RECIPE TESTER NOTES
I added 1/2 tsp garlic powder, 1/2 tsp onion powder, and 1/2 more worcestershire sauce plus a few grinds of black pepper. 
I used pepper/pepar vodka, would also be FABULOUS with bacon vodka! I really enjoyed this, will definitely be making again.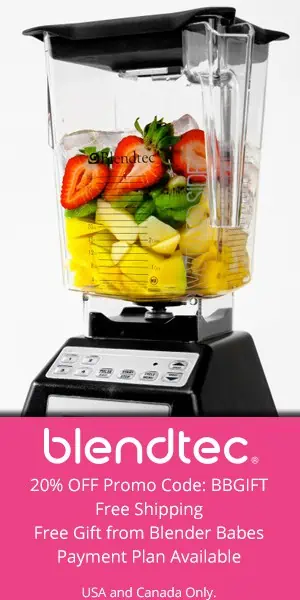 When it came to freezing the mix, I put it in a big plastic bowl and froze it for 4.5 hours but mixed it up each hour to make sure not to end up with a solid block and liquid center.
TOMATOES HEALTH BENEFITS AND FUN FACTS
A tomato is actually a fruit, not a vegetable. Originating in South America, the tomato was spread around the world following the Spanish colonization of the Americas, and its many varieties are now widely grown, often in greenhouses in cooler climates.
One of the most well known tomato eating benefit is its Lycopene content.
Lycopene is a vital anti-oxidant that helps in the fight against cancerous cell formation as well as other kinds of health complications and diseases.
Free radicals in the body can be flushed out with high levels of Lycopene, and the tomato is so amply loaded with this vital anti-oxidant that it actually derives its rich redness from the nutrient.
Lycopene is not a naturally produced element within the body and the human body requires sources of Lycopene in order to make use of this powerful anti-oxidant.
While other fruits and vegetables do contain this necessary health ingredient, no other fruit or vegetable has the high concentration of Lycopene that the tomato takes pride in.