SUPER EASY BABA GANOUSH RECIPE

I LOVE mediterranean food! So I was on a mission to find the best (and easiest) Baba Ganoush recipe I could – given that I order it every time we check out a new restaurant that has it on the menu.
Although I'm a total hummus addict, I love the way baba ganoush gets me to eat eggplant more often, since the only other way I usually eat it is breaded and baked or fried!
It's sooooo good for you, with very few calories, is low carb and high in fiber.
SCORE! Of course a food processor or a high powered blender, like a Blendtec or Vitamix, makes this baba ganoush recipe a BREEZE (I usually make this with my Blendtec Twister Jar), however it's so soft you can also just mash it all together in a bowl! 🙂
Make sure to join our blending community for more healthy dip recipes. If you try this recipe, be sure to rate it in the comments for everyone! HAPPY BLENDING!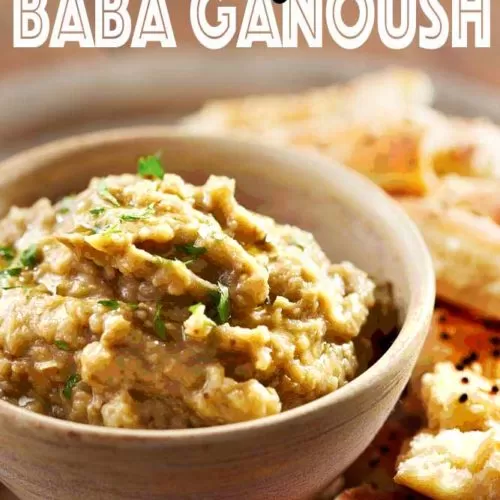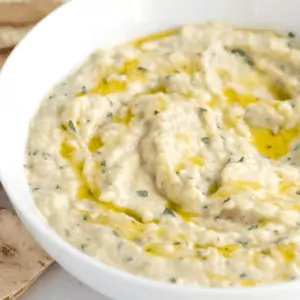 Easy Baba Ganoush Recipe
Ingredients
1

large eggplant

1/4

cup

tahini

plus more as needed

3

garlic cloves

minced

1/4

cup

lemon juice

plus more as needed

1

pinch

ground cumin

salt

to taste

1

tablespoon

extra virgin olive oil

1

tablespoon

chopped fresh flat-leaf parsley

1/4 cup

brine-cured black olives

such as kalamata (optional)
Instructions
Preheat an oven to 375°F. *

Place eggplant on a baking sheet and bake until very soft, about 40-45 minutes.

Remove from the oven, let cool slightly, and peel off and discard the skin.

Place the eggplant flesh in your blender jar. **

Add the 1/4 cup tahini, the garlic, the 1/4 cup lemon juice and the cumin and blend until smooth.

For Blendtec: Using any jar (the

Twister Jar

works best) press the DIPS/BATTERS/SALSA button OR Blend on a Medium to Medium-Low speed for 30 seconds. If necessary, stop machine and use a spatula to press ingredients towards the blade and follow same steps.

For Vitamix: Start on Variable 1, turn machine on and slowly increase speed to Variable 10/High. Blend using the tamper to press the ingredients into the blades, or until smooth.

Season with salt, then taste and add more tahini and/or lemon juice, if needed.

Transfer the mixture to a serving bowl and spread with the back of a spoon to form a shallow well.

Drizzle the olive oil over the top and sprinkle with the parsley. Place the optional olives around the sides if using and serve at room temperature.

All done! Enjoy!! Now take a photo, rate it, and share your accomplishments! 🙂 Tag @BlenderBabes & #BlenderBabes
Notes
* If you want to grill the eggplant which adds a nice flavor, do the following.
Prick the eggplant with a fork in several places and place on the grill rack 4 to 5 inches from the fire. Grill, turning frequently, until the skin blackens and blisters and the flesh just begins to feel soft, 10 to 15 minutes. Transfer the eggplant to a baking sheet and bake until very soft, 15 to 20 minutes.
** For a chunkier baba ganoush, only add half the eggplant to your jar and at the end at the other half and PULSE to break up and leave chunks.
Nutrition
Serving:
0.25
cup
Calories:
117
kcal
Carbohydrates:
8.7
g
Protein:
2.6
g
Fat:
8.8
g
Saturated Fat:
1.1
g
Polyunsaturated Fat:
2.6
g
Trans Fat:
3.6
g
Sodium:
122.7
mg
Fiber:
2.9
g
Sugar:
0.3
g
EGGPLANT HEALTH BENEFITS
Eggplant is low in calories, weighing in at under 30 calories per cup!  It comes loaded with vitamins and minerals, but its health benefits extend beyond just adding vital nutrients to a meal.
Once you realize how beneficial eggplant is to your health, you may want to give more consideration to it becoming a regular part of your diet.
Eggplant is an excellent source of dietary fiber, which can help protect against type 2 diabetes and keeps the digestive system regular and is also rich in minerals, boasting a large quantity of potassium, magnesium, calcium and phosphorous.
The vitamins in eggplant consist primarily of vitamin A (in the form of beta-carotene), B vitamins, folate and vitamin C.
With six carbs, no fat and very few calories in a 1-cup serving, eggplant makes a wonderful addition to any diet.