VEGAN CHEESE STUFFED MUSHROOMS RECIPE
If you love stuffed mushrooms, you will love this creamy vegan cheese center married to this juicy mushroom.
Pop one in your mouth and they just explode with herb and garlic flavor! Melt-in-your-mouth and totally party worthy (i.e. bring these to your next summertime BBQ or event in need of dairy-free or vegan appetizers, everyone will want the recipe!).
The mushrooms baked become quite meaty. This is a perfect dish as an appetizer but also a main course with a salad and fruit on the side. 
Our recipe testers LOVED THIS recipe, so don't be afraid to try it!
Easily blend up the vegan cheesy goodness in your Blendtec or Vitamix blender and stuff those mushrooms! Be sure to join our community for new appetizers and other healthy recipes from Blender Babes and our friends! Let us know what you think by rating this recipe in the comments. 🙂 HAPPY BLENDING!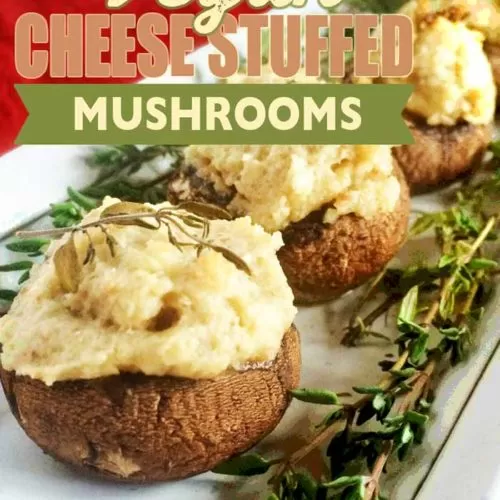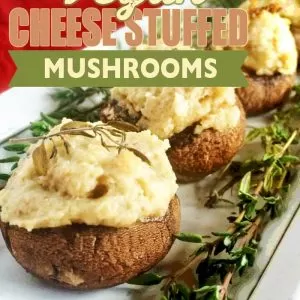 Vegan Cheese Stuffed Mushroom
Ingredients
24

Crimini Mushrooms

Vegan Cheese

1

cup

cashews

soaked at least 2 hours

1/2

cup

almonds

soaked overnight, or for 1 hour with boiling water poured on them

2

tbsp

olive oil

1

tbsp

avocado oil

1

tbsp

tahini

4

tbsp

lemon juice

3/4

tsp

rosemary

1/2

tsp

thyme

1 12

tsp

salt
Instructions
Soak the almonds overnight (or for 1 hour with boiling water poured on them) in water. Make sure the water covers the almonds.

Soak the cashews in water for at least 2 hours. Make sure the water covers the cashews.

Take a damp paper towel and wipe down each mushroom. Twist each mushroom stem out to create a hollow center.

Preheat Oven to 350°F.

Put all ingredients into high power blender (EXCEPT MUSHROOMS), secure lid and blend until smooth.

For

Blendtec

: Press the SMOOTHIE button or blend on a Low speed for 10 seconds, then a Medium to Medium-Low speed for 10 seconds, then Medium to Medium-High speed for 40 seconds. Do this for two cycles. Add dash of water per cycle to make it softer.

For

Vitamix

: Select VARIABLE, speed #1. Turn machine on and slowly increase speed to VARIABLE, speed #10, then to HIGH. Blend for 1 minute and 45 seconds, using the tamper to press the ingredients into the blades.

Spoon Vegan Cheese into tops of mushrooms.

Top each mushroom with a sprig of Thyme

Bake at 350°F for 30 minutes

All done! Enjoy!! Now take a photo, rate it, and share your accomplishments to enter our

weekly photo contest

! 🙂 Tag @BlenderBabes & #BlenderBabes
Nutrition
Serving:
4
g
Calories:
293
kcal
Carbohydrates:
20.2
g
Protein:
6.8
g
Fat:
22.9
g
Saturated Fat:
2.6
g
Polyunsaturated Fat:
10
g
Sodium:
649
mg
Fiber:
3.4
g
Sugar:
2.9
g
BLENDER BABES RECIPE TESTER NOTES
"Tasted like Herb Cream Cheese, which surprised me cause sometimes you can tell that it is fake cheese, not the real stuff.
But this one, it tasted like cream cheese spiked with herbs and spices.
Perfect texture of cream chesse as well! Really good for Vegan Cheese." and "I made this again for a party, I added 2 cloves of roasted garlic and it tasted more of Herb and Garlic Cheese type, really amazing!" and "When I made it for a second time, I had some leftovers and I used it as spread on my crackers, mmmm!" and "You have to love mushrooms to appreciate the aroma as they cook.
Yum-my! These smelled awesome and tasted great. Reminded me of a big dinner being cooked.
Don't forget to scrape the jar and eat the remaining filling!"
HEALTH BENEFITS OF EATING MUSHROOMS

Mushrooms are the only vegan source of Vitamin D.
Did you know that most Americans have a Vitamin D deficiency? Especially in the winter, many people do not get enough of vitamin D, which comes from the sun.
Mushrooms are exposed to sun during the farming process and then contain up to 20% of your daily value of Vitamin D!
The benefits of normal vitamin D levels include a decreased risk of heart disease, type 2 diabetes, hypertension and colorectal cancer.
You can boost the vitamin D in your mushrooms by putting them in the sun for 20 minutes before eating, but not for too long, or they will become wrinkled and not nearly as delicious.
Save your skin and get your Vitamin D through your diet with mushrooms!