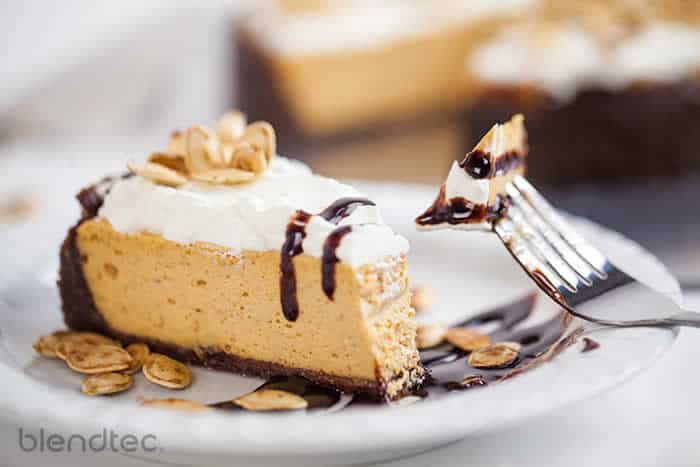 REDUCED CALORIE PUMPKIN CHEESECAKE & GINGERSNAP CRUST RECIPE
Complete your healthy holiday with this twist on traditional pumpkin pie: smooth, rich and delicious pumpkin cheesecake in a super easy-to-make homemade gingersnap crust! The gingersnap crust reduces calories quite a bit from traditional crusts which are typically made from graham crackers and shortening. We've even tested this using gluten free gingersnap cookies to make this a gluten free dessert! We recommend making this reduced calorie pumpkin cheesecake, a day or more before desired, as it will have to set in the refrigerator for 10-12 hours. Make is extra decadent with fresh whipped cream and a drizzle of chocolate sauce! Your Blendtec or Vitamix will easily blend the cream cheese, nuts, and gingersnaps! You can use canned or make your own homemade pumpkin puree for the batter.
Be sure to join our community for more baking and dessert recipes! Let us know what you think by sharing your rating with us in comments section below if you try this one.
HEALTH BENEFITS OF PUMPKIN AND WALNUTS
Pumpkin is packed with fiber – one cup has up to 1/3 of your recommended daily allowance – and vitamin A, vitamin K, and vitamin C. Vitamin K is an often-overlooked vitamin that is found in a surprising number of foods: ALL greens, blueberries, and pumpkin, just to name a few. Vitamin K builds bones by retaining calcium and protects your heart. One cup of pumpkin has half of your RDA for Vitamin K!
Walnuts are another nutrition-packed part of this healthy cheesecake recipe. Packed with omega-3s, walnuts are a good choice to protect brain health. Studies have linked many health problems to omega-3 deficiency. Though nuts are high-calorie, they're super healthy in moderation, so definitely don't forget them when making the yummy gingersnap crust for this pumpkin cheesecake recipe!