MINI STRAWBERRY TARTLETS RECIPE WITH LEMON ROSE CUSTARD CREAM
Need a last minute vegan Valentine's Day dessert? This strawberry tartlets recipe was so fun to make!
Also an awesome project that you can assemble with someone you love, especially the strawberry flowers!
I usually focus on nutrition, but this time I would rather just be in awe of how beautifully strawberry, lemon, and rose go together.
The flavors are just amazing. Like melt-in-your-mouth and savor the moment amazing!
It takes strawberries and cream to a whole new wow factor.
If you like rose-flavored desserts, you will be craving this every night.
With a gluten-free crust and vegan custard cream, this healthy dessert is suitable for types of lifestyles and diets!
Special Note: For the rosewater, I got it at an ethnic grocer location. If you don't have it, you can easily make it by taking fresh rose petals, boiling in water (two times the amount of rose petals) for about 15 minutes and straining the water out after it cools. Orange blossom or almond extract may work as well.
You can use a food processor or a power blender (such as a Blendtec or Vitamix) for this recipe.
Be sure to join our blending-loving tribe for more healthy Valentine's Day recipes from Blender Babes and our friends!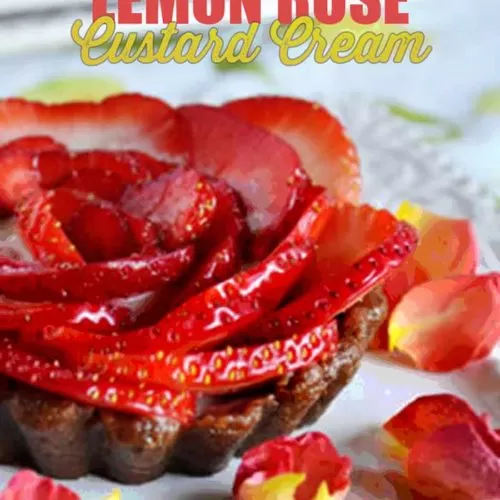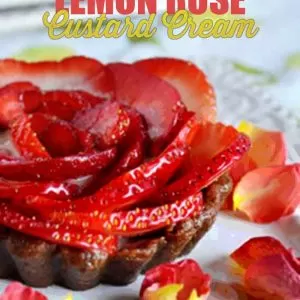 Mini Strawberry Tartlets Recipe
Ingredients
2

cartons of freshly sliced strawberries

see directions for strawberry flowers
Crust:
1/2

cup

mulberries

we like Navitas Naturals

3/4

cup

gluten-free oats

make sure they are not contaminated by wheat fields

1/4

cup

pecans

1

large date

chopped and soaked

2

tsp

maple syrup

optional

pinch

of salt
Lemon Rose Custard Cream:
4

tablespoons

lemon juice

about 2 lemons + zest from 1 lemon*

Flesh from 1 large young coconut

we use a Coco-Jack!

2

dates

1

tbsp

maple syrup

1

tsp

rose water

1

tsp

vanilla powder

you can use extract, it will just make the cream a little darker
Instructions
CRUST

For

Blendtec

: Adds oats and pecans into blender jar, secure lid. Blend on MED-HIGH speed until ground (about 10-15 seconds). Add rest of ingredients and blend on MED-HIGH speed until smooth

For

Vitamix

: All all ingredients to your jar. Start on Variable Speed 1, turn machine on and increase to Speed 10/High and blend until smooth.

Press into 4-6 tartlet pans. Careful to press into the corners so you get a good shape.

Put the tartlet pans in the freezer for 1-2 hours or until they are easily removed. Or just serve the tartlets in the pans.

While the tartlet pans are freezing, open up a coconut and puree the custard cream ingredients.

CUSTARD CREAM

Add all ingredients into your blender jar, secure lid and puree on HIGH until smooth.

For Blendtec: Speed up to 5 for 20 seconds then up to 7 until it turns off.

For Vitamix and other variable speed blenders: Speed #2 for 40 seconds, Speed #1 to start then increasing to Speed # 5 every 10 sec

Once you are ready to serve, remove the tartlets from the freezer and fill each tartlet with about 3 spoonfuls of custard cream each.



INSTRUCTIONS FOR STRAWBERRY FLOWERS

(Note: You can also just lay the slices on the top)

Slice strawberries like petals by slicing horizontal slices. Chop off the stem and keep slicing.

With a round cookie cutter or small espresso cup, create your outer circle of strawberries with each strawberry overlapping at least a quarter of the one before. Use your largest slices on the outside and use the smaller petal slices as you work your way into the center.

If you have a tiny circle round cookie cutter, use that as a guide, or freestyle your petal by continuing to make small overlapping circles with your slices.

After about 3 circle rows, you should be at the center. Put your tiniest slices in the center and you are done.
Notes
* If you prefer a less tart taste, decrease lemon to 2 tablespoons or one lemon.
Nutrition
Serving:
12
g
Calories:
234
kcal
Carbohydrates:
39.3
g
Protein:
4.4
g
Fat:
9.8
g
Saturated Fat:
0.7
g
Polyunsaturated Fat:
3.1
g
Trans Fat:
5
g
Sodium:
63.7
mg
Fiber:
8.8
g
Sugar:
21.5
g
BLENDER BABES RECIPE TESTER NOTES
"Kind of reminded me of a strawberry lemon cheesecake, but a bit more tart.  A strawberry tart. YUM!! I loved this thing. I inhaled it!"
"This was easy to make. I'm sure easier when you have the correct pans, and I didn't let the crust freeze enough.  However, it was delicious! Just let that baby crumble and eat it! Yum." "
It reminded me of this fancy french restaurant located in St. Augustine, FL. They served this amazing dessert with actual rose petals that are coated with sugars. So DELICIOUS!!! So this recipe reminded me soooo much of that place but healthier and DIY French dessert type 😉 People will be shocked when they find out that YOU made them when it looks so FANCY and PRETTY to eat!"
LEMON HEALTH BENEFITS
The health benefits of lemon include its use as a treatment of throat infections, indigestion, constipation, dental problems, and fever, internal bleeding, rheumatism, burns, obesity, respiratory disorders, cholera and high blood pressure, while it also benefits hair and skin care.
Known for its therapeutic property since generations, lemon helps to strengthen your immune system, cleanse your stomach, and it is considered a blood purifier.
Lemon juice, especially, has several health benefits associated with it.
It is well known as a useful treatment for kidney stones, reducing strokes and lowering body temperature.
As a refreshing drink, lemonade helps you to stay calm and cool.