Get FREE eBooks and Downloads for Your Health! Click Here 
JASON WROBEL'S CHOCOLATE CHERRY SUPERFOOD PROTEIN SMOOTHIE RECIPE
This chocolate cherry superfood protein smoothie featuring Sunwarrior protein is the PERFECT beginner smoothie to introduce to your friends and family who may be new to blending.
(Don't have Sunwarrior yet? That's ok, use the protein powder up that you have!) Cherries and chocolate are a heavenly combination in smoothies!
We'd like to think this is a great cross between a nutrition drink and a delicious dessert, because why not have both?
This smoothie recipe is also way high in Vitamin B-12, you don't even have to tell your kids and they will love it just as much as you do!
(If you love this recipe make sure to check out Blender Babes' Cherry Vanilla Crumble smoothie as well!).
A high power blender will handle those goji berries, but if using a "regular" blender just be sure to soak them first!
Be sure to join our community for more healthy smoothie recipes and tips from Blender Babes! If you try this let us know by rating it in the comments. HAPPY BLENDING! 🙂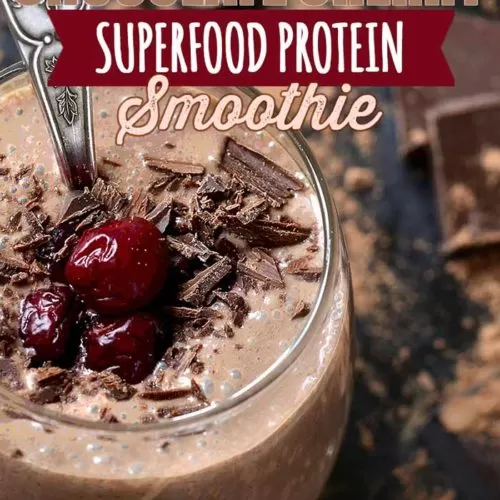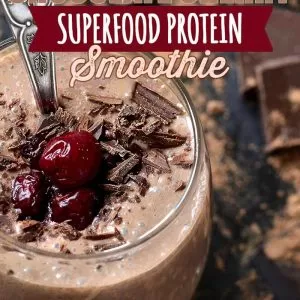 Jason Wrobel's Chocolate Cherry Superfood Protein Smoothie
Ingredients
3/4

cups

coconut milk

3/4

cups

cherries

1/2

banana

1/3

cup

goji berries

1/2

tablespoon

maca powder

,optional

1/2

tablespoon

Sunwarrior Ormus Supergreens

,optional

1/2

Scoop Chocolate Protein Powder

,such as Sunwarrior

1/2

tablespoon

raw cacao

1/2

medium avocado

1/2

cup

ice
Instructions
Place all ingredients into blender in order listed and blend until smooth.

All done! Enjoy!! Now take a photo, rate it, and share your accomplishments to enter our

weekly photo contest!

🙂 Tag @BlenderBabes & #BlenderBabes
Nutrition
Serving:
2
g
Calories:
385
kcal
Carbohydrates:
62.9
g
Protein:
14.9
g
Fat:
12.4
g
Saturated Fat:
4
g
Polyunsaturated Fat:
8.1
g
Sodium:
43.9
mg
Fiber:
13.2
g
Sugar:
31.9
g
HEALTH BENEFITS OF INGREDIENTS

Coconut Milk: protein and lauric acid which is great for the skin
Cherries: great source of ambien which promotes natural falling asleep
Banana: b-vitamins and potassium (which you lose a lot of when you work out)
Goji Berries: excellent source of  amino acids, antioxidants, and polyphenols which are great for muscle building
Maca Powder: a Peruvian root good for libido boosting and for naturally balancing your hormone levels
Sunwarrior Ormus Supergreens: when waking up body is in acidic state so this instantly alkalizes, getting blood levels balanced with a blend of organic grasses
Chocolate Sunwarrior Protein: a plant based protein that also alkalizes the body
Raw Cacao is high in magnesium which is great for heart health and is a natural sleep enhancer.
Remember: The #1 mineral that people are deficient in is magnesium.
Avocado: packed with heart healthy fats also important for men's reproductive health