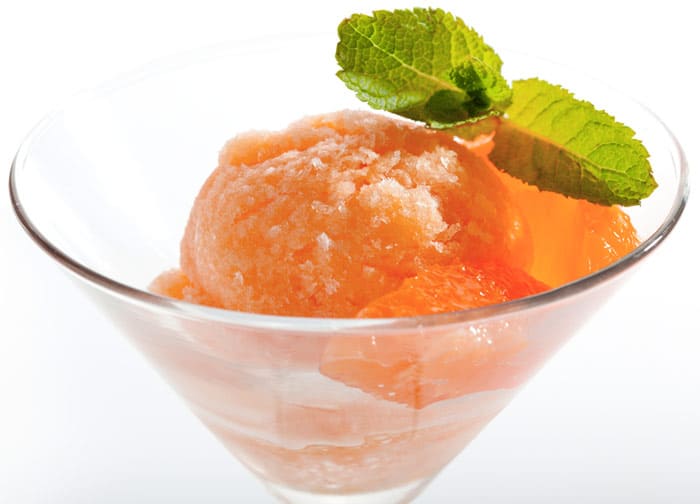 GRAPEFRUIT HONEY SORBET WITH VANILLA AND GINGER RECIPE
This ruby red grapefruit sorbet recipe features honey, vanilla and ginger for a sweet, fruity, refreshing treat. A touch of complexity is added thanks to the vanilla bean and crystallized ginger making it an excellent palate cleanser between courses at luncheons and
holiday
events. If you want more tang, you can either cut back on the amount of honey or add an extra grapefruit. This pretty pink sorbet, so elegant, so proper, gets a big smack of ginger at serving time. Easily blend this up today in your
Blendtec or Vitamix
for the best consistency. If you don't have a high powered blender don't fret, just remove as much grapefruit membrane as you can, for a smooth sorbet.
If you love grapefruit sorbet like we do, this recipe frees you from relying on a manufacturer, and puts you in charge of healthy ingredients! Ruby red grapefruits are full of health benefits, so blend this up today!
Don't forget to join the Blender Babes community for more nutritious dessert recipes!
Tell us what you think of this recipe by sharing your rating with us in the comments section below!
BLENDER BABE RECIPE NOTES
Start this sorbet a few hours before you plan to serve it so the grapefruit has time to freeze. The freshest candied ginger, is often found in the bulk section of the grocery marts (as opposed to that in the baking aisle, which is usually more expensive and almost solidified like a rock). It you find this sorbet too sweet drop the amount of honey to a 1/2 cup. Also coarse-chop the crystallized ginger (if you have a Vitamix – Place the candied ginger into a 32 oz. Dry Vitamix container. Set the Variable Speed to 3 and pulse the material four or five times, one or two seconds per time, until the material is in fine pieces – but not obliterated!). Add it during the last five seconds of blending, incorporating it into the mixture. Extra ginger can be used for garnish.

HEALTH BENEFITS OF RUBY RED GRAPEFRUITS
Ruby red grapefruit is high in vitamin C, pantothenic acid, copper, vitamin A, fiber, potassium, biotin and vitamin B1. The antioxidant Lycopene gives this grapefruit its pink and red colors. Lycopene appears to have anti-tumor activity. Grapefruits have Phytonutrients called limonoids which inhibit tumor formation by promoting the formation the detoxifying enzyme glutathione-S-transferase.