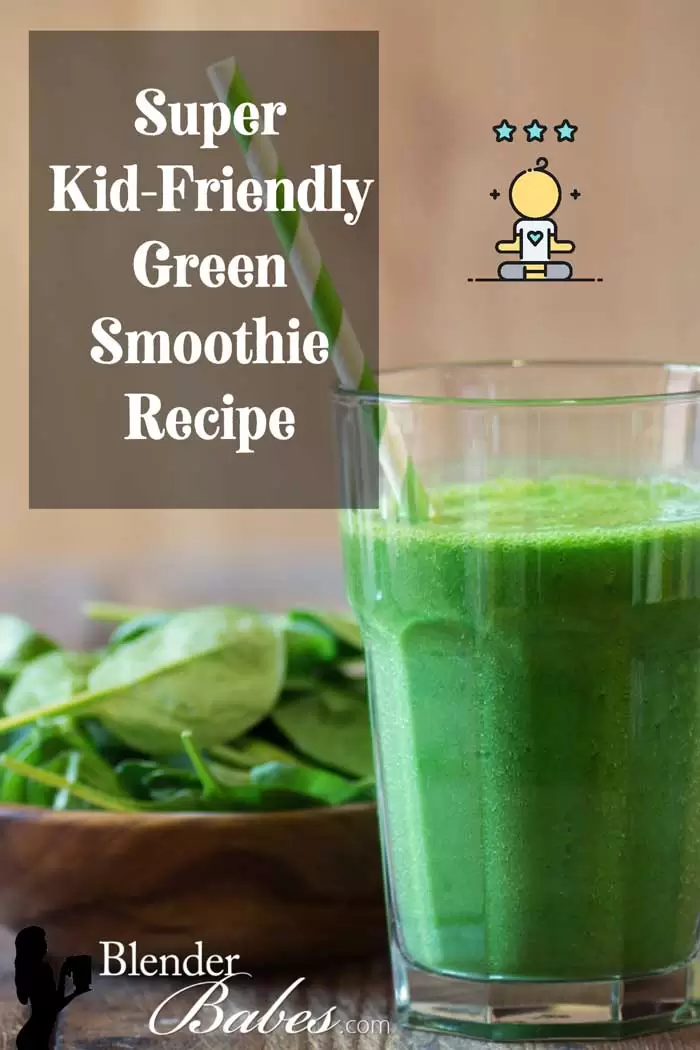 EASY KID FRIENDLY GREEN SMOOTHIE RECIPE
This is a basic, kid friendly green smoothie recipe that you AND your kids will LOVE!
Packed with potassium, bananas are a smoothie staple that easily hides the light green flavor of the nutritional powerhouse ingredient in this green smoothie – spinach.
Famous for being the secret to Popeye's legendary strength, spinach is truly the perfect ingredient for green smoothies.
This green smoothie recipe is sure be a winner with the kids.
Of course a good high powered blender will quickly and easily pulverize the greens in this easy green smoothie, however you can definitely get smooth results using a "regular" blender.
For those that are new to green smoothies, this is one of the first healthy smoothie recipes we recommend before taking our 21 Day Green Smoothie Challenge!
For another winning kid's treat made with spinach, check out our tasty and refreshing Popeye's Surprise Ice Cream recipe!
Be sure to join our community for more delicious healthy smoothie recipes! Share your rating with us in comments section below if you give this one a try!
(Note: Blender Babes Now In Activewear!)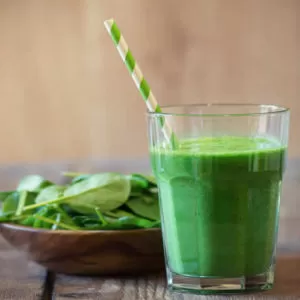 Kid friendly Banana Green Smoothie
Ingredients
8

ounces

filtered water

2

cups

spinach

2

bananas

fresh or frozen

2

cups

ice

less if using frozen banana
Instructions
Place all ingredients in the jar in order listed

For

Vitamix:

Select VARIABLE, speed 1. Turn on machine and quickly increase to speed 10/HIGH. Run for 45 seconds or until smooth.

All done! Enjoy!! Now take a photo, rate it, and share your accomplishments! 🙂 Tag @BlenderBabes & #BlenderBabes
Nutrition
Serving:
1
g
Calories:
112.3
kcal
Carbohydrates:
28
g
Protein:
2.1
g
Fat:
0.5
g
Saturated Fat:
0.2
g
Polyunsaturated Fat:
0.1
g
Sodium:
25.2
mg
Fiber:
3.7
g
Sugar:
14.6
g

HEALTH BENEFITS OF SPINACH AND BANANA
SPINACH: Experts have identified at least thirteen different flavonoid compounds in spinach that provide antioxidant and/or anti-cancer benefits.  These substances, along with other nutrients, offer a variety of healthy reasons to eat spinach – OFTEN!
Lutein, found in spinach, may also benefit eye health by reducing the risk of macular degeneration, according to the American Macular Degeneration Foundation.
Vitamin A and vitamin K are two of the prevalent vitamins in spinach and they are known to help regulate blood flow, maintain bone health, preserve cell health and help the cells in the body grow normally.
The beta-carotene and vitamin C in spinach may also help prevent diabetic heart disease by reducing free radicals and preventing the oxidation of cholesterol so it cannot stick to the walls of the blood vessels.
Fresh banana is a rich source of potassium (100 g fruit provides 358 mg potassium).
BANANA: Potassium is an important part of cell and body fluids that helps control heart rate and blood pressure, countering negative effects of sodium.
Banana also contains soluble dietary fiber, which helps "keep you regular". Small amounts of health promoting flavonoid poly-phenolic antioxidants, like lutein, zea-xanthin, ß and α-carotenes, which all help protect against oxygen-derived free radicals and reactive oxygen species (ROS) that play a role in various diseases processes and aging.  Also found in bananas, are vitamin C as well as vitamin B6, which assists in the treatment of neuritis, anemia, and helps decrease homocystine (one of the factors of coronary artery disease (CHD) and stroke episodes).