HOMEMADE CARAMEL SAUCE
This isn't our healthiest recipe, it falls in our "sinfully delicious" category. But sometimes treating yourself to something rich and sweet is a form of "Living Healthy"! We LOVE caramel, and when it's candy-making season, here's our easy homemade caramel sauce for your Vitamix or Blendtec blender. Use caution when opening the blender jar (open it away from you), because the sugar will actually be cooked by your high power blender — causing a thick steam and extremely hot, sticky sugar that will stick to skin! Avoid tasting this with your fingertip (we know, it will be hard!) — wait just a minute and pour it over some cold ice cream for a rich ice cream treat!
Be sure to join our community for more easy home alternatives to your favorite sauces and healthy blender recipes. Share your rating with us if you try this one at home.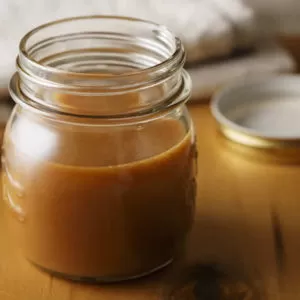 Homemade Caramel Sauce
Ingredients
2/3

cup

brown sugar

2

tablespoons

soft butter

1/4

teaspoon

salt

1/2

cup

hot evaporated milk
Instructions
Place the sugar, butter, and salt into blender jar.

For Blendtec & Vitamix, start at Variable/Speed 1, ramping up to Speed 10. With the blender still running, slowly add the hot evaporated milk. Blend until smooth and thick, at least several minutes.

For HOT caramel sauce, blend for 4 minutes with Blendtec (SOUP cycle 2-3 times) and blend for 6 minutes at Variable Speed 10 with Vitamix before pressing stop.

Makes 1 1/4 cups of delicious, hot caramel sauce.

All done! Enjoy!! Now take a photo, rate it, and share your accomplishments! 🙂 Tag @BlenderBabes & #BlenderBabes
HEALTH BENEFITS & FUN FACTS
Caramel was developed in early America, and, as many great inventions, was created by accident! When making hard candies in kettles, some genius decided to add milk and milk-fat to the kettle. After stirring, the melted sugar sauce, when combined with milk, turns into a soft, pliable brown candy. If one continues to stir and pull, eventually, caramel will become toffee candies. By the mid-1900s, caramels became a staple candy for Americans. The flavor can change depending on the sugar inputs and the fat. Some alternatives use molasses or corn syrup for different flavors!