Get FREE eBooks/Downloads for Your Health! Click Here 

POPEYE'S SPINACH SURPRISE ICE CREAM RECIPE
This is an ice cream packed with goodness that surely anyone can love!
It's SECRETLY healthy, creamy and DELICIOUS! Many of you have seen this ice cream in a local demonstration of your Blendtec high powered blender, and here's the recipe!
We have made this several different ways – It can be non dairy or vegetarian by using a milk substitute such as coconut milk (from a can is thicker and will be creamier) and adding a protein boost by using a scoop of Vega One Vanilla Protein powder!
Since its perfectly sweet, you don't even have to tell the little ones the SURPRISE ingredient (spinach!!!) that helps makes it so green AND nutritious!
But should they find out, just tell 'em its got the stuff Popeye's made of.
STRENGTH. 🙂
Ice Cream can sometimes be tricky, you'll have it down in no time with our Ice Cream tips using your Blendtec or Vitamix blender.
Be sure to join our community for more healthy blender recipes. Please share your rating with us in comments section below if you try this recipe at home.x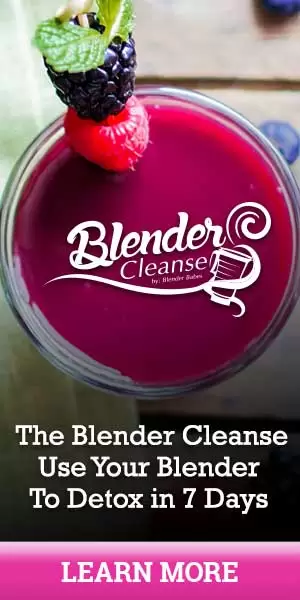 Note: Blender Babes now wear Activewear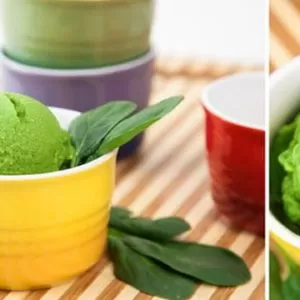 Popeye's Surprise Ice Cream
Ingredients
4 to 6

ounces

non-dairy creamer or your favorite milk substitute

1

scoop vanilla flavored protein powder

we like Vega One OR non-fat dried milk

2

tablespoon

raw honey or sweetener of choice

1

cup

spinach

1/2

teaspoon

vanilla extract

4

cups

ice
Instructions
Place all ingredients into the blender in the order listed and secure lid.

For

Blendtec

: Press the ICE CREAM button.

For

Vitamix:

V ARIABLE, speed #1. Turn machine on and slowly increase speed to VARIABLE, speed #10, then to HIGH. Use the tamper to press ingredients into the blades. In about 30-60 seconds, the sound of the motor will change and four mounds should form. Stop machine.

Do not over mix or melting will occur. Serve immediately.

All done! Enjoy!! Now take a photo, rate it, and share your accomplishments! 🙂 Tag @BlenderBabes & #BlenderBabes
SPINACH HEALTH BENEFITS & FUN FACTS
Spinach originated in ancient Persia and then was transported to China and down through Europe.
Catherine de Medici, wife of King Henry II so loved spinach that she always made sure she had cooks who could prepare it especially for her. The term "a la Florentine," which refers to any dish prepared on a bed of spinach, is attributed to her.
Spinach is a powerhouse of nutrition rich in many vitamins and nutrients.
Experts have identified at least thirteen different compounds in spinach that provide antioxidant and/or anti-cancer benefits.
Spinach is rich in calcium and magnesium, which helps prevent osteoporosis.
It is also an excellent source of iron, which is critical for women in menopause and for people who have anemia or chronic fatigue syndrome.
Spinach contains vitamin E, which helps slow mental decline and memory loss.