SUNRISE KALE CHIPS RECIPE
This kale chips recipe from The Vegiterranean Diet provides the perfect tangy, crunchy, zesty bites of sunrise-colored nutrition!
Although these delights are slowly baked or dehydrated for several hours, they are well worth the wait.
You may want to make a few batches at a time because these kale chips will disappear quickly. A great, healthy, easy to make snack!
Be sure to join our community for more healthy recipes from Blender Babes and our friends! If you try this kale chips recipe, be sure to let us know by rating it in the comments. 🙂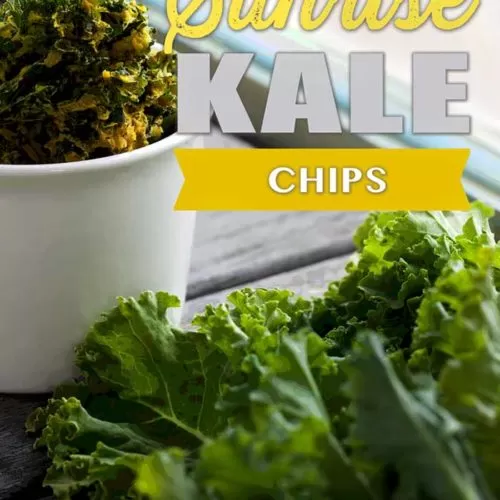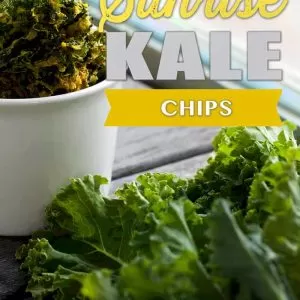 Sunrise Kale Chips Recipe
Ingredients
2

jarred roasted red bell peppers

rinsed well (about 3/4 cup)

1/2

cup

raw cashews

preferably soaked and rinsed, but not necessary

1/4

cup

nutritional yeast

2

tablespoons

freshly squeezed lemon juice with zest

1

tablespoon

tahini

2

teaspoons

tamari or Bragg liquid aminos

1/4

teaspoon

crushed red pepper flakes

1

bunch curly kale

de-stemmed and torn into pieces
Instructions
Preheat the oven to 170F. Line 2 baking sheets with silicone liners or parchment paper.

In a blender, add the bell peppers, cashews, nutritional yeast, lemon juice and zest, tahini, tamari, and red pepper flakes, and blend on high speed until well-combined, 30 to 60 seconds.

For

Blendtec

: Blend on Medium Speed for 5 seconds, then HIGH speed until smooth. Depending on your jar, you may need to stop machine, scrape down the sides and continue blending.

For

Vitamix

: Start on Variable Speed 1, turn the machine on and slowly increase to Variable Speed 10/High and blend until smooth. Depending on your jar, you may need to stop machine, scrape down the sides and continue blending.

Place the kale in a large bowl and pour the bell pepper sauce evenly over the kale, massaging the sauce into the leaves with your hands, until thoroughly distributed. Uniformly space out the kale on the prepared baking sheets, allowing for space in between the leaves.

Bake until the kale is crispy and completely dry, 3 1/2 to 4 hours, stirring the kale every hour with tongs or a spatula, rearranging as evenly as possible before returning to the oven each time. Or if you have a dehydrator, dehydrate on medium (about 125F) for approximately 6 to 8 hours.

Serve immediately or place in an airtight container in refrigerator for up to 4 to 5 days.
Nutrition
Serving:
1
g
Calories:
197
kcal
Carbohydrates:
19
g
Protein:
7.9
g
Fat:
12.6
g
Saturated Fat:
1.8
g
Polyunsaturated Fat:
1.2
g
Trans Fat:
1
g
Sodium:
318.9
mg
Fiber:
3.8
g
Sugar:
2.9
g
BLENDER BABES RECIPE TESTER NOTES
"This recipe reminds me of the kale chips I've tried recently.
The 'cheese sauce' as I call it is so good, I do think it could be used as a spicy dip for veggies or anywhere else you would use a spicy cheese dip!
and "So good! And so easy to make. Not really all that time intensive if you are planning on being home for a few hour to turn the chips every hour.
LOVED this recipe!
This is the first time I've ever made kale chips and I was excited that I could make them so easily at home."
HEALTH BENEFITS OF KALE
Kale is being called "the new beef", "the queen of greens" and "a nutritional powerhouse."
Here are a few great benefits of adding more to your diet:
1. Kale is low in calorie, high in fiber and has zero fat. One cup of kale has only 36 calories, 5 grams of fiber and 0 grams of fat.
It is great for aiding in digestion and elimination with its great fiber content.
It's also filled with so many nutrients, vitamins, folate and magnesium as well as those listed below.
2. Kale is high in iron. Per calorie, kale has more iron than beef.
Iron is essential for good health, such as the formation of hemoglobin and enzymes, transporting oxygen to various parts of the body, cell growth, proper liver function and more.
3. Kale is filled with powerful antioxidants. Antioxidants, such as carotenoids and flavonoids help protect against various cancers.
Excerpted with permission from The Vegiterranean Diet by Julieanna Hever. Published by Lifelong Press.