HOW TO MAKE YOUR OWN WATERMELON LIME CHIA DRINK
Chia seeds are all the rage right now, and we're totally on board with this trend. Chia seeds are a great way for vegans and vegetarians to get high-quality Omegas, protein, and fiber, and they can be hidden in anything (see: whole wheat chia seed pancakes, these smoothies, this energy gel). Since I discovered their versatility thanks to the founder of Mamma Chia, Janie Hoffman and her new book CHIA VITALITY, chia drinks have made their way into being a part of my morning routine. Easy on the stomach just like a green smoothie, this watermelon lime chia drink recipe hydrates, satiates, is portable, fresh, and can be easily made in your Blendtec or Vitamix blender in a matter of seconds. To get the fully-soaked, almost-boba-tea consistency, you'll want to make this the night before, but for truly engorged, smooth chia seed drinks, stick with Mamma Chia's lineup of really yummy Chia Squeezes and Vitality Beverages — their formulas are all EXTREMELY tasty, and Chia Squeezes are perfect for on-the-go snacking.
Congrats to our Mamma Chia Giveaway Winners: Mandy J. Lauren F. and YB
Want more giveaways and easy at-home alternatives to your favorites? Then make sure to join the Blender Babes community! 🙂 Share your rating with us if you try this recipe at home!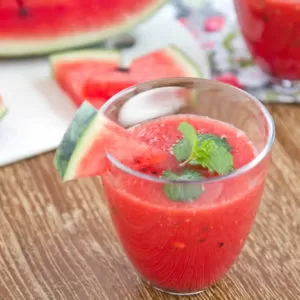 How to Make Your Own Chia Squeeze Drink & a Mamma Chia Giveaway!
Ingredients
2

cups

fresh seedless watermelon

6

tablespoons

chia seeds*

1

lime

juiced

Filtered water
Instructions
Place the watermelon and lime juice into your blender jar.

For

Blendtec

: PULSE twice for five seconds each time, or until the watermelon is liquified.

For

Vitamix

: Start on Variable Speed #1, turn machine on and increase to Speed 10/HIGH for 10 seconds, or until the watermelon is liquified.

Pour the watermelon-lime mixture into one 16oz mason jar or two 8oz mason jars. Top with 6 tablespoons chia seeds (if using one jar) or 3 tablespoons into each jar (if using two).

Fill the jar(s) to the top with water, and shake them a bit to make sure the chia seeds aren't clumping, and then wait at least 10 minutes, up to 10 hours, to drink!

All done! Enjoy!! Now take a photo, rate it, and share your accomplishments! 🙂 Tag @BlenderBabes & #BlenderBabes
Notes
*Since chia seeds can be eaten whole and digested, there is no reason to blend or grind chia seeds.
Nutrition
HEALTH BENEFITS & FUN FACTS – MORE ON MAMMA CHIA
Chia seeds are a great source of omega-3 fatty acids, which can reduce inflammation, enhance brain function, and lower high cholesterol. They are also rich in fiber, antioxidants, and minerals like calcium, phosphorus, magnesium, and a whopping 50% of your daily manganese, of which most people are deficient. They can also regulate blood sugar and have lots of fiber to boost your digestion. Author of Chia Vitality and creator of Mamma Chia, Janie Hoffman, truly believes in the power of the chia seed, and has even designed a whole diet based around their use. Since you can eat chia seeds whole and receive their full nutritional benefits, she recommends sprinkling them on, well, just about anything. Here's a quick list of foods that you can easily nutritionally boost with a sprinkle of chia: yogurt, scrambled eggs, cereal, tuna or egg salad, refried beans, hummus, rice, waffles, soups, lentils, pastas, breads, cookie batter, mashed root vegetables, coleslaw, and even less healthy meals like pizza and quesadillas!