ORANGE WHEATGRASS SMOOTHIE RECIPE

High in vitamin C, vitamin A, folate, and manganese, this orange wheatgrass smoothie recipe is a creamy, sweet, and refreshing introduction to wheatgrass!
You will love the way it feels when wheatgrass is coursing through your veins!
Get the benefits of wheatgrass with the sweetness of bananas and oranges, which knock out the strong "green" flavor. 
We used almond/coconut milk as our milk substitute for this low-fat, tropical-tasting smoothie. 
 Though it doesn't have any pineapple, the flavor is reminiscent of a pina colada when made with coconut milk.
Warning: you will crave this wheatgrass smoothie for days!
If you find that's the case, be sure to freeze part of this large serving for later in the week.
We always get asked if a Vitamix or Blendtec can blend wheatgrass.
The answer is YES!
They will easily pulverize and break down the cell walls of fresh wheatgrass in your green smoothies without a problem!
However if you don't have a high power blender, not to worry!
Use these tips if making this wheatgrass smoothie recipe in a "regular" blender OR try using wheatgrass powder.
Be sure to join our community for more green smoothie recipes and tips from Blender Babes! If you try this smoothie, let us know by rating it in the comments. HAPPY BLENDING! 🙂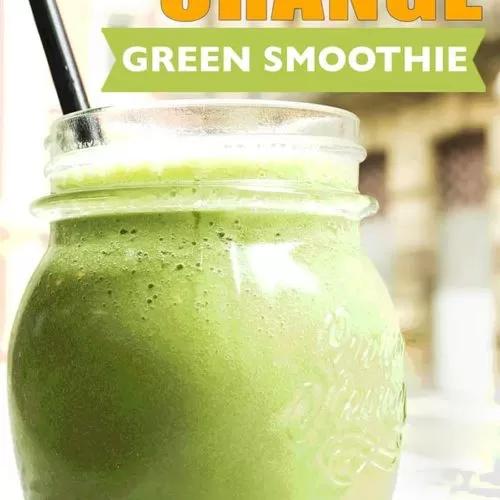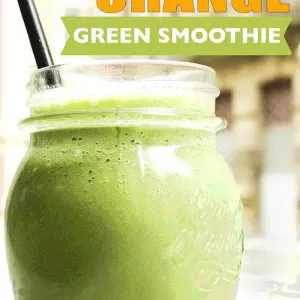 Orange Wheatgrass Smoothie Recipe
Ingredients
1/4

cup

water or coconut water

1/2

cup

milk sub

1/4

cup

fresh wheatgrass* OR 1/4 teaspoon wheatgrass powder

1

orange or 2 tangerines

1/2

banana

frozen

1/2

cup

ice
Notes
* 1/4-1/2 teaspoon wheatgrass powder can be substituted for wheatgrass but will have less fiber.
Nutrition
Serving:
1
g
Calories:
283
kcal
Carbohydrates:
49.3
g
Protein:
1.2
g
Fat:
1.1
g
Saturated Fat:
0.1
g
Polyunsaturated Fat:
0.1
g
Sodium:
78.1
mg
Fiber:
19.2
g
Sugar:
3.3
g
HEALTH BENEFITS OF WHEATGRASS
Where should we begin? Wheatgrass is intensely good for you in so many ways since it has antioxidant, antibacterial, and anti-inflammatory properties.
The juice contains up to 70% chlorophyll, which is an important blood builder.
The nutrients in wheatgrass may also help the body remove stored toxins. For example, the chlorophyll aids in detoxing the body and helps support healthy liver function.
So what more reason do you need to try this wheatgrass smoothie recipe? Our recipe testers loved it! 🙂