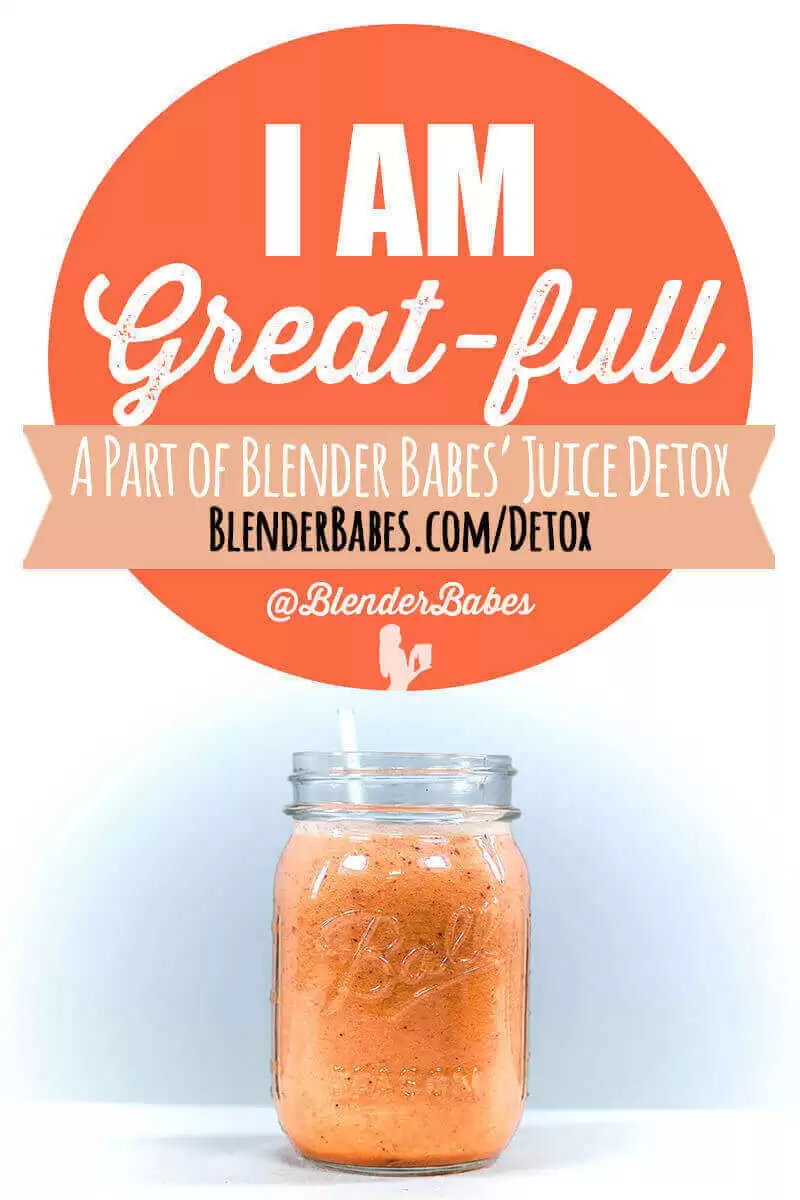 JUICE DETOX DRINK 5 – I AM GREAT-FULL

I AM GREAT-FULL is the fifth or Dinner detox drink recipe in our FREE 1 DAY JUICE DETOX. This dinner time juice is extra filling due to both sweet potatoes (cooked or raw, we prefer cooked for better flavor) and apples, and the ingredients will help regulate your blood glucose levels throughout the night and provide sustained energy, preventing too much spiking since this delicious juice detox drink does contain dates for a natural sweetener! 🙂

This whole blended juice recipe is easily made with a good power blender – but not to worry, we have tested and you can make this recipe with a regular blender as well. 🙂
GRAPES
Grapes are a wonderful addition to a detox regimen because they contain procyanidolic oligomers (PCOs), antioxidants that contribute color, juiciness, and flavor to grapes. Therefore, dark red or purple grapes are the best for detoxification. These antioxidants target toxins and free radicals and neutralize them. Resveratrol in grapes aids with weight loss, as it causes fat cells to diminish at a very high rate, reduces cells' ability to store fat, allows blood vessels to dilate and thereby lowers blood pressure and gets more oxygen to the body. Grapes reduce heart attacks and aid in weight loss!
ORANGES
Oranges are abundant in soluble fiber, potassium, and vitamin C, which serve to lower cholesterol levels, improve heart function, and lower your risk of heart disease.
Potassium will work with other vitamins found in oranges including magnesium, calcium, and sodium, to maintain fluid levels at a cellular level. Oranges are also rich in carotenoid compounds that help protect the eyes, absorb light, and improve vision.
APPLES
The phytonutrients in apples help to regulate blood sugar by breaking down complex carbohydrates into simple sugars that are easy for your body to digest.
Apples help withelimination and weight loss due to a high level of pectin, which is a type of soluble fiber. Pectin lowers blood fat, making apples a heart-healthy addition to any juice.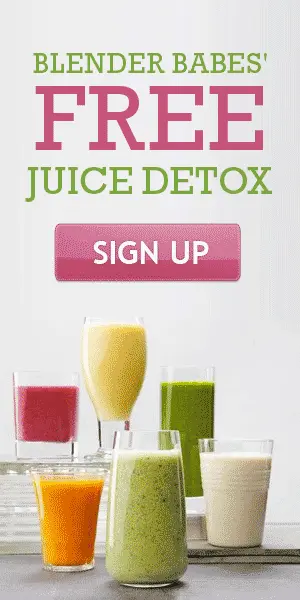 SWEET POTATOES
Sweet potatoes are super-healthy, unlike their white potato cousins! They are packed with antioxidants that reduce toxicity in the body as well as inflammation, so those experiencing joint or arthritis pain will find some relief. They are also high in Vitamins C and A, which are immune-boosting.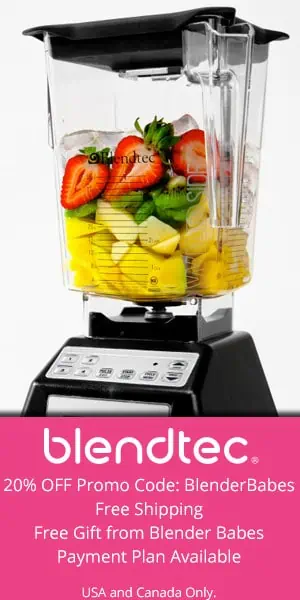 Your body will process the glucose in sweet potatoes slowly, as they have a low glycemic index and will help your body experience only a slight rise in blood glucose levels with sustained energy, which will help you to feel full and satisfied after drinking this juice at dinner time!
GINGER
Ginger does wonder for digestion and will detoxify your gastrointestinal tract in a variety of ways. For one, ginger improves nutrient absorption by stimulating gastric and pancreatic enzyme secretion and relieves stomachaches, pain, and inflammation. Ginger is powerful: regular consumption of ginger slows the growth of colorectal cancer cells!
DATES
Dates are easily digested sources of dietary fiber, copper, vitamins A, K, and B6, magnesium, manganese, niacin, and riboflavin, which help keep eyes, skin, mouth, and lungs healthy while also warding off cancer.
Dates help your body to break down carbohydrates, proteins, and fats while providing lots of carbohydrates to keep your body going throughout the day and night.
CINNAMON
Cinnamon regulates blood sugar and improves blood glucose control. Just half a teaspoon of cinnamon every day can significantly reduce blood sugar levels, triglycerides, bad cholesterol, and total cholesterol levels in diabetics.
Cinnamon also  improves digestion, relieves congestion, and can reduce inflammation, including relieving pain and stiffness in joints due to arthritis.
Be sure to join our community for more great juice recipes!
Share your rating below if you try this one!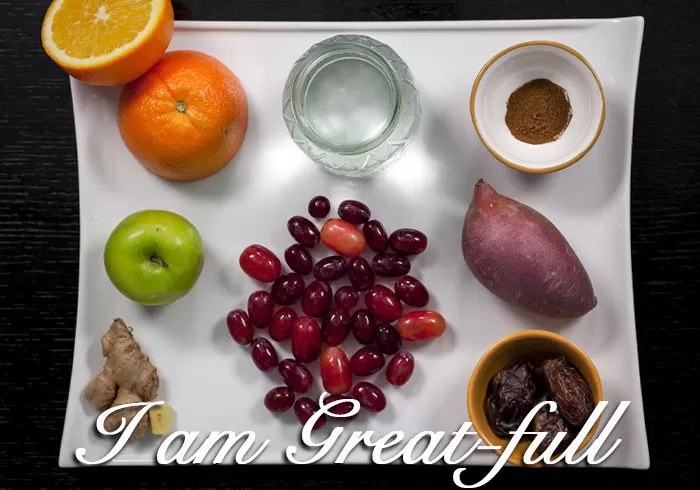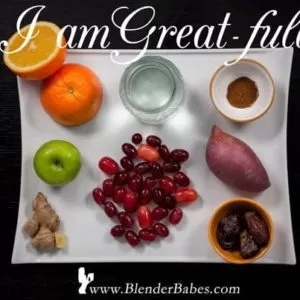 Juice 5/Dinner Juice ~ I AM GREAT-FULL
Ingredients
12

ounces

coconut water

1

cup

grapes

preferably red

1

orange

peeled

1

cup

sweet potato

cooked or raw

1/2

cup

or 1 small apple

1/2-

inch

fresh ginger

or substitute 1/2 teaspoon dried

3

dates

pitted

1/2

teaspoon

cinnamon

2

cups

ice
Instructions
Place all ingredients into the blender and secure lid.

For Blendtec: Press the SOUP button (you want to run for 1.5 minutes to full liquefy ingredients into a smooth juice).

For Vitamix: Select VARIABLE, speed #1. Turn machine on and slowly increase speed to VARIABLE, speed #10, then flip it to high. Blend for 1.5 minutes

All done! Enjoy!! Now take a photo, rate it, and share your accomplishments! 🙂 Tag @BlenderBabes & #BlenderBabes
Notes
Makes about 5 cups. For only one serving, cut ingredients in half, but only reduce water to 8 ounces. If not using a high powered blender, may need to increase liquid amount.
Nutrition
Serving:
616
g
Calories:
447
kcal
Carbohydrates:
113
g
Protein:
6
g
Fat:
1
g
Saturated Fat:
1
g
Sodium:
291
mg
Fiber:
15
g
Sugar:
83
g
HEALTH BENEFITS & FUN FACTS
This I AM GREAT-FULL juice is very low in Saturated Fat and Cholesterol. It is also a good source of Dietary Fiber, Potassium and Manganese, and a very good source of Vitamin A and Vitamin C. It has 61% of your daily Fiber, 30% of Copper, and 77% of Manganese.