ROASTED GARLIC WHITE BEAN DIP WITH ROSEMARY PITA RECIPE

Creamier than
hummus
, with a mellow sweetness from the roasted garlic, this filling spread can be served warm or cold.  If you're looking for a snack to boost your immune system and brain power, this garlic and rosemary packed recipe is perfect. For a more intense flavor, we recommend mixing rosemary in your olive oil! With a
Blendtec or Vitamix
, it's easy to blend this perfect mix of savory and salty healthy dip recipe. All
dips and spreads
 are a fantastic snack or appetizer that your friends and family will love! But just a heads up– it does take a while to create this masterpiece, due to the preparation and cook time of the roasted garlic and pita – but the end result is worth it!
Ripe
by Cheryl Rule is a beautifully illustrated cookbook for those that want fresh new recipes for fruits and vegetables.
For more healthy blender recipes like this, come and be a part of our community! 🙂 Are you going to try this white bean dip recipe? Let us know what you think in the comments! Share your rating with us! Happy Blending!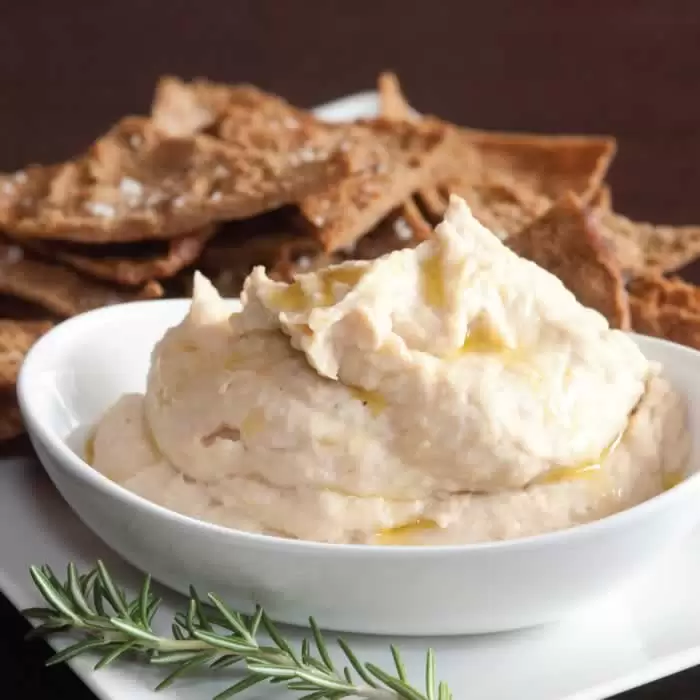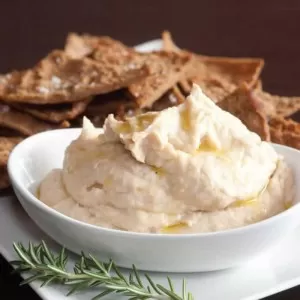 Roasted Garlic White Bean Dip with Rosemary Pita Recipe
Ingredients
1

large head garlic

1

teaspoon

plus 1/3 cup

80ml extra-virgin olive oil, divided

Kosher salt or celtic salt and freshly ground black pepper

1

6-inch or 15-cm sprig fresh rosemary, plus 20 plucked rosemary needles

3

61/2-inch or 16.5-cm rounds whole-wheat pita bread, split in half

1/4

teaspoon

freshly ground black pepper

1-1/2

cups

420g cooked white beans, or 1(15-ounce) can, drained and rinsed

1-1/2

tablespoons

fresh lemon juice
Instructions
Preheat the oven to 350°F (175°C).

Slice off the top fifth of each garlic bulb, discarding the tops. Set the bulbs on a sheet of foil. Drizzle the garlic with 1 teaspoon of the olive oil and season with salt. Bring up the sides of the foil and press to close. Roast until the cloves are very soft, about 1 hour.

Meanwhile, combine the 20 rosemary needles, 1/2 teaspoon salt, and 1/8 teaspoon pepper in a spice grinder or use a chef's knife. Process until powdery.

For the oil: Set the rosemary sprig in a small saucepan with the remaining 1/3 cup (80ml) oil. Warm over low heat until the rosemary sizzles and releases its fragrance, about 5 minutes. Let stand off heat for 15 minutes (longer if you want a more intense flavor). Discard the rosemary.

Pita: Slice the pita halves into eighths, yielding 48 wedges. Divide among two rimmed baking sheets. Seasoning one side only, brush first with the rosemary oil, then sprinkle with the rosemary salt. (Reserve the remaining oil.) Bake for 12 to 14 minutes, flipping halfway through and reversing the position of the baking sheets. Remove the pita, and allow the garlic to finish roasting.

When the garlic is ready, remove and carefully open the foil. Cool for 15 minutes, until you can handle it comfortably.

Squeeze the roasted garlic pulp from its skin into a your blender jar*.

Add the beans, the remaining rosemary oil (reserving 1 teaspoon for garnish), half the lemon juice, 1/2 teaspoon salt, and 1/8 teaspoon pepper and blend until smooth.

For

Blendtec

: Press the DIPS/BATTERS/SALSA button OR use manual speed 6 for 30 seconds.

For

Vitamix

: Select VARIABLE, Speed #1. Turn machine on and slowly increase speed to VARIABLE, Speed #10/HIGH. Blend for 45 seconds.

Adjust the seasonings, adding more lemon juice, if desired.

Transfer to a small bowl and drizzle with the reserved teaspoon of oil. Serve with the pita crisps.

All done! Enjoy!! Now take a photo, rate it, and share your accomplishments to enter our weekly photo contest! 🙂 Tag @BlenderBabes & #BlenderBabes
Notes
* You can also use a food processor.
Suggestion: You can bake the crisps while the garlic roasts. In a pinch use pre-bought pita or flax crackers!
Nutrition
Serving:
2
g
Calories:
55.4
kcal
Carbohydrates:
7.3
g
Protein:
2.4
g
Fat:
1.6
g
Saturated Fat:
0.2
g
Sodium:
57
mg
Fiber:
1.6
g
HEALTH BENEFITS AND FUN FACTS
White beans can help lower cholesterol and blood sugar levels. However, a handful of interesting studies now show that they can help detoxify your body. White beans are full of molybdenum— a mineral that activates enzymes that help cleanse your body, help with headaches and migraines, and fight addiction.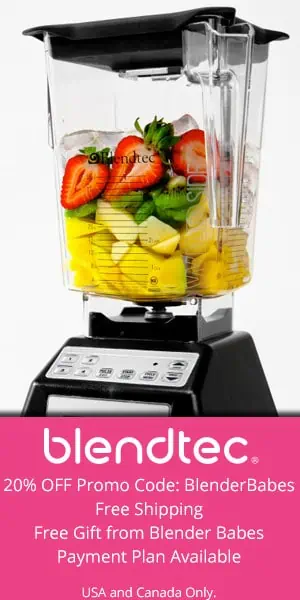 Recipes reprinted with permission from RIPE © 2012 by Cheryl Sternman Rule, Running Press, a member of the Perseus Book Group. Photography © 2012 by Paulette Phlipot.