Get FREE eBooks/Downloads for Your Health! Click Here 
CHOCOLATE CARAMEL LAYER PIE RECIPE
This vegan chocolate caramel layer pie is the definition of decadent.
It has become a go-to recipe in my house for any and every special occasion: birthdays, holidays, Saturdays, anything.
It tastes like rich chocolate caramel bliss, but it's actually quite healthy.
After tasting it, you would never guess that it is low in fat or that the filling is sweetened only with fruit!
If you use raw oats or nuts for the crust, and water in place of the non-dairy milk, then this vegan recipe easily becomes a raw dessert.
Gluten-free oats will make this a gluten-free dessert as well!
The filling is ridiculously good from the freezer, from the fridge, or straight from the blender.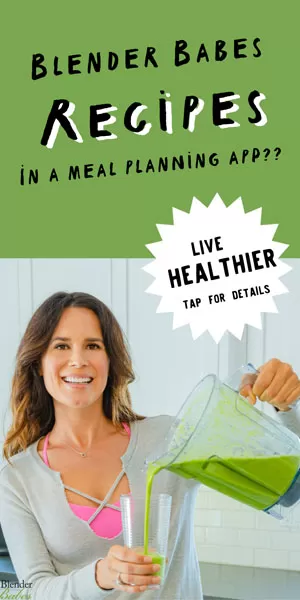 It tastes indulgent, it's secretly healthy, and it's loved by vegans and non-vegans alike!
With the simplicity of the ingredients, yet extreme and impressive flavor- this raw, vegan chocolate pie could hold its own against a rich chocolate custard-based pie any day.
It smells simply delicious while you are making it and tastes great!
Use a high speed blender, like a Blendtec or Vitamix for the best consistency, and join our community for more healthy dessert recipes from Blender Babes and our friends! If you try this, be sure to rate this recipe in the comments to let other babes know what you think!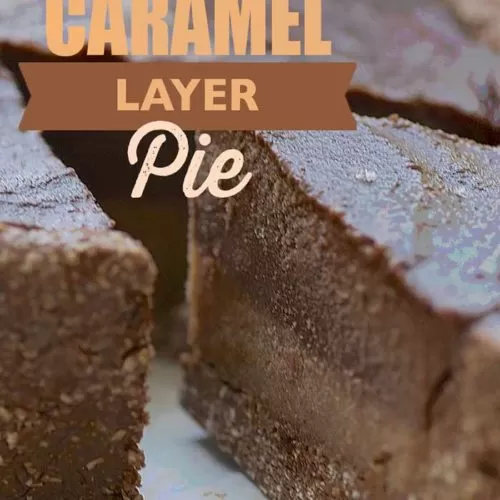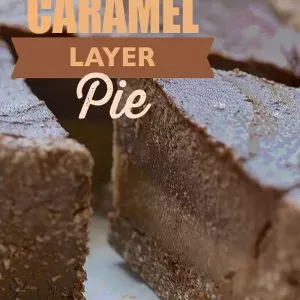 Chocolate Caramel Layer Pie
Ingredients
Crust:
2 1/2

cups

rolled oats

gluten-free or raw if needed

1/3

cup

sweetener: coconut nectar or maple syrup

vegan or raw honey (non vegan)

3

tbsp

cacao powder
Caramel Layer:
3/4

cup

pitted medjool dates

1/2

cup

coffee

1

tsp

vanilla bean powder

1/4

tsp

salt
Chocolate Layer:
3/4

cup

pitted medjool dates

1/2

cup

+ 1 tbsp non-dairy milk

or water

2

tbsp

cacao powder

1/2

tsp

vanilla bean powder
Instructions
For the crust: Grind the oats in a blender. In a bowl, pour the oats, cacao powder and sweetener and mix-- enough to form a dough. Press into a 6 inch pie pan or dish lined with plastic wrap for easy removal.

For the caramel layer: Blend all the ingredients in a high-speed blender on high until smooth. Spread on top of the crust and freeze.

For the chocolate layer: Blend all the ingredients in a high-speed blender on high until smooth. Spread on top of the caramel layer.

For a firm texture, freeze the pie for 4 hours. Allow it to thaw for about 10 minutes before cutting and eating. Alternatively you can refrigerate the pie for a gooey filling.
Notes
Top the pie with fresh raspberries and a dusting of powdered sugar for a lovely aesthetics. It will also make for a great compliment to the strong chocolate flavor, making it less rich.
Nutrition
Serving:
1
g
Calories:
156
kcal
Carbohydrates:
34.7
g
Protein:
3.3
g
Fat:
1.8
g
Polyunsaturated Fat:
0.4
g
Trans Fat:
0.4
g
Cholesterol:
0.7
mg
Sodium:
61.6
mg
Fiber:
4.2
g
Sugar:
18.8
g
BLENDER BABE RECIPE TESTER NOTES
"You will love that it uses minimal ingredients and it's so naturally sweet that you won't even miss the sugar! It's also nice to find a raw recipe that is low in fat, considering so many of them are very nut and oil heavy." 
"This vegan pie recipe is great for vegan and raw-friendly people who are looking for a wholesome dessert."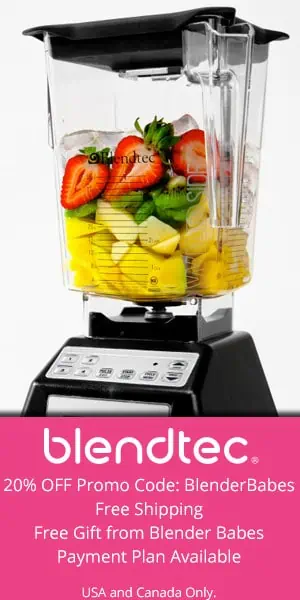 HEALTH BENEFITS OF MEDJOOL DATES
Medjool dates have a great amount of dietary fiber, supplying you with 27% of the recommended daily allowance.
Their soluble fiber is important in regulation of blood sugar as well as levels of cholesterol.
Notably, the beta-D-glucan in Medjool dates aids in water absorption hence adding bulk to stool.
This prevents constipation.
Medjool dates contain more potassium than other known mineral to man.
Potassium assists in balancing body pH, maintaining intercellular fluid balance as well as blood sugar regulation.
Deficiency in this mineral could cause elevated blood pressure hence the 20% RDA comes handy.
Medjool dates are great foods to control addiction for sweet foods.
Their high fiber content keeps you full for long hence curbing the cravings.
It also aids in keeping a healthy digestive system, hanks to loads of both soluble and insoluble dietary fiber and plenty of amino acids.
Additionally, it helps in dealing with irritable bowel and constipation.