MACA GINGER NICE CREAM RECIPE

When summer is in full swing there's nothing better on a sunny afternoon than sitting outside chowing down on some banana nice cream! Nice cream is one of my favorite things to have; I always make sure I have a huge bag of frozen bananas on hand so I can whip this maca ginger nice cream recipe up anytime. It's just like having
ice cream
without all the extra fat,
sugar
and
dairy
.  This one is sweet AND spicy! It combines bananas, ginger, honey, chocolate and
maca powder
for that boost of superfood power! This is a vegan treat if you use vegan chocolate chips, otherwise top with the chocolate of your choice. Use a high speed blender, like a 
Blendtec or Vitamix
 for the best consistency.
Remember to join the community for more nutritious snacks and recipes from Blender Babes! Tell us what you think in the comments by sharing your rating with us if you try this recipe!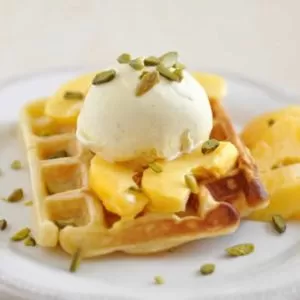 Maca Ginger Nice Cream
Ingredients
1/4

cup

dairy free milk

1/2

tsp

maca powder

1/4

tsp

ground ginger

or a small nib of fresh ginger

1

tsp

organic honey

raw

1 1/2

frozen bananas

1/2

Tbsp

chocolate chips

melted (optional!)
For larger blender jars such as Vitamix or Blendtec Wildside jar - works best if you double the recipe.
Instructions
Place all ingredients (except for chocolate chips) into the blender in the order listed, secure lid and blend until smooth.

For

Blendtec

: If using the

Twister jar

, run the ICE CREAM cycle and turn the lid with tines counterclockwise. Using the Fourside Jar* run the ICE CREAM cycle. If the blade spins freely stop the machine and use a spatula to push ingredients down into the blades and then run the ICE CREAM cycle again. Repeat if necessary until creamy and combined.

For

Vitamix*

: Start on VARIABLE speed #1. Turn machine on and slowly increase speed to VARIABLE speed #10/HIGH. Use the tamper to press ingredients into the blades and blend for about 30 seconds.

Freeze for 1 1/2 hours.

Dish up, drizzle with melted chocolate and enjoy your healthy "ice cream".

All done! Enjoy!! Now take a photo, rate it, and share your accomplishments to enter our weekly photo contest! 🙂 Tag @BlenderBabes & #BlenderBabes
Nutrition
Serving:
1
g
Calories:
300
kcal
Carbohydrates:
70.5
g
Protein:
5.4
g
Fat:
2.9
g
Saturated Fat:
1.5
g
Polyunsaturated Fat:
0.1
g
Cholesterol:
2.5
mg
Sodium:
46.3
mg
Fiber:
6.7
g
Sugar:
43
g
HEALTH BENEFITS OF MACA
Maca, a root that belongs to the radish family, is most commonly available in powder form. Grown in the mountains of Peru, it has been called "Peruvian ginseng." Maca's benefits have been long valued, and has recently been popularized as a supplement and food ingredient.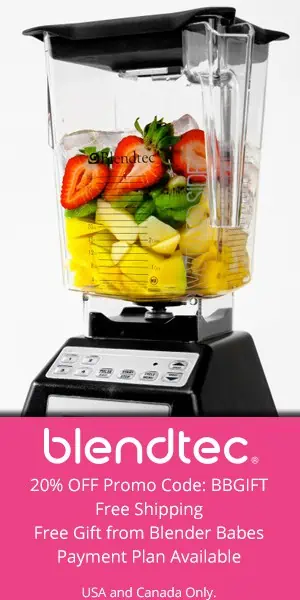 There are no serious known side effects of maca, but like any other supplement it should not be taken in large amounts. When you first start using maca, it's best to begin by taking smaller amounts and building up; even 1/2 teaspoon is a good place to start. And at the other end, 1 tablespoons (of the powder) is an average daily dose. Rotating a few days on and a few days off is often recommended. Taking too much can lead to adverse effects and throw your hormones out of whack. If you experience this, you should take less or wean yourself off completely.  Some other health benefits include:
1. Vitamins
Maca is rich in vitamin B vitamins, C, and E. It provides plenty of calcium, zinc, iron, magnesium, phosphorous and amino acids.
2. Sexual function
Maca is widely used to promote sexual function of both men and women. It serves as a boost to your libido and increases endurance. At the same time it balances your hormones and increases fertility.
3. Women's health and mood
Maca relieves menstrual issues and menopause. It alleviates cramps, body pain, hot flashes, anxiety, mood swings, and depression. If you are pregnant or lactating you should avoid taking maca.
4. Skin
Many people take maca for skin issues, as for some people it helps to clear acne and blemishes. Another benefit for your skin is that is decreases sensitivity. In hot or cold weather, maca may help your skin withstand extreme temperatures.