DOUBLE STRAWBERRY SMOOTHIE PIE RECIPE
Turn your morning favorite into an evening delight with this Strawberry Smoothie Pie recipe.
Smoothies don't have to be enjoyed in just a glass anymore, because, with your high powered blender, you can create a delicious strawberry smoothie dessert in no time!
Be sure to join our community for more healthy blender recipes. If you try this recipe at home, share your thoughts by rating it in comment section below.x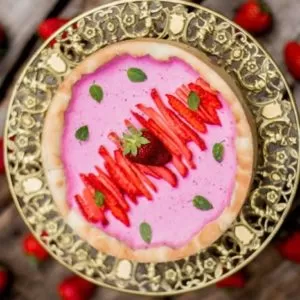 Double Strawberry Smoothie Pie
Ingredients
Pie Crust:
1 1/4

cups

graham cracker crumbs

about 12 squares

2

tablespoons

ground flaxseed or wheat germ

1

tablespoon

unrefined sugar

1

egg white

beaten

1

tablespoon

unsalted butter

melted

1

tablespoon

canola oil
Pie Filling:
1 1/2

cups

frozen strawberries

thawed

1

cup

100% cranberry strawberry or cranberry raspberry juice

divided

2

envelopes unflavored gelatin

3/4

cup

strawberry low-fat yogurt

3

tablespoons

sugar

preferably raw

Light whipped cream

optional
Instructions
Preheat the oven to 350°F (176°C). For the pie crust, stir together the graham cracker crumbs, flaxseed, sugar, egg white, butter, and canola oil in a large bowl until well combined.

Using the back of a large spoon or your fingers, press the crumb mixture firmly on the bottom and up the sides of a 9-inch pie plate. Bake about 8 minutes (the color of the crust won't change). Cool before filling.

Place the remaining ½ cup juice in a large bowl. Sprinkle the gelatin over the juice and let stand 1 minute. Add the hot juice mixture and stir, or gently whisk, until the gelatin completely dissolves, about 5 minutes. Stir in the yogurt and sugar.

Pour the mixture into the prepared pie crust. Refrigerate until firm, about 3 hours. Serve with light whipped cream and garnish with strawberries and mint leaves or as desired.

All done! Enjoy!! Now take a photo, rate it, and share your accomplishments! 🙂 Tag @BlenderBabes & #BlenderBabes
Nutrition
Calories:
156
kcal
Carbohydrates:
24
g
Protein:
2.9
g
Fat:
5.9
g
Saturated Fat:
1.5
g
Polyunsaturated Fat:
4
g
Cholesterol:
4.8
mg
Sodium:
89.6
mg
Fiber:
1.8
g
Sugar:
15.1
g

HEALTH BENEFITS OF FLAXSEED
Flaxseed was cultivated in Babylon as early as 3000 BC, according to the Flax Council of Canada. By the 8th century, King Charlemagne believed so strongly in the health benefits of flaxseed that he passed laws requiring his subjects to consume it.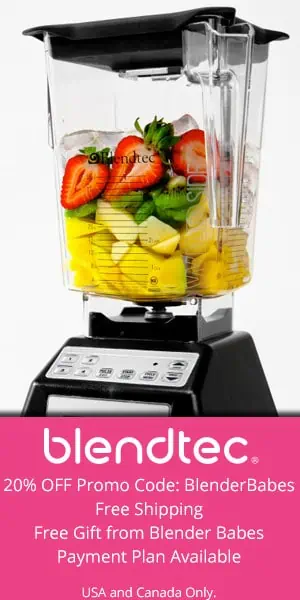 Fast-forward 13 centuries and some experts would say we have preliminary research to back up what Charlemagne suspected all those years ago.
Recent studies have suggested that flaxseed may have a protective effect against cancer, particularly breast cancer, prostate cancer, and colon cancer.
New research also suggests significant blood pressure-lowering effects of flaxseed, which may be due to both the omega-3 fatty acids as well as the amino acid groups found in flaxseed.
Omega-3s also help prevent hardening of the arteries and keep plaque from being deposited in the arteries, partly by keeping white blood cells from sticking to the blood vessels' inner linings.