EASY HOMEMADE PUMPKIN PUREE RECIPE
Nothing says autumn like seeing pumpkin patches pop up all over, and these beautiful gourds filling store shelves. It means it's time to decorate and indulge in your favorite pumpkin flavored recipes! Making your own homemade pumkpin puree couldn't be easier and I highly recommend  you try it this year! Just do it one afternoon when you and possibly your little ones have some time – they will LOVE to help scrape out those nutritious pumpkin seeds for roasting – your house will smell amazing – and one big batch will serve you all season! Of course, you could use a potato masher or a
regular blender
or food processor, but it only takes a few minutes to blend AND clean in a
Blendtec or Vitamix blender
. 🙂
Because pumpkin puree has many nutritional benefits including being high in fiber, it's a great addition to your smoothie recipes such as our Protein Packed Pumpkin Peanut Butter Smoothie, muffins and other baking recipes, used as baby food, or you can even stir a bit into your morning yogurt, steel cut oats or oatmeal.
Be sure to join our community for more healthy blender recipes. If you try this recipe, please share your rating with us below.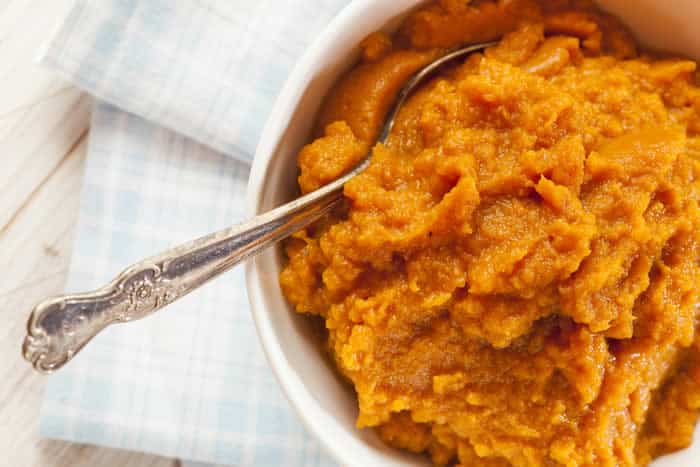 Easy Homemade Pumpkin Puree
Ingredients
2

small pie pumpkins OR 1 large pumpkin

Filtered water
Instructions
Using a sharp knife and a steady hand, cut pumpkin in half.

Use a spoon to scrape out the pulp and seeds and place into a colander for rinsing.

Place pumpkins on a baking sheet and roast at 350 (small pumpkins) to 400 degrees (large pumpkin) for 45 min to an hour - or until fork tender.

Peel off the skin OR use a spoon to scrape out the tender pumpkin and place in your blender jar with a 1 Tbsp of water.

For

Blendtec

: Fill jars halfway. Using

TWISTER

jar, use SPEED 4 for 10-15 seconds, turning lid counterclockwise during blending. Using

FOURSIDE

jar, use SPEED 4 for up to 15 seconds. If blade is spinning freely, stop machine, remove lid and with rubber spatula push ingredients toward blade, then continue blending on SPEED 4 until desired consistency is reached.

For

Vitamix

: Fill 3/4 full, may require more water. Turn machine on, and increase to speed 4 or 5. Remove lid plug and use tamper to push ingredients toward the blade. Blend for 20-30 seconds, until desired consistency is reached.

Repeat until all pumpkin is pureed.

All done! Enjoy!! Now take a photo, rate it, and share your accomplishments! 🙂 Tag @BlenderBabes & #BlenderBabes
Recipe Notes
You can either use this immediately, store it in the fridge for a few days, or freeze for later use all season long!
To store in the freezer, measure 1 or 2 cups and place in quart size plastic baggies and seal but leave a tiny opening to flatten/push out the air, then seal completely.
Use a sharpie to label, date and write the portion size on your baggie and freeze.
HEALTH BENEFITS & FUN FACTS
The bright orange flesh of a pumpkin is loaded with key minerals and much needed fiber for better digestion. Most people don't realize that pumpkin is a GREAT source of potassium – with 10 percent of your daily requirement – move over banana!  One cup of pumpkin puree also provides 7.1 grams of fiber – combined with potassium to support healthy digestion. Not only that, 1 cup also gives you 3.4 grams of iron and tons of vitamin A, both boosting your immune system. Pumpkin has also been reported to reduce inflammation, which can lead to many chronic conditions, including Type 2 diabetes, heart disease, and cancer.