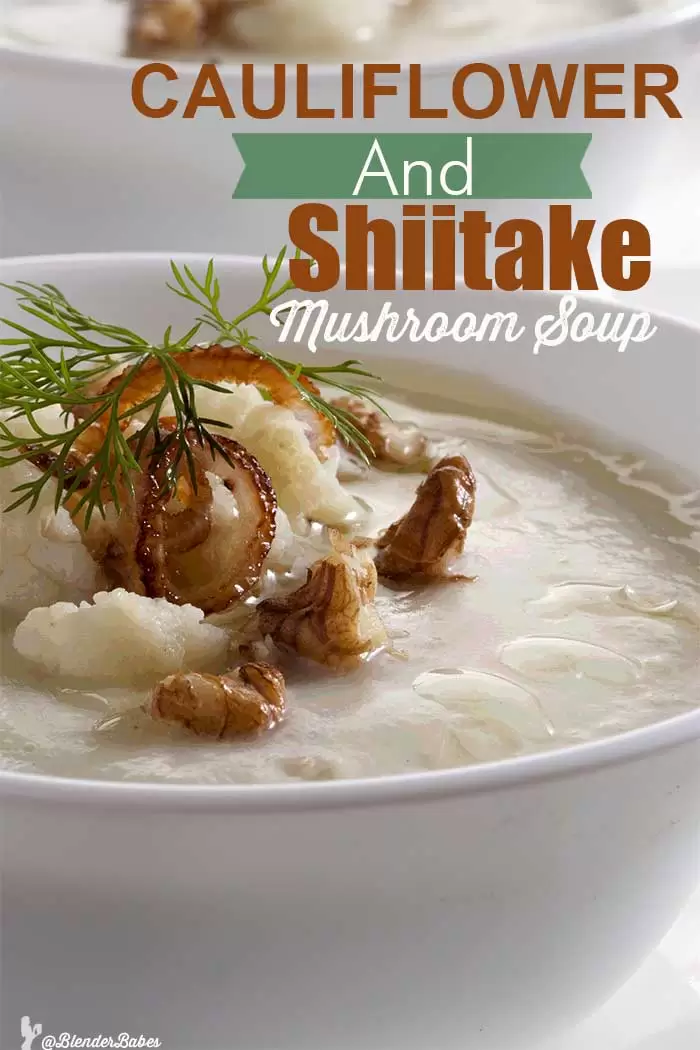 CREAMY CAULIFLOWER SOUP WITH SHIITAKE MUSHROOMS
This delicious recipe gives you all the creamy goodness your tastebuds crave-without the cream!
The all vegan, gluten free recipe below is adapted from a carnivore version, and is such a perfect quick and easy soup made from scratch that will have you wondering why it wasn't made dairy-free in the first place!
Of course, you can make it in a way that fits your lifestyle – both versions are GREAT! The texture of the highly nutritious cauliflower mixed with the meaty shiitakes is the perfect combination of pureéd savory goodness.
Best of all, it is made in a snap with your high powered Vitamix or Blendtec blender, however, it can be made with a "regular" blender – see notes. Also, if you are using DRIED shiitake mushrooms, be sure to soak them gill side down in cool water for about 8 hours. I put them in a bowl in the morning before work, and this soup is ready in NO TIME for dinner!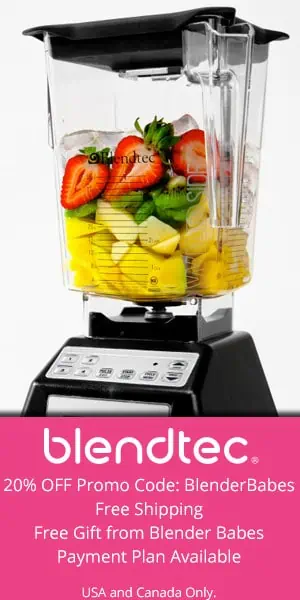 Be sure to  join our community for more heart-healthy blender made soup recipes!  Did you try this? Let us know what you think by rating it in the comments!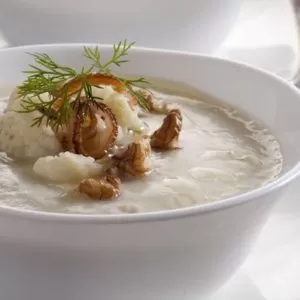 Creamy Cauliflower Soup with Shiitake Mushrooms
Ingredients
4

teaspoons

extra virgin olive oil

3/4

cup

thinly sliced leek

light green and white parts only

1/2

teaspoon

kosher salt

4

cups

coarsely chopped cauliflower florets

1 1/2

cups

vegetable stock

or chicken

3/4

cup

water

2

teaspoons

chopped fresh thyme

1/4

cup

rice or almond milk

or reduced fat 2% milk

1 1/2

teaspoons

coconut oil

or butter

1/4

teaspoon

white pepper

3 1/2

ounces

shiitake mushroom caps

1

teaspoon

tamari

or Worcestershire

1

teaspoon

sherry vinegar

2

teaspoons

chopped fresh parsley
Instructions
Heat large saucepan over high heat, add 2 teaspoons olive oil to pan

Add leek, saute´1 minute, add a pinch of salt, cover and reduce heat until leeks are soft

Add cauliflower, 1 cup plus 6 tablespoons of the vegetable stock, water and thyme.

Bring to a boil; cover reduce heat, and simmer until cauliflower is very tender-about 7 minutes

Place cauliflower in Blendtec 90oz Wildside Jar or Vitmaix 64oz Jar. Add remaininng salt, milk/sub, coconut oil and pepper

For

Blendtec

: Press the BATTERS/SAUCES button

For

Vitamix

: Start on Speed 1, increase to speed 5 and blend for 30 seconds.

If needed, add 1/2 cup of vegetable broth and/or more milk substitute.

For

Vitamix

: Start on Speed 1, increase to speed 10/HIGH and blend for 1.5 minutes.

Thinly sliice shiitake caps. Heat a skillet over medium-high heat

Add remaining olive oil to pan, add mushrooms; sauté 6 minutes or until browned

Add remaining 2 tablespoons vegetable stock, tamari and sherry vinegar, cook until reduced and syrupy

Pour soup into bowl, top with mushrooms and fresh parsley, and enjoy!

All done! Enjoy!! Now take a photo, rate it, and share your accomplishments! 🙂 Tag @BlenderBabes & #BlenderBabes
Notes
With a regular blender, you may need to blend the cauliflower in 2 batches, and do not include the milk, coconut oil or pepper. Blend by removing the lid plug to let steam escape and place a towel over the opening to prevent splatters. Once blended, return to pot and THEN add milk/coconut oil/pepper and stir. Keep warm
Nutrition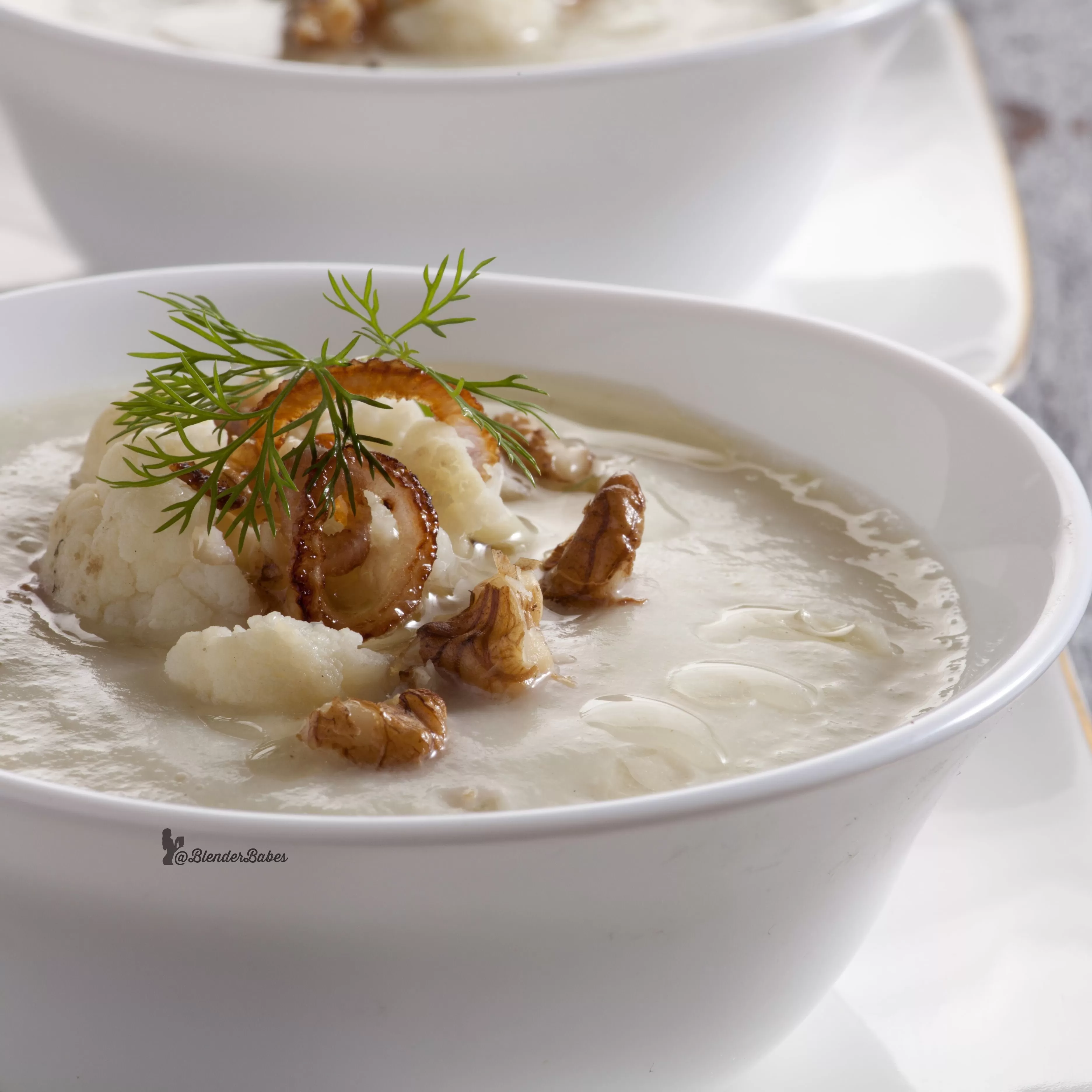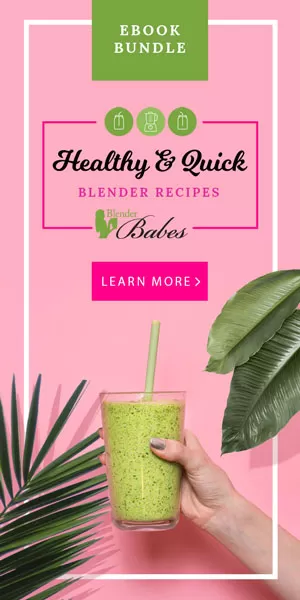 HEALTH BENEFITS & FUN FACTS
Cauliflower is packed full of antioxidant vitamin C and anti-inflammatory vitamin K.
This fiber-full cruciferous vegetable is great for your digestive system and with a rich omega-3 content, your cardiovascular health as well!
Cauliflower has been shown to be effective in reducing the risk for many types of cancers and inflammatory conditions thanks to the anti-inflammatory nature of the glucosinolates it is abundant in.
Shiitake mushrooms help protect against cardiovascular disease, regulate the immune system, even provide a highly bioavailable form of non-animal iron. The polysaccharides found in shiitake mushrooms can help lower cholesterol and reduce symptoms of stress, immunodeficiency, even radiation exposure! talk about superfoods!