BALSAMIC CITRUS SALAD DRESSING RECIPE
This is a refreshing summer-time balsamic citrus salad dressing.
Chop up a mixture of assorted greens, diced apple, toasted pecans and watch the flavor of this dressing spring into action!
It's also great on grilled fish, so even more reason to whip some up for a healthy meal.
Easily blend it up in your Vitamix or Blendtec blender and don't forget to join our community to stay up on delicious, quick and easy dressings the whole family will enjoy! Plus share your rating with us if you try this one at home! We love to hear your thoughts! 🙂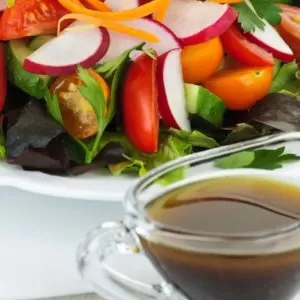 Balsamic Citrus Salad Dressing
Ingredients
1/4

cup

organic balsamic vinegar

3

medium oranges

peeled, halved

3

green onions

white part only OR 1/4 cup, chopped

2

small garlic cloves

peeled

2

tablespoons

sweetener of choice

2

tablespoons

lime juice OR 1/2 lime

peeled

1/8

teaspoon

ground white pepper

1

teaspoon

salt

1/2

cup

extra virgin olive oil
Instructions
Place all ingredients into the blender in the order listed and secure lid, except the olive oil.

For

Blendtec

: Press the SAUCES button. Add the olive oil and PULSE 4 to 5 times to incorporate.

For

Vitamix

: Select VARIABLE, Speed 1. Turn machine on and slowly increase speed to VARIABLE, Speed 10, then to HIGH. Blend for 45 seconds, or until smooth. Reduce speed to VARIABLE, Speed 4 and remove lid plug. Slowly add the olive oil until well incorporated

Refrigerate in airtight container for 30 minutes.

Then set out for 30 minutes to bring to room temperature. Shake before serving over salad.

All done! Enjoy!! Now take a photo, rate it, and share your accomplishments! 🙂 Tag @BlenderBabes & #BlenderBabes
HEALTH BENEFITS & FUN FACTS OF OLIVE OIL
The cultivation of olives and olive oil production has deep roots in the history of Spain.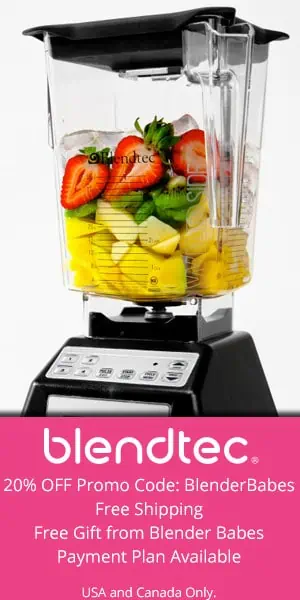 The olive, a symbol of peace, and the olive-producing trees (olea europea) are known to have been cultivated over 6000 years ago in the Mediterranean.
In addition to bolstering the immune system and helping to protect against viruses, olive oil has also been found to be effective in fighting against diseases such as cancer (the phytonutrient in olive oil, oleocanthal, mimics the effect of ibuprofen in reducing inflammation, which can decrease the risk of breast cancer and it's recurrence).
Heart disease (it helps lower levels of blood cholesterol which lead to heart disease), and diabetes (it's been demonstrated that olive oil-rich diets, low in saturated fats, moderately rich in carbohydrates and soluble fiber from fruit, vegetables, pulses, and grains, are the most effective approach for diabetics).