ALTON BROWN'S GLUTEN-FREE CHOCOLATE CHIP COOKIES
This recipe by Alton Brown has frequently been mentioned to us by those in the gluten-free community as being one of the best chocolate chip cookie recipes out there, never mind they are gluten-free!
So, of course, we had to test it for all of our gluten-free Blender Babes out there! Our lovely Recipe Tester Cindy LOVES to bake, using her Blendtec as a mixer since she has both the Fourside and Wildside Jar.
If you have just a Fourside jar, pour the wet ingredients into a mixing bowl with the dry ingredients to incorporate by hand the way you do with a Vitamix.
If you are also egg free and dairy-free, you can modify this recipe with an egg substitute & use 1/2 the amount of coconut milk (1 tablespoon) instead of the whole milk.
Also if you have a scale use it, as the dry measurements are slightly different than the weight measurements. The recipe makes a large chocolate chip cookie, we like to place ice cream in the middle for a chocolate chip cookie sandwich, but we also enjoy making these smaller cookies – perfect as a sweet scooby snack!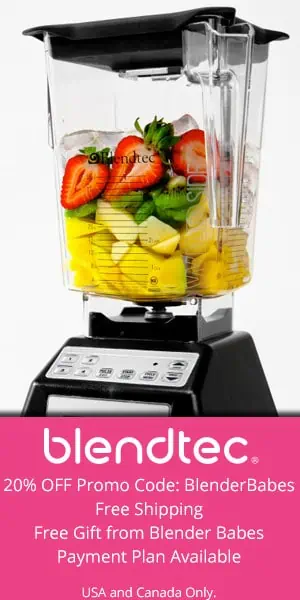 Be sure to join our community for more healthy blender recipes. If you try this recipe share your rating with us in the comments section below! 🙂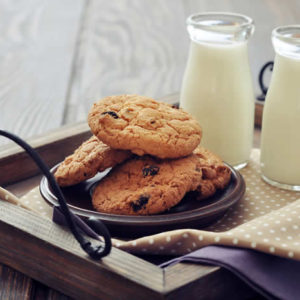 Alton Brown's Chewy Gluten Free Chocolate Chip Cookies
Ingredients
8

ounces

unsalted butter

11

ounces

brown rice flour**

approximately 2 cups

1 1/4

ounces

cornstarch

approximately 1/4 cup

1/2

ounce

tapioca flour

approximately 2 tablespoons

1

teaspoon

xanthan gum

1

teaspoon

celtic salt

1

teaspoon

baking soda

2

ounces

sugar

preferably raw sugar, approximately 1/4 cup

10

ounces

light brown sugar

approximately 1 1/4 cups

1

whole egg

1

egg yolk

2

tablespoons

whole milk

1 1/2

teaspoons

vanilla extract

12

ounces

semisweet chocolate chips
Instructions
Preheat oven to 375°F (190°C).

For

Blendtec and Vitamix

: To 64-ounce jar add rice flour, cornstarch, tapioca flour, xantham gum, salt and baking soda and PULSE 3 to 5 times to sift.

For

Vitamix:

Pour into a large mixing bowl

Melt the butter in a heavy-bottom medium saucepan over low heat. Once melted, pour into the

Blendtec Wildside jar

or Vitamix 64oz jar.

Add both of the sugars to the jar with the butter and blend on speed 2 for 1 minute.

Add the whole egg, egg yolk, milk and vanilla extract and secure lid.

For

Vitamix:

Select Variable 1. Turn machine on and slowly increase speed to Variable 10, then to High. Blend for 20 seconds or until well blended.

For

Vitamix and Blendtec

(if you only have

Fourside Jar

): Pour wet ingredients plus chocolate chips to the into mixing bowl containing dry goods. Use spatula to incorporate wet and dry ingredients.

For

Blendtec:

Add 1/4 of the dry mixture to the

Wildside jar

with wet goods and PULSE several times until incorporated. Repeat this with remaining dry goods 1/4 at a time.

Chill the dough in the refrigerator until firm, approximately 1 hour. Shape the dough

Drop 2-ounce balls and place on parchment-lined baking sheets, 6 cookies per sheet. Bake for 14 minutes, rotating the pans after 7 minutes for even baking.

Remove from the oven and cool the cookies on the pans for 2 minutes. Move the cookies to a wire rack and cool completely.

Store cooked cookies in an airtight container.

All done! Enjoy!! Now take a photo, rate it, and share your accomplishments! 🙂 Tag @BlenderBabes & #BlenderBabes
Nutrition
Serving:
1
g
Calories:
251
kcal
Protein:
2
g
Fat:
13
g
Saturated Fat:
7.5
g
Cholesterol:
38
mg
Sodium:
143
mg

HEALTH BENEFITS & FUN FACTS
As more and more people are recognizing they have gluten allergies (aka celiac disease – becoming seriously ill from gluten) or gluten intolerance (gluten gives you icky side effects for a few days), people are constantly asking us for the best gluten-free recipes.
Luckily for us and our recipe testers, gluten-free baking has come a long way from the hockey pucks that people use to end up with when trying new gluten-free recipes several years ago (YAY!) We found this amazing recipes & tips for gluten free baking and are slowly testing how to make them in our blender!