|
Get FREE STUFF for Your Health! Click Here 🙂
COPYCAT CAMPBELL'S CREAM OF MUSHROOM SOUP RECIPE
This healthy and easy vegan cream of mushroom soup recipe is a copycat recipe of the classic campbell's soup.
It will smell amazing right off the bat due to the combo of onion, mushroom and wine.
The addition of coconut milk makes it super creamy despite being dairy-free! You will like that this soup recipe is versatile and can be adjusted based on taste and preference.
This copycat campbell's cream of mushroom soup can be used as a substitute for any recipe calling for it such as your traditional rice or chicken casserole!
It will be much healthier by cutting out the processed, canned stuff.
If you let it sit for an hour (or even overnight!), the flavors will swim together perfectly.
Yum! This vegan, heart healthy soup recipe is really easy (just the way we like it!) and sooooo delicious.
It's a great family meal and makes enough for plenty of leftovers too! It's warm, comforting and flavorful.
This dairy-free cream of mushroom soup does not require a Blendtec or Vitamix blender, just be careful
For more nutritious blendtec or vitamix soups recipes from Blender Babes join our community!
When you try this recipe, please tell us what you think in the comments below by sharing your rating with us! 🙂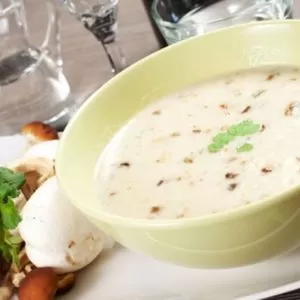 Vegan Cream of Mushroom Soup
Ingredients
1

tsp

coconut oil or olive oil

2

medium onions

diced

2

pounds

assorted mushrooms

cut into bite sized pieces (at VegaHQ we used portabella and button mushrooms)

1

cup

of a good quality white wine

or vegetable broth

2

15oz can coconut milk

2

– 4 cups vegetable stock

5

sprigs fresh thyme

and extra for garnishing

Salt and pepper

to taste
Instructions
In a soup pot, melt coconut oil over medium-high heat. Add onion and sauté 5-8 minutes or until translucent.

Add assorted mushrooms and sauté for 8-15 minutes until browned and juices are mostly evaporated. Add wine and deglaze pot, scraping any browned bits off the bottom.

Reserve half of the mushrooms and onions and place the rest into blender jar. Add 1 can coconut milk, secure the lid and blend until smooth.

Blend until smooth (blend on high speed for 30 seconds with a power blender).

Add blended mushrooms, remaining coconut milk and 2 cups stock into pot.

Add more stock if soup is too thick for your liking.

Add the other half of mushrooms and onions to the pot.

Season soup with thyme leaves, salt and pepper and simmer soup over medium-low heat for 10 minutes.

All done! Enjoy!! Now take a photo, rate it, and share your accomplishments to enter our weekly photo contest! 🙂 Tag @BlenderBabes & #BlenderBabes
Notes
For a stronger mushroom flavor, you can let the soup sit overnight.
Nutrition
Serving:
4
g
Calories:
180
kcal
Carbohydrates:
22.5
g
Protein:
8
g
Fat:
4
g
Saturated Fat:
3.4
g
Polyunsaturated Fat:
0.5
g
Trans Fat:
1
g
Sodium:
608.2
mg
Fiber:
4.5
g
Sugar:
9.1
g
COCONUT MILK HEALTH BENEFITS
Coconuts and coconut milk have traditionally gotten a bad rap due to the high levels of saturated fat.
Island populations around the world, however, have used the fruit's meat juice, milk and oil in everything from cooking to disease prevention.
Immune System Health
Coconut milk contains lauric acid, antimicrobial lipids and capric acid, which have antibacterial, antifungal and antiviral properties. The body converts lauric acid into monolaurin, which may fight the viruses and bacteria that cause herpes, and influenza.
Weight Loss
New research has revealed that not eating enough fat can actually make you fat.
According to this same research, people who include more healthy fats in their diet, such as the medium-chain triglycerides in coconut milk, eat less than those who don't get enough fat.
The fat in coconut milk may increase metabolism and perhaps increase weight loss on a reduced-calorie diet.