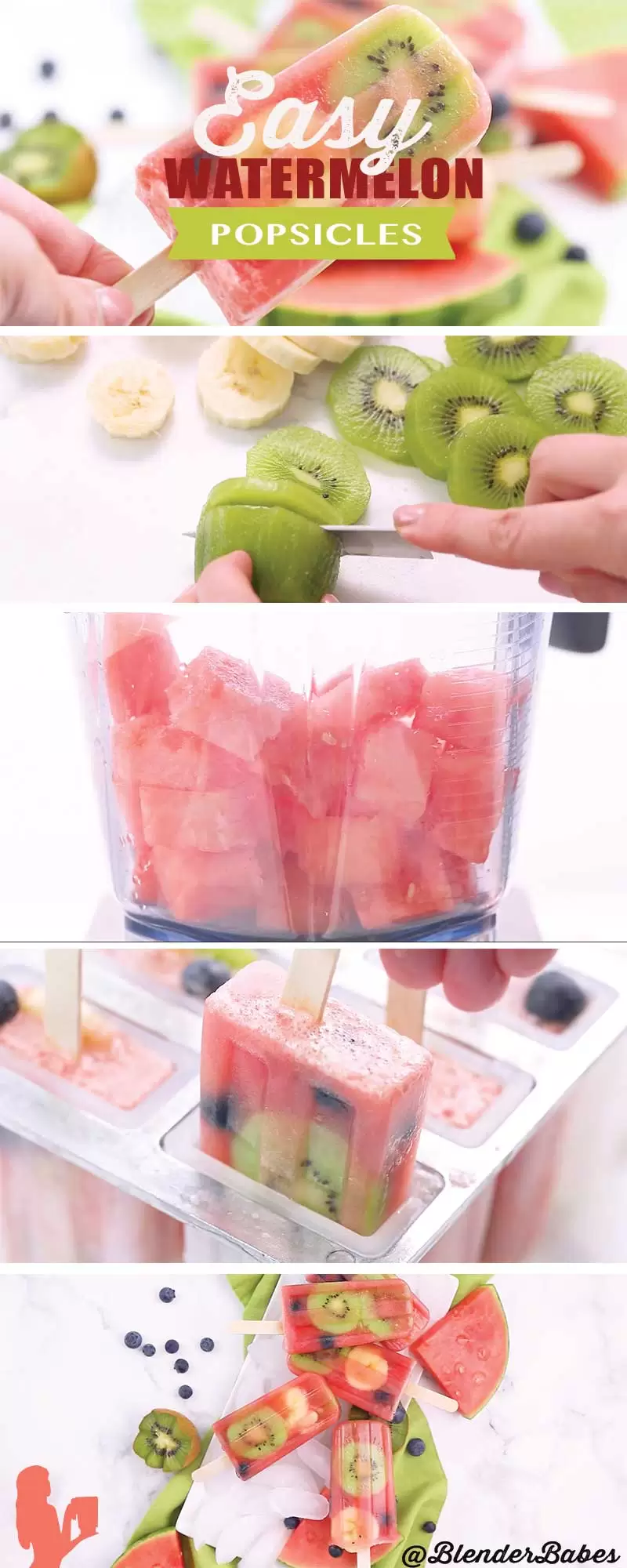 Get FREE eBooks/Downloads for Your Health! Click Here 🙂
EASY WATERMELON POPSICLES RECIPE WITH FRUIT
Summertime is synonymous with Popsicles, and kids, adults and even dogs alike will be cooled and refreshed with these easy to make healthy and tasty watermelon fruit popsicles.
Stay away from the ice cream truck or grocery store popsicles, which are laden with high fructose corn syrup and #5 red and #8 blue dye.
Those popsicles pose more of a health risk than a summer sweet indulgence!
This perfect-for-summer treat can be whipped up super quickly in a Blendtec or Vitamix blender, which can pulverize even seeded watermelons.
Bonus: Watermelon seeds contain protein as well as other nutrients, so you are able to enjoy the whole food!
In just a few steps you will have yummy watermelon fruit popsicles to serve to your little ones – and don't forget to save one for yourself too!
Here are the popsicle molds used in our video, but there are many fun ones to choose from! 🙂 With banana, kiwi and blueberries, it's a refreshing fruit salad on a stick!
Be sure to join our community for more cool treats and healthy recipes. Share your rating in comments below, if you try this recipe at home! Our community loves to share.
WATCH A QUICK VIDEO OF THIS WATERMELON POPSICLES RECIPE:
And subscribe to my YouTube Channel for more blender videos!
Recipe by: Kelly Brozyna (The Spunky Coconut) who is author of four gluten-free cookbooks, including The Spunky Coconut Dairy Free Ice Cream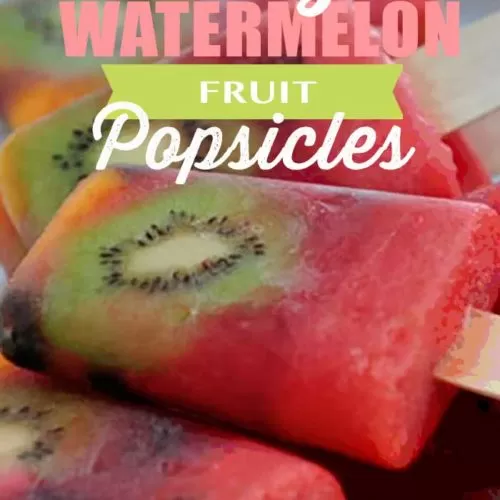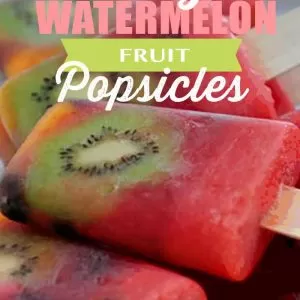 Easy Watermelon Fruit Popsicle
Ingredients
2

cups

watermelon

cut into chunks

1

banana

2

kiwi

1/2

cup

fresh or frozen

defrosted blueberries
Instructions
Place watermelon chunks into your blender to puree.

For Blendtec: Press the SAUCES/DIPS/DRESSINGS/BATTERS button OR blend on a Medium to Medium-Low speed for 30 seconds. 

For Vitamix and other variable speed blenders: Start on Speed 1, turn the machine and slowly increase to Speed 10, then flip to high and blend for 30 seconds.

Set aside.

Peel and slice the banana and kiwi.

Place 2 slices of each fruit into each

pop mold

. Then drop equal amounts of blueberries into each mold.

Use a popsicle stick to press the blueberries between the kiwi and banana slices, forcing them against the walls of the mold.

Fill the molds with watermelon puree.

Add sticks and freeze.

To remove the pops from the molds, briefly place them in a bowl of hot water to loosen them.

All done! Enjoy!! Now take a photo, rate it, and share your accomplishments! 🙂 Tag @BlenderBabes & #BlenderBabes
Nutrition
Serving:
1
g
Calories:
48
kcal
Carbohydrates:
12
g
Protein:
1
g
Sodium:
1
mg
Fiber:
1
g
Sugar:
8
g
HEALTH BENEFITS OF KIWI AND BLUEBERRIES
Kiwi fruits are rich in many Vitamins, flavonoids and minerals. In particular, they contain a high amount of Vitamin C (more than oranges), as much potassium as bananas and a good amount of beta-carotene.
Blueberries have always grown in the wild and weren't cultivated until the twentieth century.
The Native Americans had many uses for them, both as food and medicine.
In addition to being delicious and easy to eat, blueberries are one of the best sources of antioxidants among all fruits and vegetables.