21 SIMPLE DELICIOUS SMOOTHIE BOWL RECIPES
Smoothie bowl recipes have become the latest healthy craze. Not only are they incredibly delicious and fulfilling but they're super nutritious as well.
The main ingredient you'll find in most smoothie bowl recipes is the acai berry.
Honestly, what's not to love about this amazing Brazilian superfood?
The acai berry is full of antioxidants that aid weight loss, increase energy, and fight off free radicals and inflammation.
Though the acai berry has become synonymous with smoothie bowl recipes, you can make smoothie bowls just like you would your smoothies — with a variety of ingredients!
We've combed the web and compiled a list of 21 fantastic smoothie bowl recipes (with AND without acai) that will delight your taste buds and fill your belly with healthy goodness!
This delicious smoothie bowl recipe will certainly remind you of a vacation on a tropical island with its mixture of island fruit favorites — pineapple, mango, orange and banana. You can blend this one up no matter the season, but if you're feeling a cold coming on this recipe could be considered a mighty cold crusader able to leap a budding sickness in a single bound.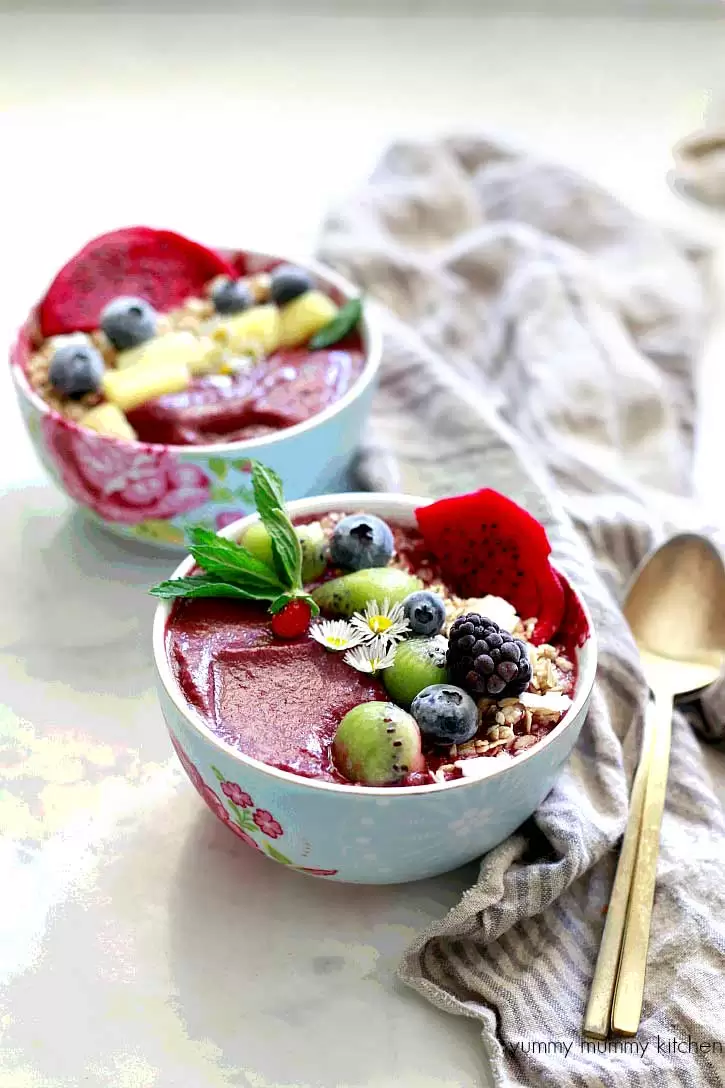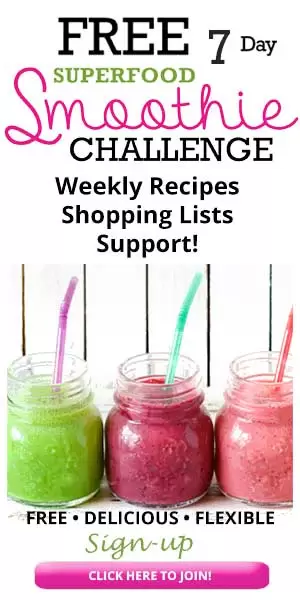 Peachy keen and perfectly lean this smoothie bowl recipe is full of summer season fruits that will help your body digest all of that backyard barbeque! Pecans help add some extra crunch to the acai base. Missed the opportunity to buy some fresh peaches from the farmers market? Frozen ones will suffice here . Yum!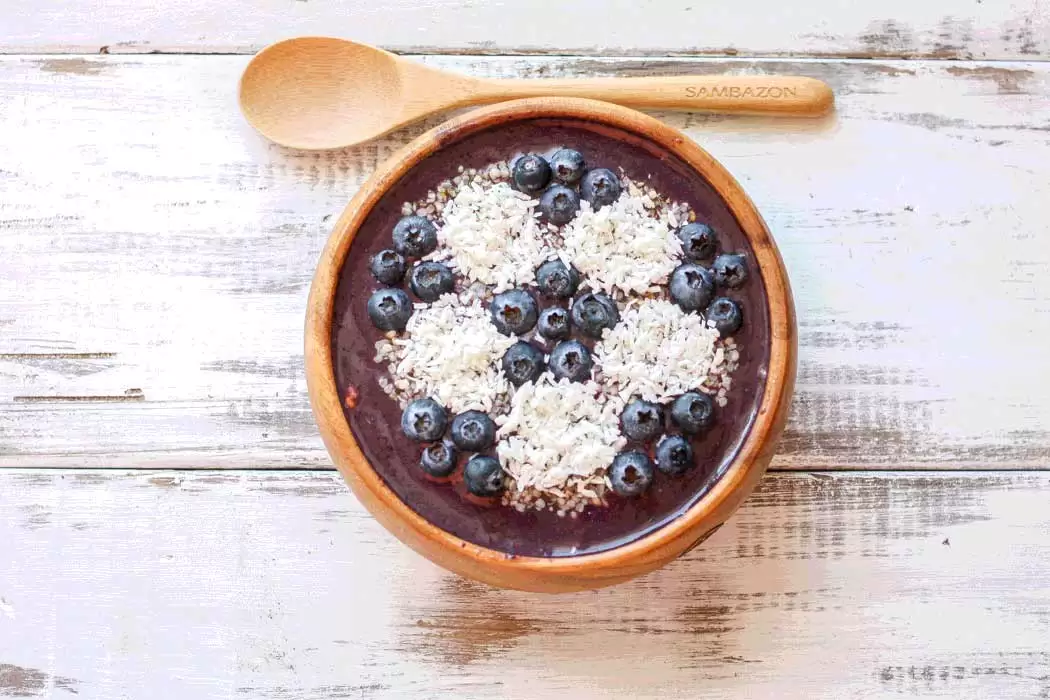 Cinnamon spice and everything nice is a part of this delicious acai smoothie bowl recipe! Consider this one your go-to holiday breakfast bowl with its wonderful warmth of fall spices and the sweet potato base. But you don't have to wait to the holidays to make this recipe, sweet potatoes are available year-round and are a  great source of Vitamin B6, C, and iron!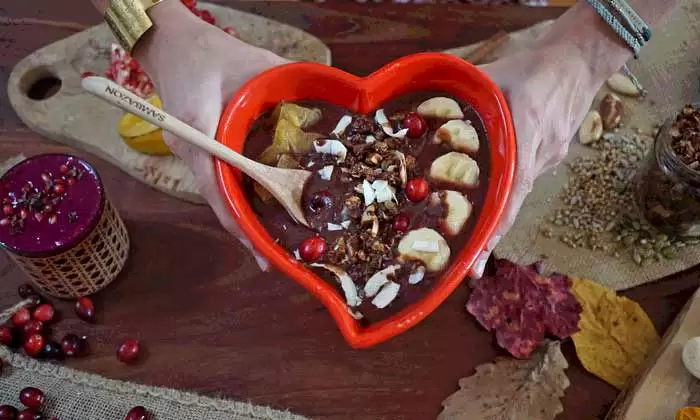 Green Smoothie Bowl Recipes – Get Your Green On!
Tired of trying to work those greens into your busy schedule, or into a midway salad? Get them in all at once with a green smoothie bowl! A simple handful of leafy greens can help you stay young and lower your cholesterol, and these recipes make sneaking them in easy peasy!
Green is great in this smoothie bowl, which is filled with spinach which fights inflammation and has lots of Vitamin K, A, C, & B6! But we can't forget the creamy avocado, which helps to makes the Acai base extra smooth. If you need to sneak more greens into you or your kids diet, serve this one to them and they'll never know how diabolically healthy this smoothie bowl is for their growing bodies.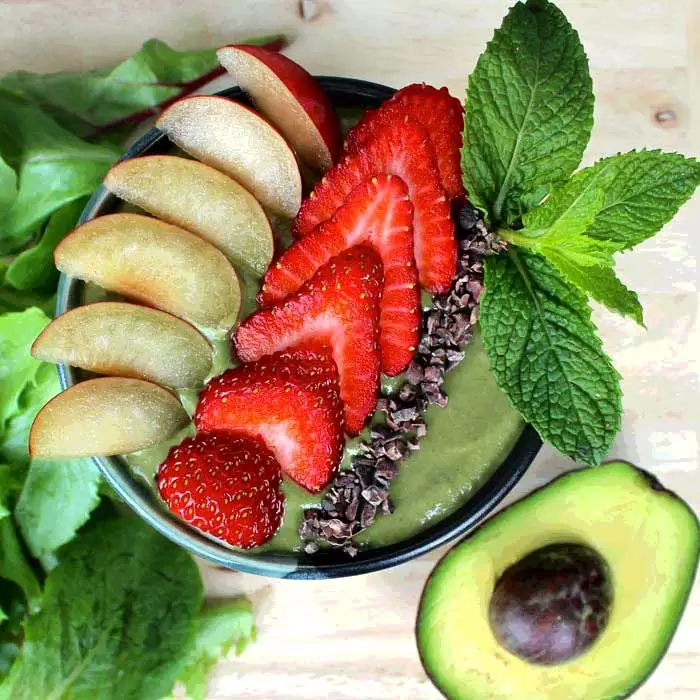 The green power punch in this smoothie bowl is the nice serving of kale and spinach. Throw in some berries,  a banana, an avocado and some flax seeds and you'll be worthy of a super hero title.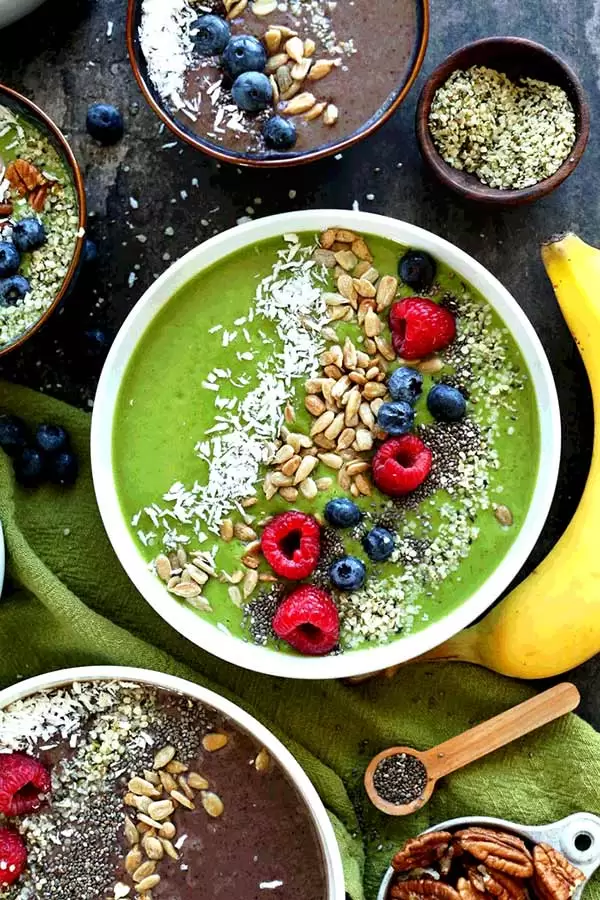 This green smoothie bowl is rich in phosphorus, magnesium, potassium and iron all because of our favorite superfood: avocados! Add in a few handfuls of kale or spinach and some blueberries for sweetness and you'll be flying high from this nutritious body fuel!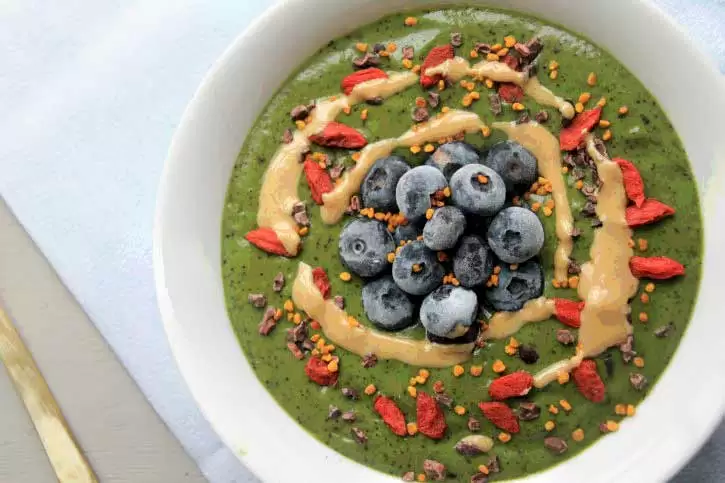 Does your traditional avocado smoothie bowl need an upgrade? Why not add protein-rich cashew cream and a little bit of vibrant pomegranate seeds? To add to the strength, a little bit of yogurt will do the trick to add some much needed calcium AND probiotics to your body.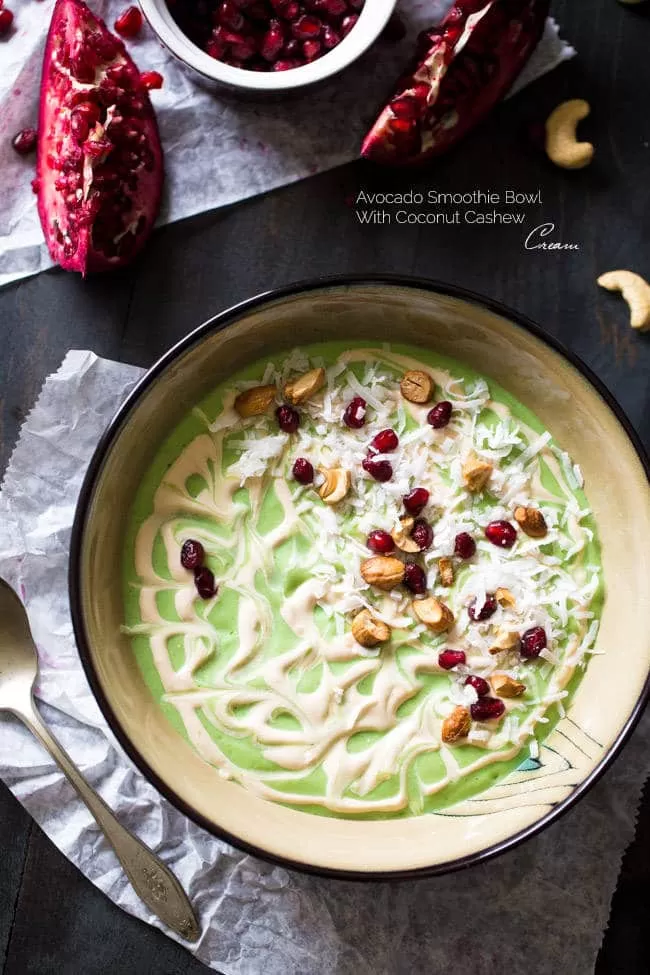 Blueberry, Sweet Potato and Dragon Fruit Smoothie Bowl Recipes!
If you're a smoothie bowl veteran, or you just want a variety of recipes at your fingertips, this next group of recipes is just for you!
Carob powder is an underrated smoothie bowl ingredient. It's totally delicious and rich in fiber and naturally sweet! Think chocolate minus the caffeine and added sugar. Add some bananas and almond milk and blend up this yummy calcium-rich bowl for breakfast…or lunch….or dinner.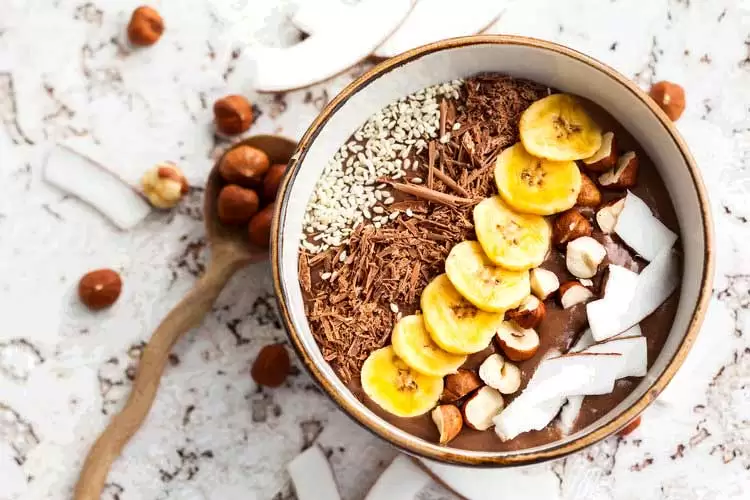 Pitaya, also known as dragon fruit, is an superfood many still have to discover. Trust us, this fruit is definitely worth getting to know since it's chock-full of phytonutrients and Vitamin C! Not only does it taste amazing in a cold smoothie bowl, it's vibrant color makes it a photo perfect food too. All you need is a bit of hemp seeds, chia seeds, and granola to make this a protein-rich snack!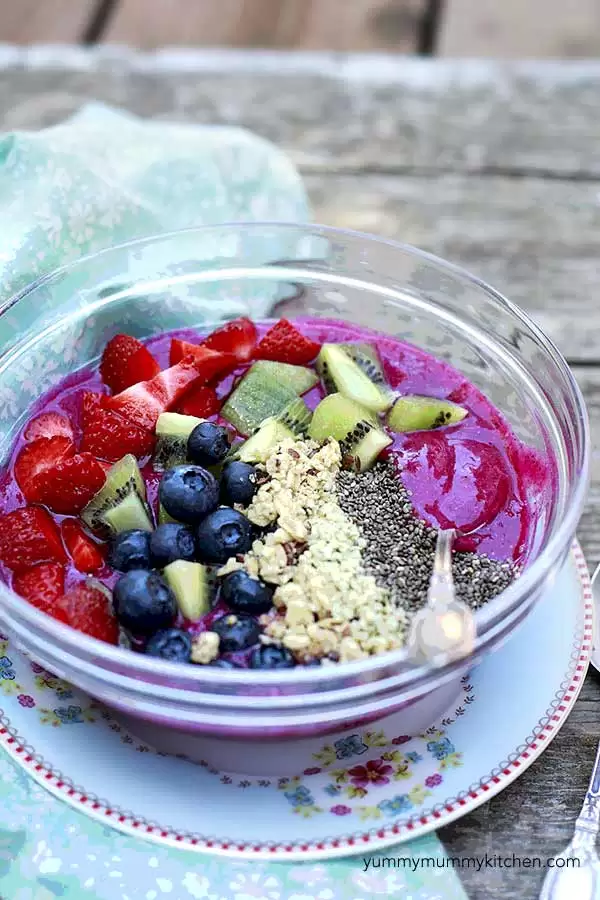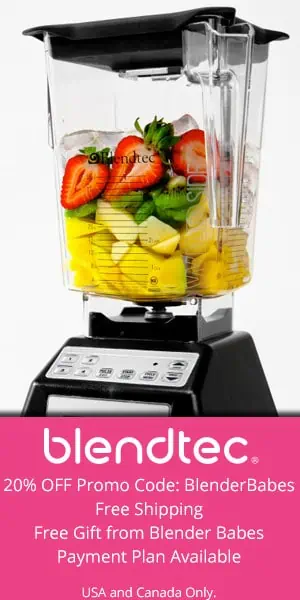 Want to bask in your freedom from unhealthy eating habits? Then give this amazing smoothie bowl recipe a go. Made with two popular summer fruits — blueberries and strawberries — top it off with some shredded coconut for a cool, patriotic-themed treat.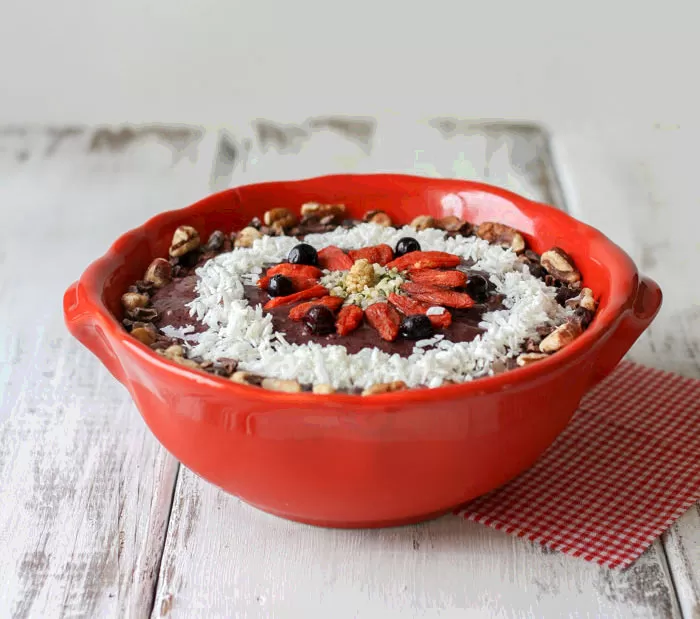 This pink smoothie bowl recipe has a healthy little secret to firm up it's consistency: coconut cream! In addition to the coconut, this recipe is deal for the simple at heart because it only contains berries and bananas. Of course, you can add some granola to give it that smoothie bowl crunch.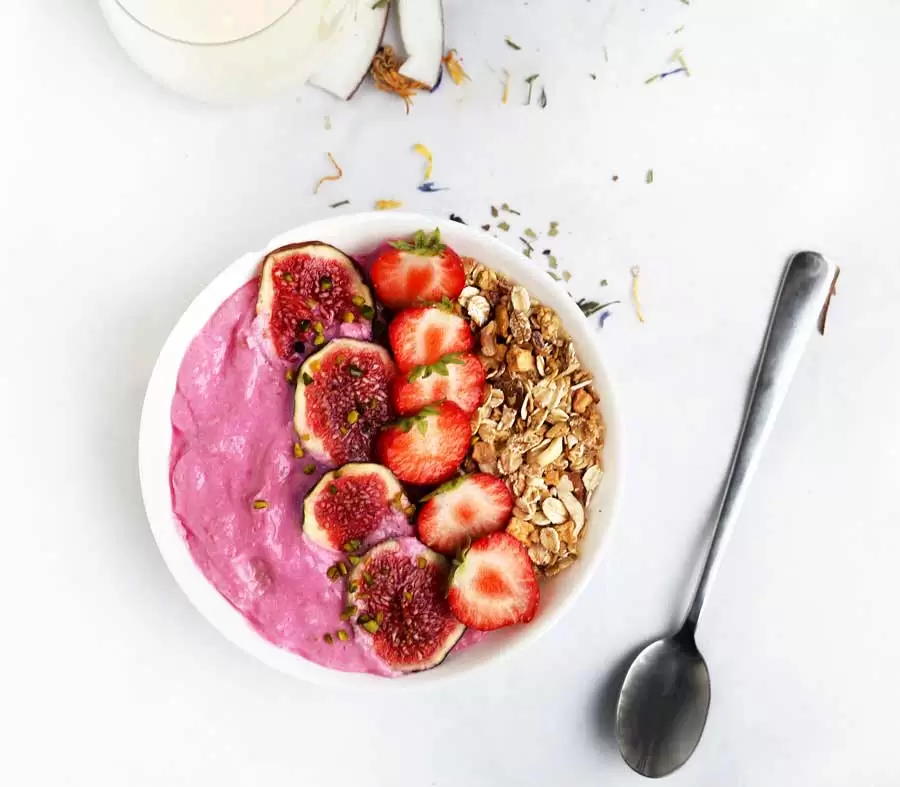 Need a coffee wake up call but don't want to pump your body with way too much sugar and caffeine OR waste money on a $5 latte? Try this espresso and cacao smoothie bowl recipe which has that caffeine boost you want without the processed sugars. Not to mention, it tastes awesome topped with flax seeds!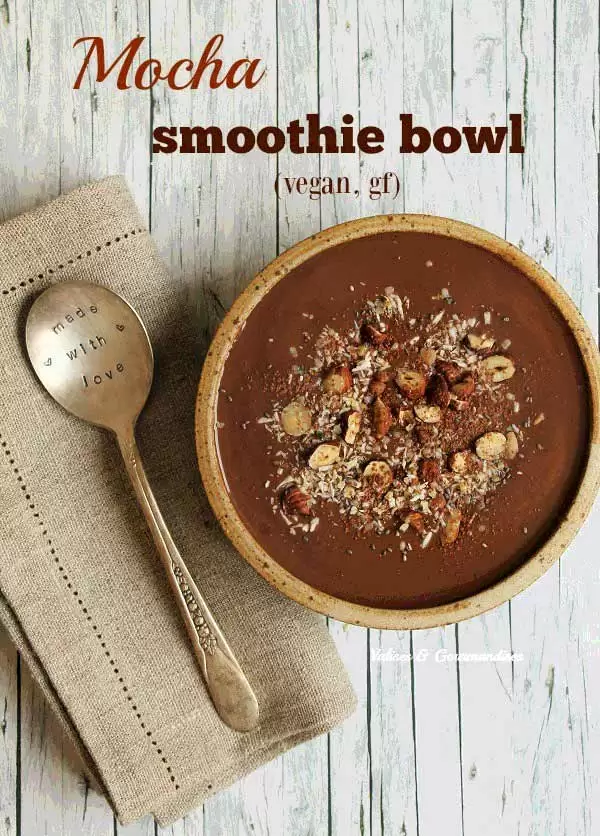 As if sweet potatoes weren't yummy enough, these purple potatoes are colorful too! They're also filling and often used in Japanese desserts because of their delicious flavor. Simply mix in some almond milk and top with some extra crunch if you would like and voila you have a "different" type of smoothie bowl!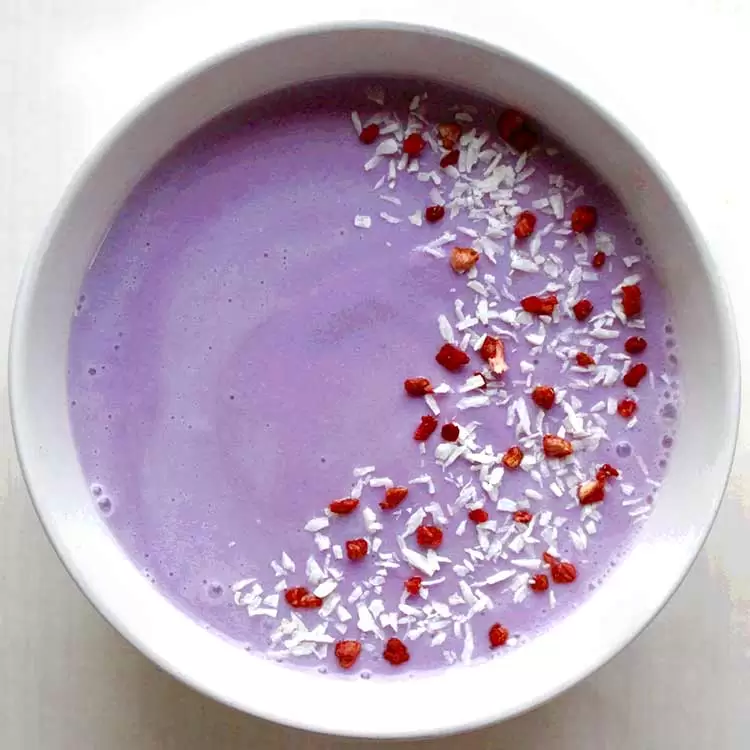 You've got 5 minutes before you have to go to work and you still need to make breakfast. Well..introducing the 5 minute smoothie bowl recipe. Simply blend frozen berries, bananas, and almond milk for a creamy and easy breakfast. Top this nutrient-rich smoothie bowl with coconut shreds, chia seeds, or hemp seeds for added yumminess!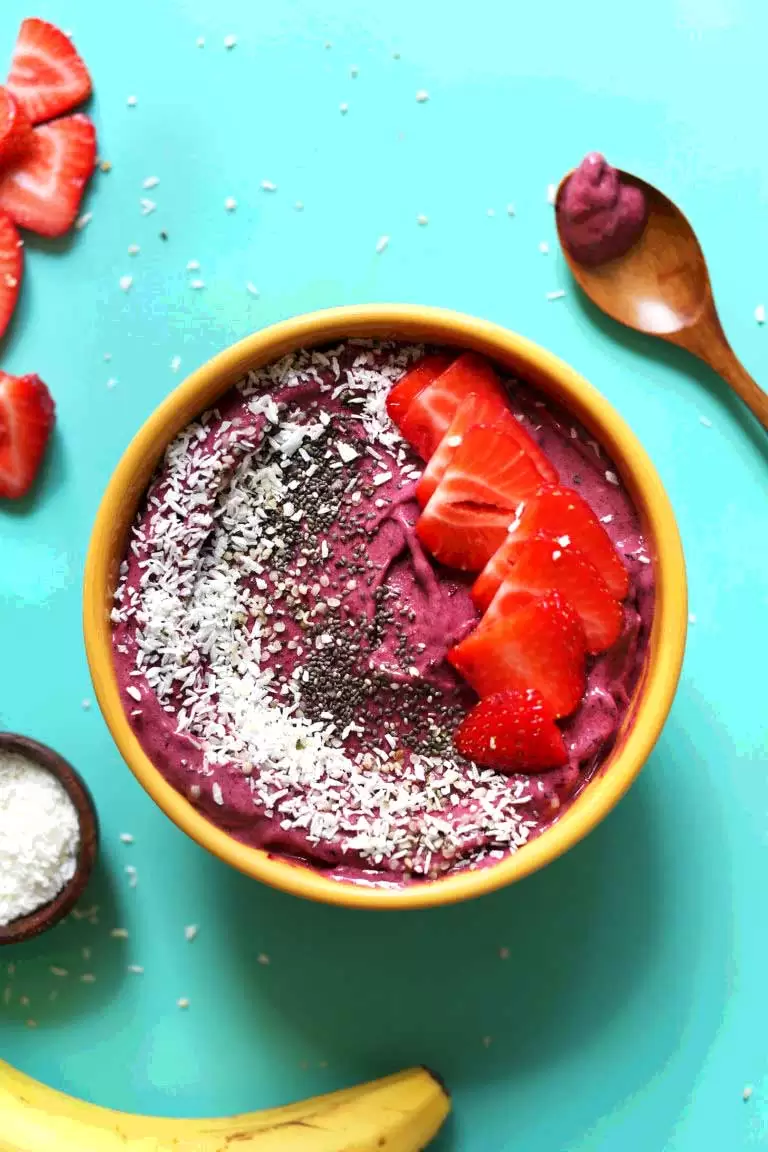 If you're into juicing veggies like celery or carrots, try blending them up in this fantastic smoothie bowl! This is a unique way to get a liquid base but also have the nutrients of the whole vegetable or fruit in your bowl. The sunny smoothie bowl recipe gets it happy color from yummy tropical mangoes and it's vegetable nutrition from romaine and carrots. Delicious!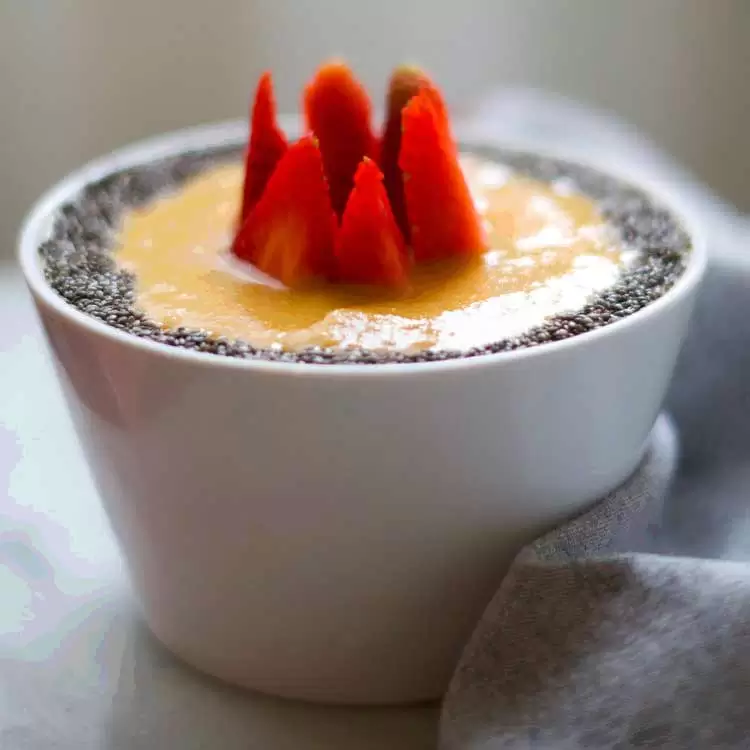 Think of smoothie bowl recipes like healthy people's version of ice cream. Or, as this blogger puts it, literally ice cream for breakfast! The Vegan Berry Crunch Bowl capitalizes on berries for sweetness AND kale for those greens! And don't forget to add in your crunch with via toasted coconut, granola or both!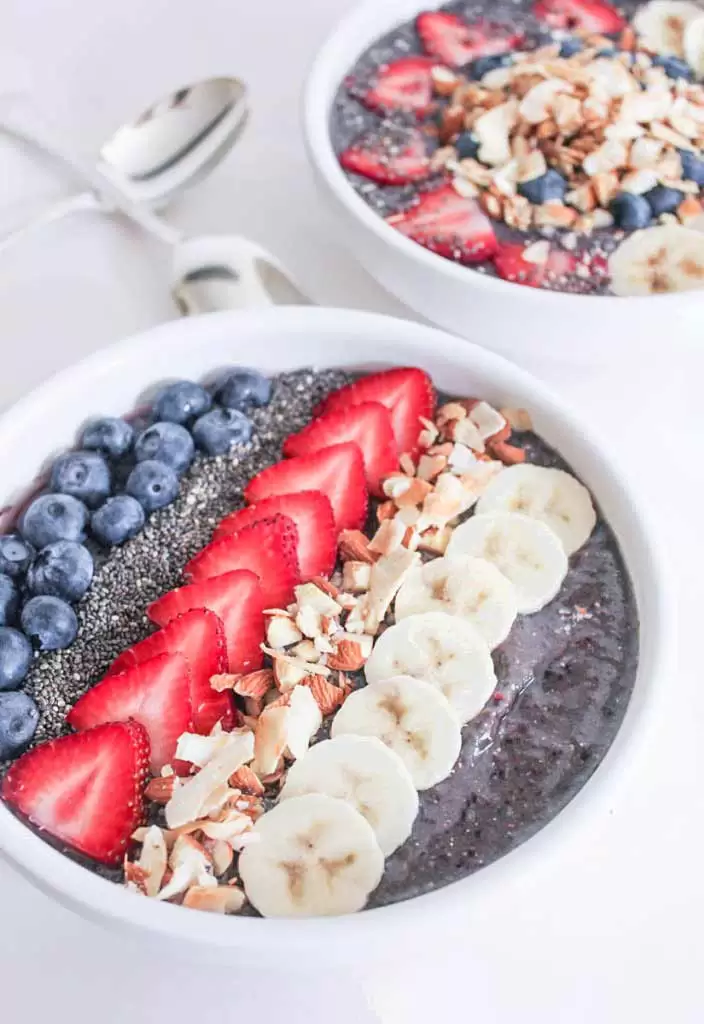 The bite in this smoothie bowl recipe isn't your every day granola or chia seeds — it's a sesame quinoa cereal! The coconut banana's unique topping is of course made complete by it's flavor-filled base of coconut milk, bananas, and oats!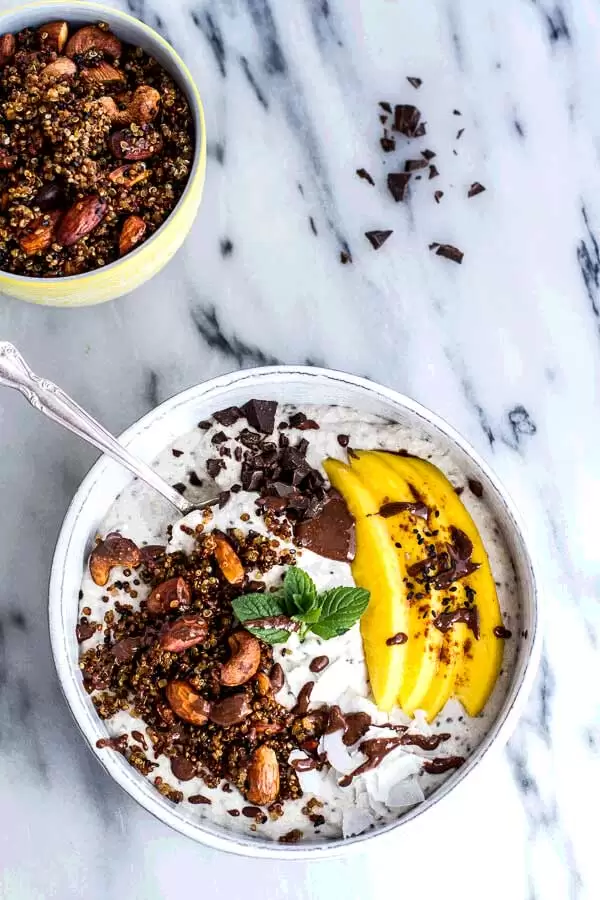 Here's another overlooked ingredient to add to your smoothie bowl recipe base–medjool dates. These fruits are sweet and can seriously thicken a smoothie bowl into that perfect soft-serve consistency! Add in cacao for a chocolate taste and it's basically a nutty chocolate bowl of ice cream, but minus those processed sugars. Win-win.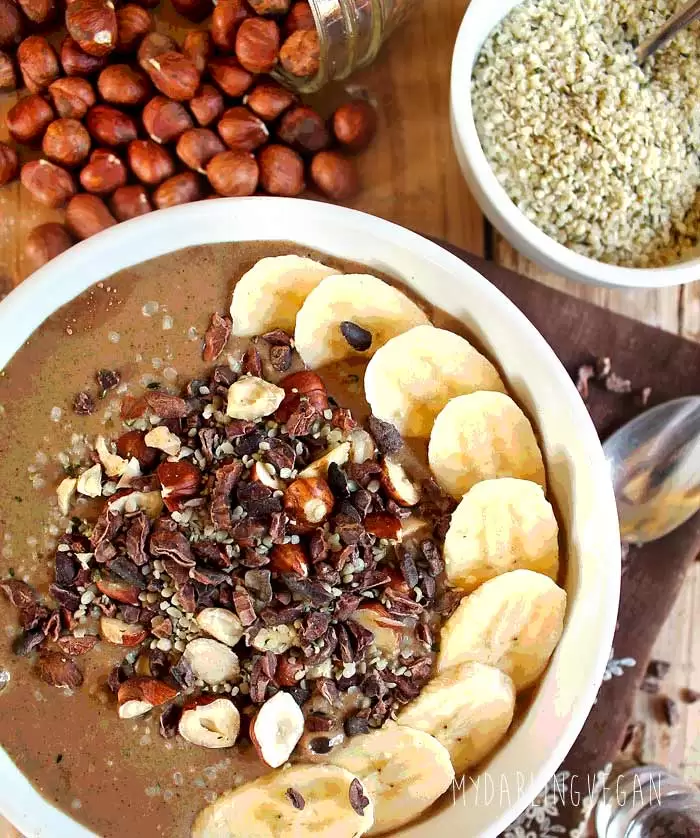 Strawberries and bananas are classic items for any smoothie bowl recipe and this bowl has got it down to perfection. Blend up your fruits with some coconut milk and top it with MORE strawberries. If you want to try something new, add some freeze-dried strawberries for extra crunch. By the way, did you know that strawberries help whiten your teeth? Now that's something to smile about!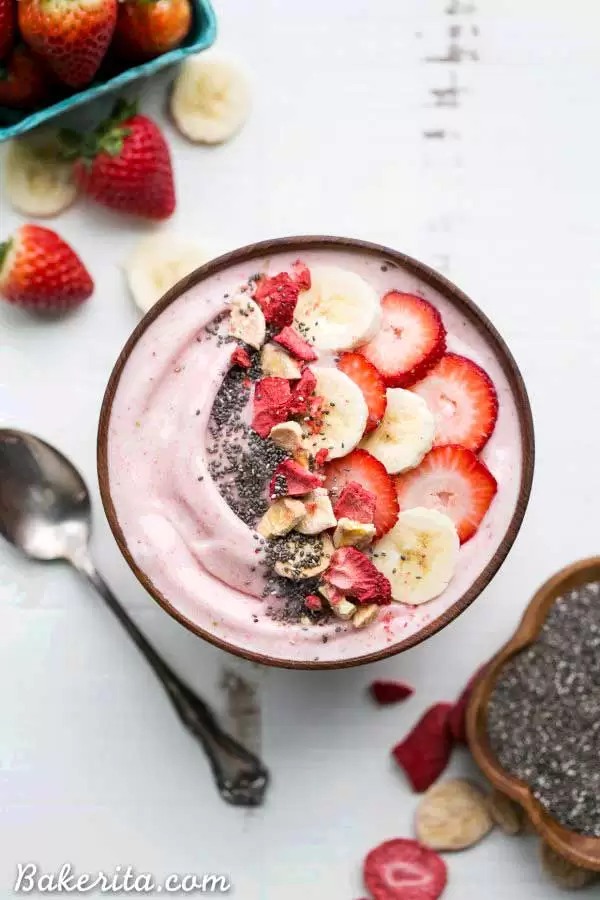 Blueberries are brilliant fruits that are high in vitamin C, fiber, and manganese, so it's a go to food for a bright and early morning! Blend in some honey for their antibacterial properties and this is a superfood-filled smoothie bowl recipe you'll likely make over and over!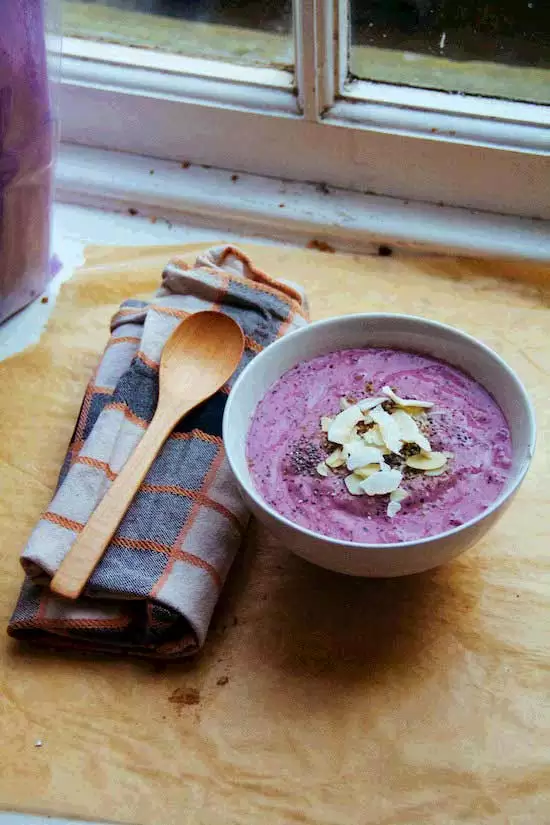 Tired of green smoothies? Welcome into your kitchen this mermaid-esque blue smoothie bowl recipe which gets its vibrant blue color from blue spirulina! This nutritious aquabotanical is high in protein and minerals and can help ease inflammation: who doesn't want that? Not to mention it tastes amazing!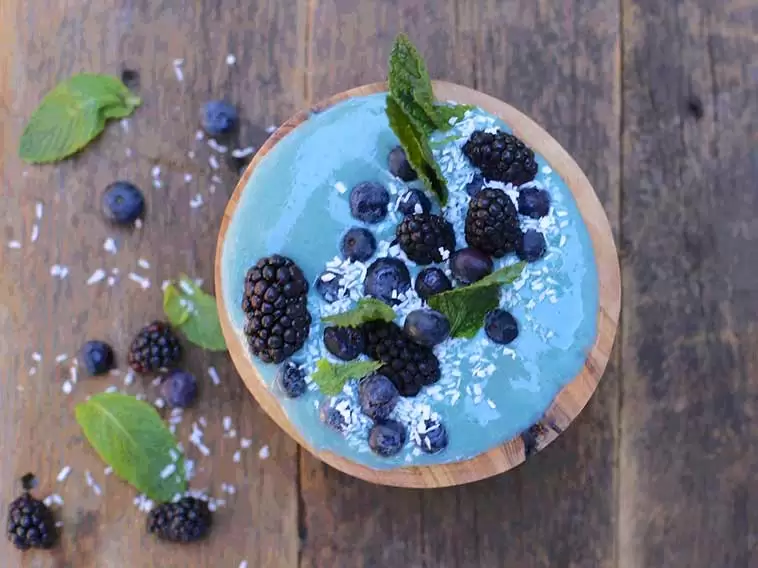 I hope you enjoyed this collection of simple smoothie bowl recipes! Do you have a go-to favorite? Let our blending-loving tribe know in the comments. 🙂
As Always!
Happy Blending!