Get FREE STUFF for Your Health! Click Here 🙂

DETOX APPLE GINGER GREEN JUICE RECIPE
If you're looking for a refreshing recipe during your detox, this apple ginger green juice will definitely hit the spot.
It scored a perfect 10 with several of our recipe testers!
If you love ginger but sometimes it's a little spicy for you, this recipe helps balance the flavor of this cleansing root with detoxing lemon juice and green apple. 
This low calorie green juice is also high in potassium with 508 mg per serving.
Other notable vitamins and minerals are Vitamin A and Manganese, making this a great snack or pre-workout green juice!
Blender Babes Hint: This recipe contains lots of insoluble fiber! Click here to learn how to reduce or eliminate green smoothie foam.
Use these tips if making this detox apple ginger green juice in a "regular" blender.
Otherwise quickly blend this up in a high powered blender, such as a Blendtec or Vitamix.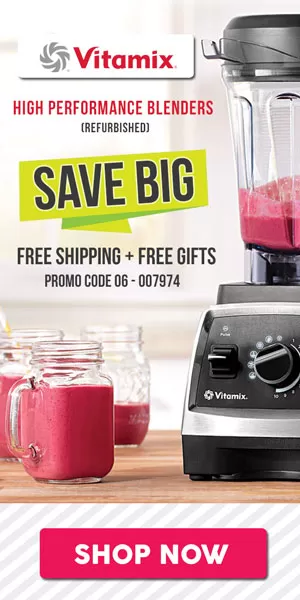 Be sure to join our community for more whole food juice recipes and if you try this, please let everyone know by rating it in the comments! 🙂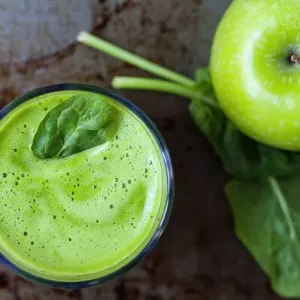 Detox Apple Ginger Green Juice
Ingredients
1 1/2

cups

coconut water

1

green apple

1

cup

spinach

1

tsp

ginger

2

tbsp

lemon juice

3-5

drops liquid stevia

optional

1

cup

ice
Nutrition
Serving:
1
g
Calories:
110
kcal
Carbohydrates:
25.2
g
Protein:
1.6
g
Fat:
0.3
g
Saturated Fat:
0.1
g
Polyunsaturated Fat:
0.1
g
Sodium:
98.8
mg
Fiber:
2.7
g
Sugar:
19.3
g
BLENDER BABES RECIPE TESTER NOTES
"Perfectly balanced like a whole food ginger ale with just the perfect amount of sweetness and ginger. It was super refreshing."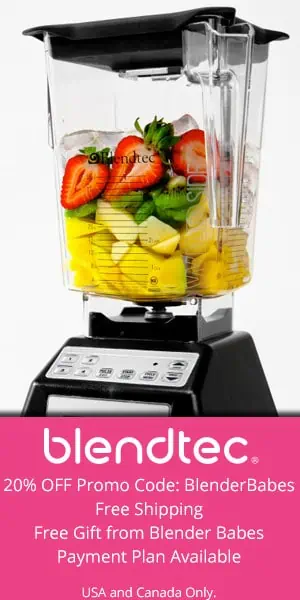 "This is very nicely balanced, and not particularly heavy on the fruit. It is a refreshing whole juice that I now find myself regularly craving."
HEALTH BENEFITS OF COCONUT WATER
Coconut water is an ultimate thirst quencher offering a tasty alternative to water.
This pure liquid is packed with nutrients that yield an array of health benefits. Here are (3) benefits of coconut water that explain why it is quickly becoming popular:
1) Aids in weight loss. The fat content in coconut water is extremely low, so generous quantities can be consumed without the fear of immediately packing on the pounds.
It also suppresses the appetite and makes you feel full because of its rich nature.
2) Beautiful skin. Whether ingesting orally or swabbing it on your skin topically with a cotton ball, coconut water has the ability to clear up and subsequently tone the skin.
3) Goodbye hangover. Next time you overdo it and end up with a bellyache in the morning, consume coconut water to settle your stomach.
It also replaces essential electrolytes that exit the body if you experience bouts of frequent urination and vomiting.