Get FREE eBooks/Downloads for Your Health! Click Here 🙂
HEALTHY CUBAN SANDWICH RECIPE
If it has been a long time since a sandwich has whet your whistle well here's a healthy Cuban sandwich that will get your taste buds buzzing.
So good, really tasty and easy to make, this clean-eating cuban sandwich recipe is sure to become the favorite of everyone in your household.
Simply whip up the slightly sweet apricot mustard sauce in your blender then spread it on your favorite wrap.
Of course, this cuban sandwich can be gluten-free depending on the wrap you choose. The high-fiber, low calorie wraps also work well with this recipe, or even your favorite sprouted grain bread!
Top the wrap with the pork tenderloin, cheese and a few pickles and you have got yourself winner in the sandwich category!
Planning a get together or want something yummy for a buffet?
This recipe can easily be scaled down to finger food appetizer bites but don't count on them lasting long.
Join our community for more healthy homemade sauce recipes and tips from Blender Babes and our friends! If you try this let us know by rating it in the comments. HAPPY BLENDING! 🙂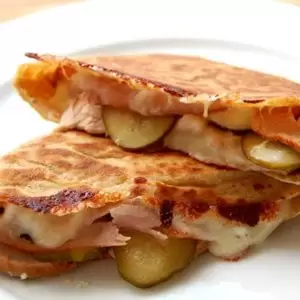 Healthy Gluten-Free Cuban Sandwich
Ingredients
For the Pork:
1

lb.

pork tenderloin

1/2

tsp

garlic powder

1/4

tsp

smoked paprika

1/8

tsp

cayenne

1/4

tsp

Kosher or sea salt

1/2

tsp

fresh ground black pepper
For the Sauce:
1

tbsp

water

¾

cup

low fat Greek yogurt

3

tbsp.

all natural apricot spread

find in the jelly aisle

2 ½

Tbsp.

whole grain mustard

the gourmet kind with the BIG mustard seeds

½

teaspoon

cumin

Pinch

of kosher or sea salt
For the Sandwich:
4

gluten-free wraps

or high-fiber, low calorie wraps (mine were about 8 inches in diameter)

4

slices

uncured

low sodium deli sliced ham (Whole Foods has a good selection) (used black forest)

4

slices

Swiss Cheese

you can use reduced-fat if you'd like, just skip the low-fat (used Monterey jack)

2

whole good quality pickles

sliced paper thin with a sharp knife cooking spray (skipped, forgot to buy some)
Instructions
Preheat oven to 325 degrees. Cover a sheet pan with tin foil. Season pork on all sides with a little garlic powder, smoked paprika, cayenne and plenty of salt and pepper (adjust seasoning to your tastes). Place seasoned pork on sheet pan and cook for approximately 30 minutes, flipping the pork about halfway through. You want the pork to be slightly pink in the center. While the pork cooks, make the sauce.

Place all ingredients into the blender in the order listed and secure lid.

Blendtec: Press the SAUCES button.

Vitamix: select VARIABLE, speed #1. Turn machine on and slowly increase speed to VARIABLE, speed #10/HIGH. Blend for 45 seconds, using the tamper to press the ingredients into the blades.

Layout additional ingredients for assembly. Once pork is removed from the oven and cool enough to handle (make sure to let the pork rest for 10 minutes before slicing), slice pork as thin as possible with a very sharp knife.

Spread desired amount of sauce on one half of a high fiber wrap. Next add a layer of pork, then pickles, then ham and lastly add the cheese. Fold the top of the wrap over so the sandwich is a half-moon shape. Repeat for all 4 sandwiches.

Spray a non-stick frying pan with your choice of cooking spray. Let the pan get hot over medium/ high heat. Next (and this is important), place the Cuban sandwich CHEESE SIDE down into the pan. Cook until wrap is slightly golden brown and cheese is melted. Gently flip the sandwich over and cook for a minute or two until just golden (you don't want to cook the Greek yogurt sauce- just sort of get the wrap a little golden on that side). I like to serve this sandwich with a pickle and fresh sliced fruit.

All done! Enjoy!! Now take a photo, rate it, and share your accomplishments to enter our weekly photo contest! 🙂 Tag @BlenderBabes & #BlenderBabes
Notes
1. The sauce will make plenty of leftovers for a great dip or sandwich topping throughout the week.
2. For the sauce you may need to add a bit of liquid/touch of water when using a blender.
Nutrition
Serving:
1
g
Calories:
654
kcal
Carbohydrates:
44.9
g
Protein:
57.8
g
Fat:
24.7
g
Saturated Fat:
9
g
Polyunsaturated Fat:
1
g
Trans Fat:
4.9
g
Cholesterol:
142.2
mg
Sodium:
1380.6
mg
Fiber:
3.4
g
Sugar:
10.8
g
GREEK YOGURT HEALTH BENEFITS
Greek yogurt is made by separating out the liquid whey resulting in a thicker texture with fewer carbohydrates and sugar, and more protein the regular yogurt.
This type of yogurt is good for your health and here are four amazing benefits to the body:
Digestive Health.  Eating Greek yogurt with probiotics helps increase the good bacteria in your gut. And the more good bacteria you take in, the less room there is for the bad varieties to grow.
Weight Management. Numerous studies have found a link between eating dairy and weight loss. Regardless of the type of diet followed, those who ate the most dairy lost approximately 12 pounds more than folks who ate a low amount of dairy foods.
Bone Health.  Greek yogurt provides important nutrients, such as calcium, magnesium, phosphorus, potassium and protein, which work together to promote strong, healthy bones.
Energy and Brain Function.  Vegetarians are often B12 deficient because it is found in meats, so Greek yogurt is a great way to add it back to their diets.