VEGAN CHOCOLATE FRAPPUCCINO BY PEGGY K.
This vegan chocolate frappuccino with a protein boost is soooooo good, I guarantee you find yourself sleeping in and skipping your morning run to the coffee shop!
This healthy chocolate frappuccino is loaded with tons of flavor AND nutrients – including vitamins, minerals, omega 3′s, protein, probiotics, digestive enzymes and greens (thanks to VEGA's Vega One Nutritional Shake!) Who knew a frappuccino could be so HEALTHY?!
With this tasty morning pick me up like this available, you can take the $5 you would have spent at the coffee shop and use it to buy more Vega!
Unless you need their wi-fi… So the next time you're craving coffee or an expensive blended frappe, toss this in your Blendtec or Vitamix or regular blender instead!
Make sure to join our community for more delicious AND healthy recipes from Blender Babes and our favorite celebrities. If you try this recipe, share your rating with us!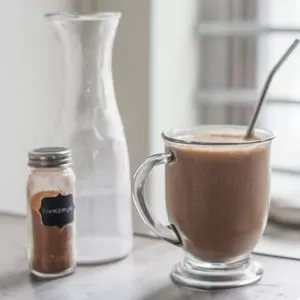 VEGA Chocolate Frappuccino
Ingredients
1

cup

vanilla milk or milk substitute of choice

1

scoop Vega One Chocolate or Vanilla Chai

1

large

ripe banana, preferably frozen

1

tablespoon

almond butter

1

shot espresso

brewed OR 1 cup brewed coffee, chilled

1/2

teaspoon

cinnamon

1/2

teaspoon

vanilla

1

teaspoon

mesquite pod meal

optional

1

cup

ice

,more if using fresh banana
Instructions
Place ingredients in order listed into your jar.

For

Blendtec

: Secure lid and blend on "Ice Crush" cycle or on a Medium speed for 30 seconds.

For

Vitamix

and other variable speed blenders: Start on Variable Speed 1, turn the machine on and slowly increase to Variable Speed 10/ High and blend for 25-45 seconds.

Pour and enjoy!

All done! Enjoy!! Now take a photo, rate it, and share your accomplishments! 🙂 Tag @BlenderBabes & #BlenderBabes

HEALTH BENEFITS OF DAIRY-FREE MILK
With so many great (and tasty) milk alternatives on the market, people aren't limited to drinking just cow's milk anymore. There are many reasons for avoiding traditional dairy: a "primal" or Paleo lifestyle, vegan and some vegetarian diets and lactose intolerance.
Even people without dietary restrictions are moving towards using milk substitutes, especially as more and more studies are suggesting the possibility that cow's milk isn't the healthiest choice.
Some are concerned about America's industrial production of dairy, especially pasteurization, while others are worried about added hormones and the ethical treatment of dairy cows.
And there's always the argument that no matter how ethically produced, cow's milk may have adverse health effects on children and adults.
Whatever your reasons, Blender Babes has recipes for milk drinkers and milk substitute drinkers alike! Enjoy!
Recipe excerpted with permission from Kitchen Cures by Peggy Kotsopoulos. Published by Pintail a member of Penguin Group (USA) LLC, A Penguin Random House Company.