EASY BANANA ALMOND SMOOTHIE RECIPE
Need a go-to smoothie for those busy mornings and afternoons? Try this easy Banana Almond Smoothie – It's sweet, simple and perfectly balanced to help you burn fat, build muscle, increase your energy and reduce cravings.
If you use a really sweet protein powder, a touch of vegan yogurt or low fat plain Greek yogurt can help balance the smoothie.
If you have leftovers, be sure to freeze them in popsicle molds to make a great snack for you and the kids!
Use a good high speed blender, like a Blendtec or Vitamix for the best consistency
Be sure to join our blending-loving tribe for more healthy smoothie recipes from Blender Babes and our friends!
If you try this recipe be sure to let us know what you think by rating it! HAPPY BLENDING! 🙂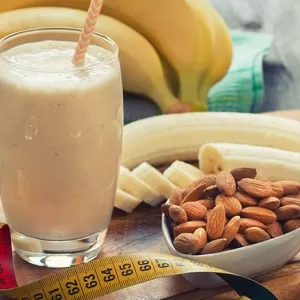 Banana Almond Smoothie
Ingredients
1/2

cup

almond milk OR other milk substitute OR water

plus more if needed*

1

banana

ideally frozen

1

tablespoon

(heaping) almond butter

OR 12 raw almonds

2

servings vanilla protein powder

vegan or whey

1

tablespoon

low fat plain Greek yogurt or vegan yogurt

,optional

Pinch

of nutmeg

Ice
Nutrition
Serving:
1
g
Calories:
120
kcal
Carbohydrates:
16
g
Protein:
4
g
Fat:
6
g
Saturated Fat:
1
g
Cholesterol:
2
mg
Sodium:
88
mg
Potassium:
271
mg
Fiber:
3
g
Sugar:
8
g
Vitamin A:
38
IU
Vitamin C:
5
mg
Calcium:
117
mg
Iron:
1
mg
BLENDER BABES RECIPE TESTER NOTES
"This was fantastic. It was my first time using vanilla protein powder, and I was a bit nervous. I shouldn't have been! It was creamy and delicious. I omitted the yogurt portion since I'm dairy-free. The nutmeg was a nice addition. This was as velvety as a milkshake and quite filling.
 "The nutmeg really lends a nice warmth and the vanilla pulls everything together."
"I would much rather have this banana almond smoothie knowing that it is better for you instead of a Diner's Malt Shake with all of the sweets, creams, and dairy in it! Barely tasted Almond Butter, am surprised by that and that made me wondering that next time I would use About Time's Vegan Chocolate Protein, maybe it would taste like Jamba Juice's Chocolate Moo'd, I can already imagine and taste that!"
HEALTH BENEFITS AND FUN FACTS OF BANANA
If you think bananas are just for monkeys, think again.
Bananas have many benefits, when you eat them regularly.
Banana help overcome depression due to high levels of tryptophan, which is converted into serotonin — the happy-mood brain neurotransmitter.
You can also eat two bananas before a strenuous workout to pack an energy punch and sustain your blood sugar and then see how they protect against muscle cramps and nighttime leg cramps after workouts.
Women who often suffer from PMS can also improve their mood and reduce symptoms by eating a banana, which will help regulate blood sugar and produce stress-relieving relaxation.
Bananas are high in potassium and low in salt, bananas are officially recognized by the FDA as being able to lower blood pressure and protect against heart attack and stroke.