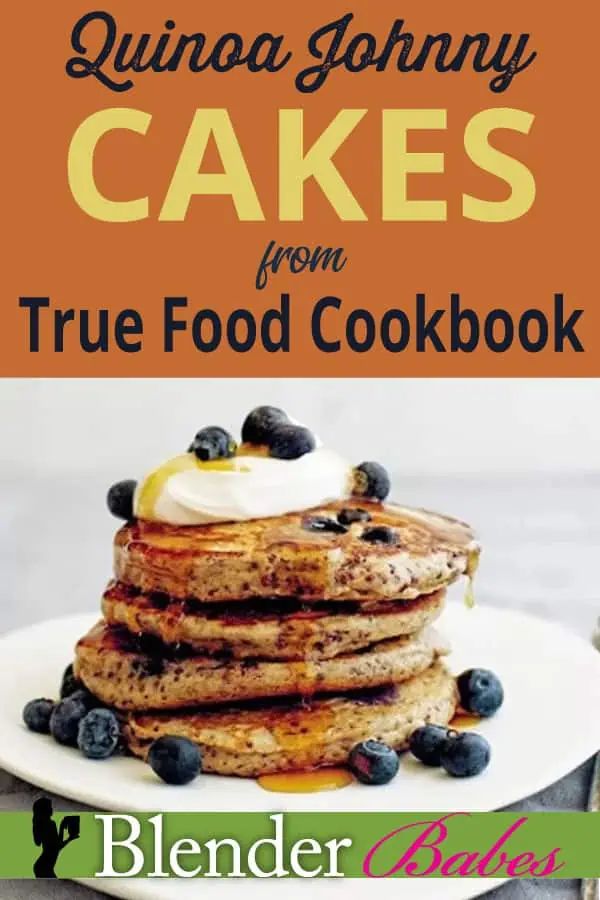 QUINOA JOHNNY CAKES RECIPE
This tasty and filling johnnycakes recipe is made with quinoa instead of corn flour. The origin of the Johnny Cake (or, Jonnycake, journey cake, Johnny bread) is debatable. Some say the first batch was made by Native Americans, who used ground corn in a lot of their foods. Others say Johnny Cakes first emerged in New England. New England johnny cakes are a lot like common pancakes, only they're made with cornmeal. This take on johnny cakes, from
True Foods Kitchen
, uses quinoa instead of cornmeal. Thanks to the quinoa this johnny cake recipe is packed with protein. These johnny cakes are so delicious, as the chef, you might hear a compliment such as, "this is the best thing I've ever eaten!" Serve them with blueberries when in season and
bananas
the rest of the year!
Quickly mix the ingredients with your blender, such as a Blendtec or Vitamix, and join our community for more nutritious recipes from Blender Babes! Tell us what you think about this johnny cake recipe in the comments below by sharing your rating with us!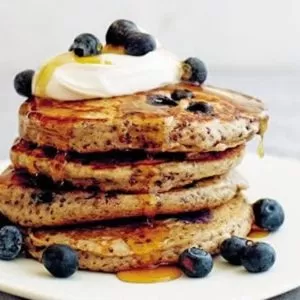 Quinoa Johnnycakes
Ingredients
2

cups

red quinoa

2

cups

all-purpose flour

1

⁄4 cup evaporated cane sugar OR coconut sugar

2

tablespoons

plus 11⁄2 teaspoons baking powder

Pinch

of salt

1

teaspoon

ground cinnamon

2

cups

whole milk OR your favorite milk substitute

4

large eggs

1

teaspoon

vanilla extract

1

⁄2 teaspoon expeller-pressed canola oil

2

cups

blueberries

1

cup

Greek-style plain or vanilla nonfat yogurt

Maple syrup

for serving
Instructions
Bring a saucepan with 4 cups water and 1 teaspoon salt to a boil. Add the quinoa and stir. Lower the heat to a simmer, cover, and cook until the quinoa is dry and fluffy, about 20 minutes. Let cool.

Combine the flour, sugar, baking powder, salt, and cinnamon in a large bowl. Whisk well to combine.

For

Vitamix

: Using a 64oz jar*, combine the milk, eggs, vanilla, and canola oil. Start on Variable Speed 1 and increase Speed 4 or 10 seconds. Add to bowl with the dry ingredients and hand mix until just combined. Add the cooked quinoa, and blend until just combined, taking care not to over mix.

For

Blendtec

: If you have the recipe: Combine the milk, eggs, vanilla, and canola oil in your Blendtec Wildside Jar* and blend for 15 seconds on the Manual Speed 2 (or LOW). Then add the dry ingredients to the blender, using the Speed 4 (or Medium) for 15 seconds. Then add the quinoa to the blender, using Speed 5 (or Medium) until just combined, taking care not to over mix. For full recipe, only blend wet ingredients and add to large bowl with dry ingredients and combine. Gently fold in quinoa.

Let batter rest for up to an hour.

Lightly brush the cooking surface of a nonstick pan or griddle with canola oil. Pour about 1⁄3 cup of the batter onto the hot pan. Drop several blueberries on top of each pancake. When bubbles form in the batter, flip and cook on the other side until lightly browned. Continue with the remaining batter and blueberries. Serve topped with a dollop of yogurt and maple syrup on the side.

All done! Enjoy!! Now take a photo, rate it, and share your accomplishments to enter our weekly photo contest! 🙂 Tag @BlenderBabes & #BlenderBabes
Notes
This recipe can be made without a blender, whisking the wet in one bowl, the dry in another, adding the wet to dry and hand mixing, and gently folding in the quinoa.
* If using the Blendtec Fourside Jar or smaller than 64oz Vitamix jar, will need to add the wet ingredients to a bowl with the dry ingredients and hand mix, then gently fold in quinoa. These jars are not big enough to do all in the blender.
Nutrition
Serving:
1
g
Calories:
208.6
kcal
Carbohydrates:
36.4
g
Protein:
8.6
g
Fat:
3.2
g
Saturated Fat:
0.6
g
Polyunsaturated Fat:
1.2
g
Cholesterol:
62
mg
Sodium:
362.7
mg
Fiber:
2.5
g
Sugar:
8.5
g
BLENDER BABES RECIPE TESTER NOTES
This makes A LOT of pancakes, don't be afraid to halve the recipe. You can get creative and add pecans to the batter. Plain yogurt can be the most versatile option, since vanilla with sweetener can always be added at home. Make sure to rinse the quinoa before cooking so it's not bitter. Quinoa can be cooled more quickly if spread on a baking sheet or it can also be made the night before and stored in the fridge. You can also make your own healthy fruit syrup topping – just take frozen blueberries or other fruit and heat them to a bubble to use rather than maple syrup
HEALTH BENEFITS OF QUINOA
Quinoa is derived from the seed of the quinoa plant, which is connected to the spinach family. Centuries ago, quinoa was the prime focus of the ancient Incan diet. However, today quinoa has become a popular North American health food for several reasons. Here are four…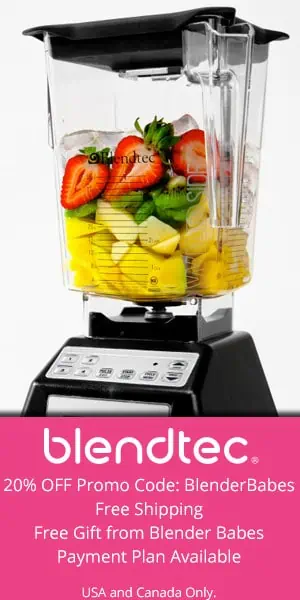 1. Chocked Full of Essential Vitamins
Quinoa contains more vitamins, nutrients, and antioxidants than any other grain. In fact, you'll get an impressive list of vitamin B6, thiamin, niacin, potassium, and riboflavin, plus minerals like copper, zinc, magnesium, and folate, as well as the antioxidants phytonutrients quercetin and kaempferol, which lend anti-inflammatory and disease-fighting prowess to each bowl consumed.
2. High in Protein
Quinoa is a rich source of complete protein, particularly for a grain. The secret is lysine, a rare amino acid not found in many other grains, which make the protein levels in quinoa comparable to those in milk.
3. Promotes Health Blood Sugar Levels
It turns out that eating quinoa also reduces your chances of developing type 2 diabetes, but it can also help you keep those glucose levels balanced if you already have diabetes. This is due to the fact that it's rich in complex carbohydrates, or healthy carbohydrates, that slowly digest and keep you satiated for longer while keeping your blood sugar and appetite level.
4. Maintains Efficient Heart and Blood Vessel Function
Several food studies also tout this super grain as a good source of magnesium, a vital mineral required for optimal metabolism, cardiovascular, and blood vessel function.
Recipe Excerpt from True Food Kitchen with Permission Courtesy of Little, Brown and Company. Photo Credit: Image courtesy of Ditte Isager