Get FREE eBooks and Downloads for Your Health! Click Here 
VEGAN BLUEBERRY YOGURT MUFFINS RECIPE
These muffins smell soooooo good coming out of the oven, and have a nice moist center with a soft crumb exterior. We knew we found the perfect quick and healthy, fat-free blueberry muffin recipe to share with you!
One of our recipe testers said even her 2 year old loved Lindsay S. Nixon's dairy-free vegan muffin recipe from her cookbook Happy Herbivore! Whip these up quickly using your power blender today and enjoy them all week!
If I had to pick a favorite kind of muffin, I think blueberry muffins would be it for me! With their hint of lemon, these muffins make us think of sunny, relaxed mornings. I also love that they're made with vegan yogurt (a boost of protein!) and very little sugar. ~Lindsay
Don't forget to join our community for more healthy breakfast recipes from Blender Babes and our friends!
Let us know what you think by sharing your rating in comments section below if you try this recipe at home! We love to get your input!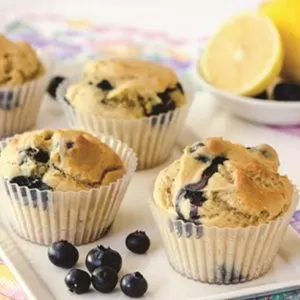 Vegan Blueberry Yogurt Muffins
Ingredients
2

cups

white whole-wheat flour

1

teaspoon

baking powder

1

⁄2 teaspoon baking soda

pinch

salt

1

⁄4 cup raw sugar

such as turbinado or coconut sugar

1

ripe

spotted banana

1

⁄2 cup vanilla nondairy milk

6

ounces

vegan yogurt

plain, vanilla, or blueberry

1

⁄4 cup unsweetened applesauce

1

cup

blueberries

thawed, if using frozen

3

–4 tablespoons lemon zest*
Instructions
Preheat the oven to 350°F.

Use silicone cups or use a nonstick pan, and set aside (we liked to grease with coconut oil but it's not in the cookbook).

For

Blendtec

: Place the banana and almond milk into your blender jar. Blend on Speed 4 for ~30 seconds. Add in the flour mixture and then Pulse a few times to combine. Add in everything else except the blueberries and Pulse a few times until combined. Fold in blueberries by hand.

For

Vitamix

: Add dry ingredients in a mixing bowl and set aside.

Add banana, non-dairy milk, yogurt, applesauce and lemon zest into the Vitamix container and secure lid. Select Variable Speed 1, turn machine on and slowly increase speed to Variable 10/High. Blend for 20 seconds or until combined.

Pour wet ingredients into bowl of dry ingredients and hand mix to combine, careful not to over mix. Gently fold in blueberries.

For both: Divide the batter among the cups. Bake for 15 to 20 minutes, until muffins are golden, firm to the touch, and a toothpick inserted comes out clean.

Remove the cupcakes from the oven and after 5 minutes, transfer them to a rack to cool completely.

All done! Enjoy!! Now take a photo, rate it, and share your accomplishments! 🙂 Tag @BlenderBabes & #BlenderBabes
Notes
Use 4 tablespoons of lemon zest for more lemon flavor!
Nutrition
Calories:
116
kcal
Carbohydrates:
25.6
g
Protein:
3.5
g
Fat:
0.8
g
Fiber:
2.9
g
Sugar:
8.8
g
HEALTH BENEFITS AND FUN FACTS ABOUT BLUEBERRIES
Botanists estimate that blueberries burst onto the scene more than 13,000 years ago!  The little blue fruit that our country has grown to know and love is indigenous to North America and has deep roots in our country's history. When Europeans arrived on the continent, Native Americans were already enjoying blueberries year-round.
They dried blueberries in the sun and added them whole to soups, stews and meat, and even crushed them into a powder to use on meat as a preservative.  It is also known for many health beneifts. Here are just a few:
BONE HEALTH
Blueberries are high in manganese, which plays an important role in bone development. Studies show that animals fed rations that contained 10 percent freeze-dried blueberry powder had significantly more bone mass than their counterparts whose rations were blueberry-free.
HEART HEALTH
Eating three or more servings of blueberries each week may help reduce a woman's risk of heart attack. Studies have shown that women who ate the most blueberries were 32 percent less likely to have a heart attack, compared to women who ate berries once a month or less. Blueberries contain high levels of compounds that may help widen arteries, which counters the plaque buildup that generally causes heart attacks, the researchers said.
BLADDER AID
Blueberries, like cranberries, contain compounds that prevent bacteria from adhering to bladder walls, which helps ward off urinary-tract infections (UTI's).
Excerpted with permission from Happy Herbivore by Lindsay S. Nixon. Published by BonBella Books, Inc. Images © Jackie Sobon.