HEALTHIER CANDIED YAMS RECIPE
This healthy and easy candied yam recipe by Food Network chef and author Robin Miller, is a delicious, velvety smooth take on a classic dish that will save you calories.
With a perfect combination of sweet and cinnamon-y spice, you and everyone at your table will be asking for seconds.
We didn't forget about the best part! Marshmallows are delicious but add inches to your waistline.
This side-dish recipe for candied yams has a healthier version of the mouth-watering, melty marshmallows and trust us when we say– it's SUPER tasty!
It's a healthier version of a dish that you loved as a child that you can finally fall in love with all over again during the next holiday feast!
After you whip this up in a high speed blender, be sure to join our blending-loving tribe for more nutritious healthy Thanksgiving side dishes and other holiday recipes from Blender Babes!
Did you try this? Then rate it in comments section below so our community knows what you thought!
We love to get your feedback.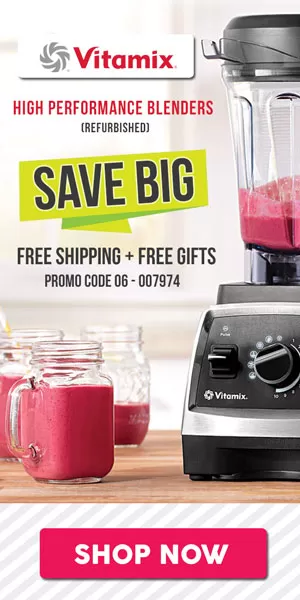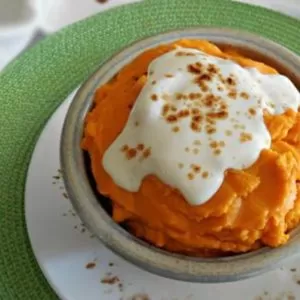 Healthier Candied Yams
Ingredients
2

large orange-fleshed yams

about 2 pounds total, cut into 2-inch pieces

6

ounces

plain nonfat Greek yogurt

2

tablespoons

pure maple syrup

3

tablespoons

light brown sugar OR raw or coconut sugar

1

tablespoon

unsalted butter

1/4

teaspoon

ground cinnamon OR pumpkin pie spice

Salt and freshly ground black pepper
Instructions
Place the sweet potatoes in a large saucepan and pour over enough water to cover by about 2 inches. Set the pan over high heat and bring to a boil. Boil for 10 minutes, until the potatoes are fork-tender.

Add the greek yogurt and maple syrup to a bowl and mix to combine. You do not want your power blender to break down thickness of the yogurt. (If you have a blendtec, however you can add to your blender and gently PULSE* 3 to 4 times to combine). Remove 2 Tablespoons of the mixture and set aside.

Drain the potatoes and return them to a power blender container*. Add all but 2 tablespoons of the maple-yogurt mixture, sugar, butter, and cinnamon.

For

Vitamix

: Start on Variable Speed 1, turn the machine on and slowly increase to Variable Speed 10/High. Use the tamper to push the ingredients into the blades. Process for 30 seconds if you want a mash with more texture, or up to one minute if you want a smoother, thick puree.

For

Blendtec

: Using the Fourside or Wildside Jar, use Manual Speed 7. If the blade spins freely stop the machine, use a spatula to push ingredients towards the blade and repeat process until you reach the texture you like. If using the

Twister Jar

you will need to do two batches of yams + rest of ingredients. Use Manual Speed 7, turning the lid counterclockwise.

Season to taste with salt and pepper if desired **.

Transfer the sweet potatoes to a serving bowl and top with remaining maple-yogurt mixture.

All done! Enjoy!! Now take a photo, rate it, and share your accomplishments to enter our weekly photo contest! 🙂 Tag @BlenderBabes & #BlenderBabes
Notes
* This can also be done in a food processor as the original recipe calls for.
** Make sure to blend in two batches - and reserve 2 Tbsp of the maple-yogurt mixture!
*** The mixture could be baked afterwards, 20-30 minutes at 350, to make it more of a casserole, then dolloped with Maple Yogurt Cream at the table.
Nutrition
HEALTH BENEFITS GREEK YOGURT
The difference between Greek yogurt and traditional yogurt is that Greek yogurt has been strained to remove the whey.
As a result, Greek yogurt is creamier, thicker in texture and has a rich flavor.
The removal of whey also results in a healthier yogurt with 40 percent less sugar, 38 percent less sodium and more than twice the amount of protein than traditional yogurt.
Each spoonful of Greek yogurt is packed with nutrients and provides numerous health benefits.  Here are three: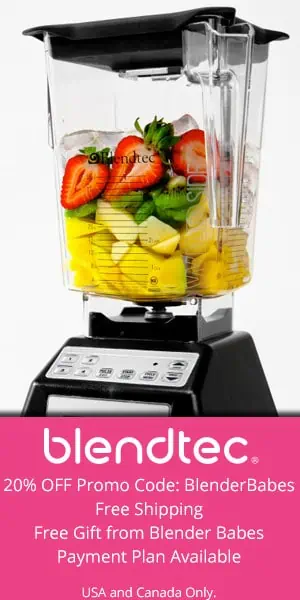 No. 1: Digestive Health
One of the most touted health benefits of Greek yogurt comes from the probiotics it contains; the healthy bacteria that help promote a healthy gut.
Your digestive tract naturally contains lots of different types of bacteria – some good and some potentially harmful.
Eating Greek yogurt with probiotics helps increase the good bacteria in your gut helping you digest food.
The more good bacteria you take in, the less room there is for the bad varieties to spread.
No. 2: Bone Health
Greek yogurt provides important nutrients, such as magnesium, calcium, potassium, phosphorus, and protein which work together to promote strong, healthy bones.
Unfortunately, many people rely on over-the-counter supplements in order to meet their calcium needs.
However, Greek yogurt provides a complete suite of nutrients not found in calcium tablets alone.
No. 3: Weight Management
Among other things, Greek yogurt stands out for containing double the amount of protein compared to traditional yogurt.
Since protein takes the body longer to digest, it will help to make you feel and stay full longer.
This is especially important to help curb your appetite between regular meals when trying to lose weight.