DETOX SMOOTHIE RECIPE WITH BEETS AND COCONUT OIL
This beet detox smoothie recipe doubles the detoxifying effect from the fresh or cooked beetroot as well as the cold-pressed coconut oil.
Your body will be thanking you for it!
This would also be a great remedy after a late night or a hangover as well.
According to our recipe testers, it's one of the best tasting detox smoothies that contains beet that they've ever tried!
All the refreshing fruits mask the beet flavor well, so this is great for even the beet haters out there.
The coconut oil makes this detox smoothie extra satiating with healthy fats, so it's the perfect flavorful treat to help your body get rid of toxins.
Use a high speed blender, like a Blendtec or Vitamix for the best consistency.
Please Note: This recipe post was recently updated to include a how to video! In the video we used more beet which greatly affects the color of this smoothie. If you are new to beets or don't love the flavor try with a small cooked beet or use half a raw one.
Be sure to join our community for more nutritious healthy smoothie recipes from Blender Babes! Tell us what you think about this detox smoothie in the comments below and share your rating!
WATCH A QUICK VIDEO OF THIS DETOX SMOOTHIE RECIPE:
And subscribe to my YouTube Channel for more blender videos!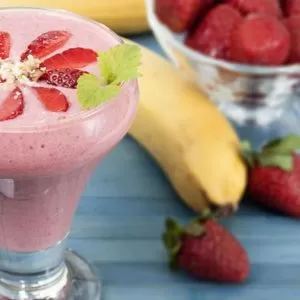 Detox Smoothie with Beet and Coconut Oil
Ingredients
3/4

cup

of unsweetened almond milk

1

small-sized beetroot*

cooked or fresh

3/4

cup

pineapple

1/2

banana

, frozen

1

cup

strawberries

, frozen

1

tbsp

of organic coconut oil

1

cup

ice

(less if using all frozen fruit)
Instructions
If using fresh beetroot: Use a grater to remove the skin of the beetroot, cut into small cubes and add to the blender.

*Be sure to wear gloves and avoid staining your fingers.*

Add the rest of the ingredients to the jar in the order listed and secure lid. Blend until smooth.

For

Vitamix

: Select VARIABLE speed 1, turn machine on and quickly increase to Variable speed 10/HIGH. Run for 45 seconds or until smooth OR use the SMOOTHIE setting.

Serve immediately and enjoy!

All done! Enjoy!! Now take a photo, rate it, and share your accomplishments! 🙂 Tag @BlenderBabes & #BlenderBabes
Notes
* Cooked beets are sweeter and have less of a "root" taste.
Nutrition
Serving:
2
g
Calories:
356
kcal
Carbohydrates:
45.5
g
Protein:
2.7
g
Fat:
16.5
g
Saturated Fat:
11.8
g
Polyunsaturated Fat:
1.8
g
Sodium:
94
mg
Fiber:
7.6
g
Sugar:
39.6
g
COCONUT OIL HEALTH BENEFITS & FUN FACTS
Coconut oil is used extensively in tropical countries especially India, Sri Lanka, Thailand, Philippines etc., which have a good production of coconut oil.
At one time, the oil was also popular in the west but a strong propaganda campaign in the 1970s spread by the corn oil and soy oil industry against coconut oil left it being considered harmful for the human body due to its high saturated fat content.
Studies in the last decade show it to be very beneficial:
1. Coconut oil can increase your energy expenditure, helping you burn more fat; also serves as an appetite suppressant.
2. The lauric acid in coconut oil can kill bacteria, viruses and fungi, helping to stave off infections.
3. Coconut oil can improve blood cholesterol levels may lower your risk for heart disease.
4. Coconut oil can protect hair against damage, moisturize skin and function as sunscreen.
5. The fatty acids in coconut oil can boost brain function in Alzheimer's patients.
Be sure to check out the benefits of coconut oil!!