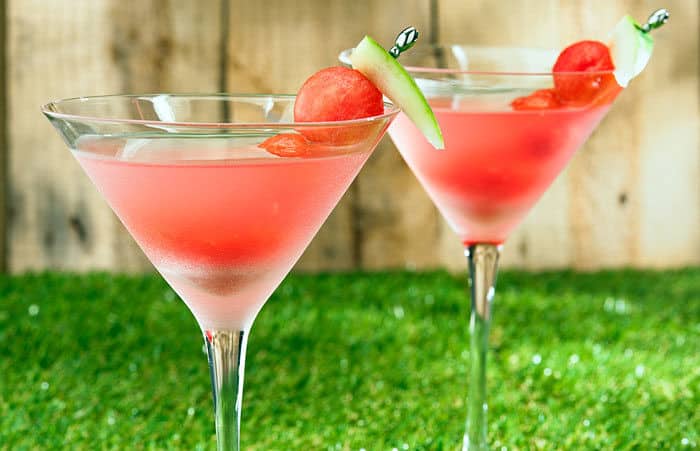 HYDRATING WATERMELON MARTINI COCKTAIL RECIPE
This light, refreshing and oh-so-simple watermelon martini cocktail recipe is the perfect poolside addition to your summer!
It's super hydrating (and can help combat a hangover), but to make this delicious treat even more healthy, Blender Babes recommends using watermelon with seeds!
A high-powered blender will pulverize the watermelon seeds, giving you an added protein boost, while still maintaining a silky, smooth consistency.
Of course, you can still make this cocktail with a regular blender – just blend the watermelon first, strain, then add the rest of the ingredients.
After you serve it up, make sure to join our community for more delicious summertime cocktails and recipes!
If you try this one, share your rating below! 🙂 Happy Blending!! x
WATERMELON HEALTH BENEFITS AND FUN FACTS
Some foods are just plain fun to eat and watermelon is one of them!
This triangular wedge of red, white and green sweetness screams "summer!" and serves as a reminder to have fun.
As if that weren't enough, watermelon is also packed with nutrients, super hydrating and low in fat.
Many of us consider watermelon a summer snack, but you might consider making it a feature player once you tally up its nutritive value; it scores high in just about every category!
Watermelons are an excellent source of several vitamins: vitamin A, a powerful antioxidant that helps to maintain eye health; vitamin C, which helps strengthen immunity, heal wounds, prevent cell damage, promote healthy teeth and gums; and vitamin B6, which helps brain function and helps convert protein to energy.
Watermelon also has the highest concentration of lycopene than any other fresh fruit or vegetable, which is great because lycopene helps fight heart disease and multiple types of cancer.
If your little ones don't dig into their swiss chard, lima beans or spinach — all great sources of potassium — consider offering them a serving of watermelon instead.
It is a great source of potassium, which helps muscle and nerve function, helps maintain the body's proper electrolyte and acid-base balance and helps lower the risk of high blood pressure.