DR. OZ FOUNTAIN OF YOUTH GREEN SMOOTHIE RECIPE
Dr. Oz's fountain of youth green smoothie recipe is full of ingredients to help keep your body feeling young while all of the stressors of the world try to keep it down!
If the legendary fountain of youth is ever found, it will most likely contain TONS AND TONS of greens!
This vegan green smoothie breakfast shake is a Dr. Oz Recipe that utilizes wheatgrass, which is a superfood that keeps damaging toxins from invading your skin.
Coconut water fights to keep your skin hydrated. Coupled with a slew of powerful antioxidants, this green smoothie provides a perfect mix of healthy ingredients that will detox your body and keep your skin from aging prematurely.
Now I HAVE tested this with E3live blue green algae – which has 5x more chlorophyll than wheatgrass. So if you have E3live or spirulina on hand, these are great substitutes for wheatgrass.
Blend this green smoothie up today in your Blendtec or Vitamix blender and then don't forget to join our community to receive updates from Blender Babes. Tell us what you think about Dr. Oz's super green fountain of youth smoothie and rate it below!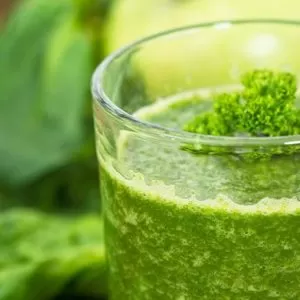 Dr. Oz Fountain of Youth Green Smoothie
Ingredients
1

cup

coconut water

1

cup

wheatgrass*

fresh OR 1 Tbsp E3live blue green algae or spirulina

2

cups

spinach

3

pineapple spears

1/2

lemon

peeled

1

small green apple

cored

1

tablespoon

fresh or ground ginger

1

cup

ice cubes
Instructions
For

Blendtec

: Press the WHOLE JUICE button.

For

Vitamix

: Select VARIABLE Speed 1. Turn machine on and slowly increase speed to VARIABLE Speed 10/HIGH. Blend for 45 seconds or until desired consistency is reached. Serve immediately.
Notes
* The original recipe calls for wheatgrass juiced and made into 2-3 ice cubes. We've tested with just using the fresh wheatgrass since a high powered blender can handle it and it's MUCH easier.
Nutritional info calculated using E3live blue green algae.
Nutrition
Serving:
2
g
Calories:
118.4
kcal
Carbohydrates:
20.9
g
Protein:
2
g
Fat:
0.3
g
Polyunsaturated Fat:
0.1
g
Sodium:
69.1
mg
Fiber:
1.5
g
Sugar:
16.2
g
HEALTH BENEFITS OF WHEATGRASS
Wheatgrass may appear simple grass, but it is actually one of the most powerful natural detoxifying agents. In fact, it is said that just one ounce of wheatgrass is equivalent in nutritional value to more than 2 pounds of leafy green vegetables! From suppressing the appetite to reducing body odor to preventing cancer, wheatgrass has a place in your diet.
Wheatgrass contains more than 90 minerals, including potassium, calcium, magnesium and sodium as well as essential enzymes and 19 amino acids. The following 4 ways to use wheatgrass will introduce your health to new possibilities.
1. Suppress Appetite
Take a wheatgrass shot each morning on an empty stomach and it may prevent overeating since it's loaded with so many nutrients that your body isn't hungering for other foods to compensate for lack of vitamins or minerals.
2. Stimulate Circulation
Because wheatgrass has the ability to increase the amount of oxygen in the blood, it is a great way to stimulate circulation.
3. Improve Digestion
Introduce wheatgrass into your daily regimen and avoid having to reach for antacids to relieve heartburn or indigestion because of its vitamin B, amino acids and enzyme content. From irritable bowel syndrome to ulcers, wheatgrass is a great tool that can be used to improve your digestion.
4. Treat Arthritis
Health experts believe wheatgrass can be effective to treat arthritis. This is because if has loads of chlorophyll. Chlorophyll fights inflammation, associated with joint pain.