BEST VEGETABLE LASAGNA RECIPE EVER!
This is the best vegetable lasagna recipe by far.
That may be hard to believe because there are a lot of great lasagna recipes out there. This recipe, however, will surely knock your socks off!
And who doesn't need the best vegetable lasagna recipe in their arsenal of terrific dishes?
Vegetable lasagna is ideal for entertaining, the picky eater, the casserole lover and the comfort food connoisseur.
Got a few die-hard meat lovers in your life? Don't worry, they will find this vegetable lasagna recipe irresistible. That's just how good it is!
THE KEY IS IN THE SPICES
The secret ingredients that make this the best vegetable lasagna recipe are the red pepper flakes, fresh oregano, and cumin.
These spices combine wonderfully to create the perfect zing and a wonderful pop of flavor.
When you serve the best vegetable lasagna at your next dinner party, be prepared to make "to go" plates because everyone will want to take some of this amazing dish home with them.
But you don't need a special occasion to make this recipe! It also works well as a weeknight meal for yourself or your family. Just don't count on there being any leftovers. 😉
High in vitamin A and Calcium, trust us when we say you'll definitely it's the best vegetable lasagna. We're sure you'll be making this recipe over and over again.
What's lasagna without a good ricotta (a vegan one works too)?! Use your high powered blender to whip up this key ingredient.
Be sure to join our blending-loving tribe for more main dish recipes and tips!
If you try this let us know by rating it in the comments. HAPPY BLENDING! 🙂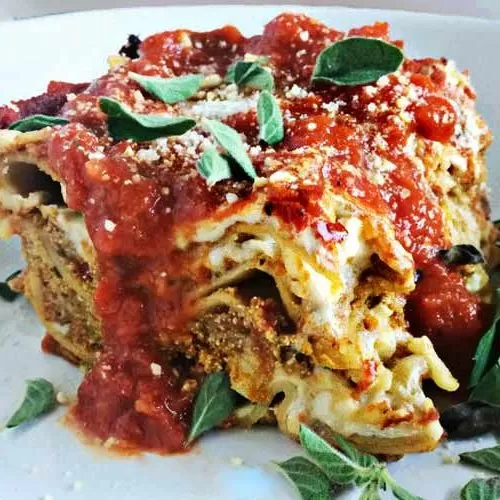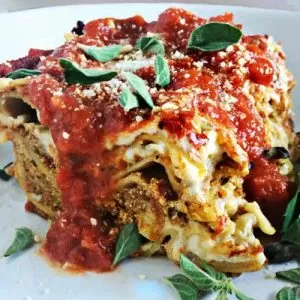 The Best Vegetable Lasagna Recipe EVER!
Ingredients
2

jars tomato sauce

32

oz

mozzarella cheese
Veggies:
1/4

cup

onion

1/4

cup

broccoli

1/2

sweet potato

1/4

cup

carrots

1/4

cup

cauliflower

1/2

cup

zucchini

1/2

cup

spinach leaves

1/3

cup

frozen peas
Ricotta:
16

ounces

ricotta cheese

2

tsp

cumin

1

tsp

dried rosemary

2

tbsp

fresh basil

2

tbsp

fresh oregano

1

tbsp

fresh Italian parsley

4

garlic cloves

OR

Vegan Ricotta

16

oz

firm sprouted tofu

2

tsp

cumin

1

tsp

dried rosemary

2

tbsp

fresh basil

1

tbsp

fresh italian parsley

2

tbsp

fresh oregano

2

tbsp

freshly squeezed lemon

1

tsp

apple cider vinegar

2

tsp

extra-virgin olive oil

1

elephant garlic clove

2

garlic cloves

3

tsp

nutritional yeast

1/2

tsp

himalayan sea salt
Instructions
Preheat the oven to 450°F.

Roughly chop and steam the onion, broccoli, carrots, cauliflower, zucchini, and quartered sweet potato until soft (about 10 minutes) in about 1-1 1/2 inches of water.

Add the spinach leaves/frozen peas and finish steaming until the spinach is just wilted (about 3 minutes).

While the vegetables are steaming:

Pour 1 jar of tomato sauce into a large bowl (with extra room for the ricotta/vegetables)

If you are using regular or vegan ricotta puree the ricotta ingredients in a blender then add to the tomato sauce bowl.

Puree the steamed vegetables in a blender (use up to 1/4 cup of water from the steamer to blend.)

add to the tomato sauce and ricotta bowl.

Add a thin layer of tomato sauce on the bottom of your pan.

Layer the lasagna noodles so they are overlapping a 1/2 inch for each noodle.

Spread a layer of cheese on top of each noodle. Spread a layer of sauce. Layer cooked meat if you are adding meat.

Repeat until all of your ingredients are gone

Top with cheese and sauce, put foil on the top of the casserole, and put it in the oven!

After 1/2 hour, reduce the cooking temperature to 350°F.

Cook an additional half hour, then let it rest for 15 minutes before slicing. This helps the layers congeal.

Take the 2nd jar of sauce and pour half on top of the lasagna and serve the other half in a bowl for dinner.

All done! Enjoy!! Now take a photo, rate it, and share your accomplishments to enter our

weekly photo contest

! 🙂 Tag @BlenderBabes & #BlenderBabes
Notes
If you like meat in yours, ground turkey was a big hit for the meatlovers version of this lasagna!
Nutrition
Serving:
2
g
Calories:
589
kcal
Carbohydrates:
28.7
g
Protein:
49.8
g
Fat:
31.5
g
Saturated Fat:
19.5
g
Polyunsaturated Fat:
1.3
g
Trans Fat:
8.9
g
Cholesterol:
113.1
mg
Sodium:
1630.9
mg
Fiber:
5.2
g
Sugar:
7.8
g
HEALTH BENEFITS OF BROCCOLI
Broccoli belongs to a family of vegetables called cruciferous vegetables with its close relatives including brussel sprouts, cauliflower, and cabbage.
It is an all-star food packed with many vitamins and minerals translating to many health benefits. Here are a few:
Vitamin C – builds collagen, which forms body tissue and bone, and helps cuts and wounds heal. Vitamin C is also a powerful antioxidant that protects the body from damaging free radicals.
A cooked cup of broccoli offers as much vitamin C as an orange!
Vitamin K – is essential for the functioning of many proteins involved in blood clotting.
Fiber – Diets high in fiber promote digestive health and they can also help lower cholesterol.
Potassium – is a mineral and electrolyte that is essential for the function of nerves and heart contraction.
Folate – is necessary for the production and maintenance of new cells in the body.
Best Vegetable Lasagna recipe reprinted with permission.