HOW TO MAKE COCONUT BUTTER HOMEMADE RECIPE AND INSTRUCTIONS
Do you like to save money too? 
I personally hate spending $12 on a jar of nut butter when I can do it myself in a blender.
A delicious recipe from a meal plan I made for my clients had coconut butter drizzled over fruit for breakfast, so I decided to make a quick How To video for making homemade coconut butter for you guys! Click here to check it out.
This can be a tricky recipe – especially considering it has very few ingredients!
It took us several tests to feel confident about posting it, but your Blendtec or Vitamix or other power blender is definitely up to the task.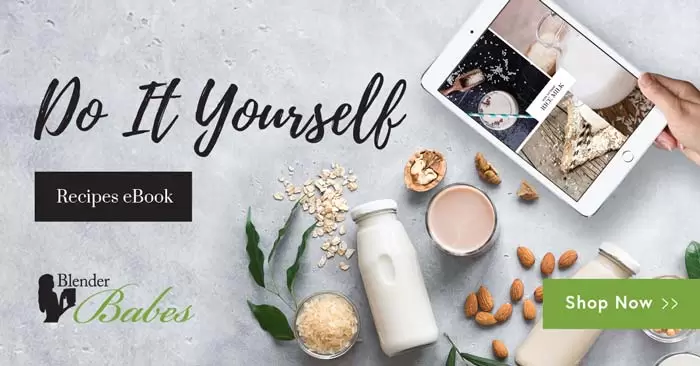 Why Buy When You Can DIY?! Get My DIY eBook in this Bundle!
We've included some useful tips and tricks to unveiling the magic of coconut butter in the recipe below.
Once you've mastered this coconut butter, feel free to try any number of add-ins, boosts, and flavor options – honey pecan, chocolate hazelnut, or a vanilla macadamia coconut butter would all be excellent!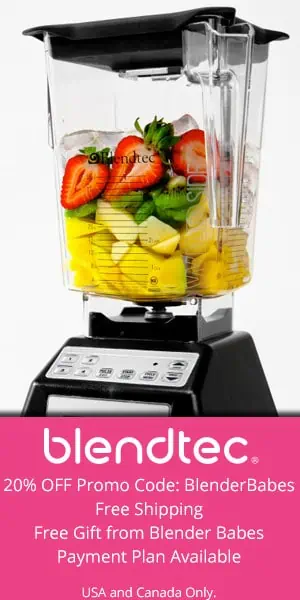 Save a ton of money and stop buying those expensive jars – this is just the cost of the coconut, things you already have at home, and a few minutes of patience.

Be sure to  join our community for more money-saving alternatives to store-bought favorites, healthy blender recipes, and much much more! Plus, share your rating with us below if you give this one a try!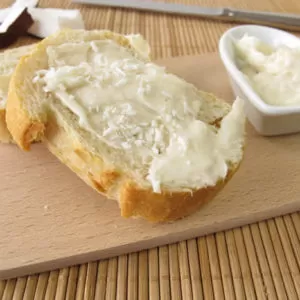 Coconut Butter
An easy, one-ingredient alternative to nut butters or icings - use this coconut butter as a sweet spread over whatever you can get your hands on!
Ingredients
At least 3 cups shredded

dried, unsweetened coconut flakes*

1

teaspoon

vanilla extract

A pinch of celtic salt

Coconut oil

optional/if necessary
Instructions
Place the ingredients into your blender jar. If using a

Blendtec

, it works best with their

Twister jar

! Only takes about 1 minute!

For

BLENDTEC

: Using your Twister jar, run the BATTERS cycle. Twist continuously throughout the cycle to push the coconut down towards the blades. You may have to run the cycle twice to get the consistency buttery.

For

Vitamix

: Start on Variable Speed 1 and slowly increase to Variable Speed 10/HIGH. When it sounds like the blade is no longer hitting the coconut, turn the blender off and use a spatula to press the coconut back down towards the blade. Then resume blending, using the tamper to push the coconut back down into the blade.

If the butter consistency does not emerge after 3 to 4 minutes, drizzle a small amount of coconut oil into the mixture and continue blending until desired consistency is reached.

Store at room temperature.

Reheat in the microwave, oven, or a warm water bath, and enjoy for longer than a month, if you don't eat it all before then!

All done! Enjoy!! Now take a photo, rate it, and share your accomplishments! 🙂 Tag @BlenderBabes & #BlenderBabes
Notes
*Do not use low- or reduced-fat or unsweetened coconut. The type of coconut flakes you use WILL matter in the final product - do not use desiccated or powdered, or coconut flour. ONLY dried, shredded unsweetened coconut will work. We use Let's Do Organic brand and had good results, but let us know what you use in the comments!
HEALTH BENEFITS & FUN FACTS
Coconut is truly a divine source of nutrition. There are communities around the world that maintain diets where 60% of their calories come from coconut – which means a lot of slow-burning fats called Medium Chain Triglycerides. These MCTs are broken down differently in the body than a typical saturated fat, which reduces cravings and hunger!
In one study, adding coconut to the diet actually lowered the overall amount of calories consumed by 250.
Furthermore all of those slow-burning fats are GREAT for your brain, fighting epilepsy, Alzheimers, chances of heart disease and risk of seizures.
All of these benefits from eating something as delicious and easy as coconut butter!
Save the oil for topical application – it serves as an amazing hair conditioner, skin moisturizer, and all-natural sun screen!