HEART HEALTHY EASY HOT MULLED APPLE CIDER RECIPE
Here is one of the best mulled apple cider recipes that is also vegan and high in fiber! I love cuddling up in a cozy sweater and reading a good book on the porch this time of year, but the moment isn't complete without a good ol' mug of apple cider – chilled or hot. This cider is a mulled version using whole granny smith apples, red wine, maple syrup, and honey. It's vibrant in flavor and full bodied in texture. A high powered blender such as a Vitamix or Blendtec makes this whole apple cider incredibly smooth and leaves this piping hot. You can chill it as well for a cold cider.
Make sure to join our community for more nutritious seasonal drinks and recipes from Blender Babes! Did you try this recipe? Let everyone know what you think in the comments below by rating it!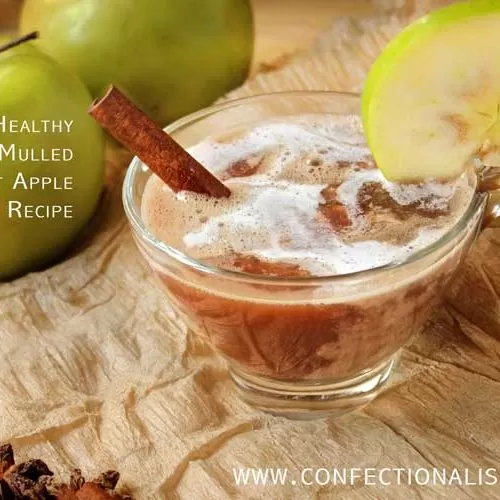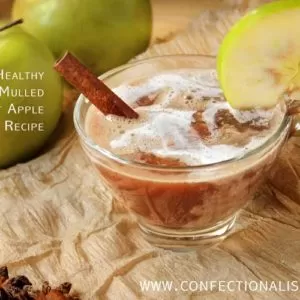 Heart Healthy Easy Hot Muller Apple Cider Recipe
Ingredients
5

Granny Smith Apples

cored and quartered (peeling is optional depending on desired consistency-the peels leave the cider thicker and more full bodied)

2

teaspoons

pure vanilla extract

1

cup

red wine such as Cabernet Sauvignon

1/2

cup

pure maple syrup

1/4

cup

clover honey

2

cups

filtered water

2

cinnamon sticks

1

orange

cut in half

6

whole cloves

3/4

teaspoon

whole peppercorns

1

inch

piece of ginger
Instructions
Place the wine, maple syrup, honey, water, cinnamon sticks, orange, cloves, peppercorns, and ginger in a large saucepan over medium high heat. Bring to a boil and reduce to simmer. Simmer for 15 minutes, stirring frequently. Be careful to watch while simmering as to avoid the mixture from boiling over. (Don't leave it unattended unless you want a big mess!) Once simmered for 15 minutes, remove from heat and strain through a fine mesh sieve into a large bowl or measuring cup. Discard solids (orange pieces and spices). Let cool 5 minutes.

You need a liquid total of 5 cups, so measure the wine mixture and add water to compensate for the volume of liquid

For

Blendtec

: Process in two batches. Add 2.5 quartered apples, half the vanilla and half the wine mixture. Use the SOUP button or Manual Speed to 9/HIGH, and blend until mixture is smooth and heated to desired temperature, usually 3-4 minutes is very hot!

For

Vitamix

: Use 64 oz container (if only have a smaller 48 oz/40 oz. container process in two batches so split apples & liquid in half) Place the quartered apples in blender container with the vanilla extract. Pour wine mixture over the apples. Start on Variable Speed 1, slowly increase to Variable Speed 10/HIGH and blend 4-6 minutes or until desired temperature is reached, preferably steaming!

The cider will be hot. Pour into heat-safe container. Let cool 5 min.

You can serve immediately, as is, with desired toppings, or chill in the refrigerator overnight for cold cider. Refrigerate in airtight pitcher or container for up to a week. Reheat later in microwave, on stovetop, or throw back in

Vitamix or Blendtec

to reheat.

All done! Enjoy!! Now take a photo, rate it, and share your accomplishments to enter our weekly photo contest! 🙂 Tag @BlenderBabes & #BlenderBabes
Notes
1. If you do not have whole cinnamon sticks or cloves on hand, you may use the powdered version. Add a little at a time, so as to not over-spice.
2. If you like less sweet, reduce honey and maple syrup a bit.
Nutrition
Serving:
2
g
Calories:
468
kcal
Carbohydrates:
115.6
g
Protein:
0.9
g
Fat:
0.8
g
Saturated Fat:
0.2
g
Polyunsaturated Fat:
0.2
g
Trans Fat:
0.2
g
Sodium:
13.1
mg
Fiber:
7.4
g
Sugar:
97.2
g
BLENDER BABES RECIPE NOTES 
If one does not have whole cinnamon sticks and cloves on hand, powdered may be used. Add a little at a time, so as to not over-spice. If you aren't a regular wine drinker…don't worry! The wine is not noticeable in the final product, and just adds to the depth of the flavor. You will be pleasantly surprised by the results. This recipe resembles a traditional apple cider, albeit slightly thicker. This blender recipe is a great way to enjoy a hot apple cider beverage from scratch, so go ahead and walk right by those hot cider packets in the store; you won't need them. This is a filling, creamy alternative to traditional hot apple cider…without the addition of dairy. Think of it as a cross between mulled wine, hot cider, and an apple smoothie. It can be served warm or chilled, depending on your tastes and the weather.
HEALTH BENEFITS OF RED WINE
In moderation, red wine has often been thought of as heart healthy. The alcohol and certain substances in red wine called antioxidants may help prevent heart disease by increasing levels of high-density lipoprotein cholesterol (also known as the "good" cholesterol) and protect against artery damage. Antioxidants in red wine called polyphenols may help protect the lining of blood vessels in your heart, reducing risk of inflammation and blood clotting, both of which can lead to heart disease.