CHOCOLATE POTS DE CRÉME RECIPE WITH CARDAMOM
So simple to make and wonderful that it's almost criminal, this chocolate pots de créme recipe is an easy and impressive dessert that you make in your blender!
It's perfect for dinner parties if you make it in the morning or the evening before. Be sure to use very hot coffeeor the mixture won't set.
It's rich, so a small serving goes a long way. I make mine with cardamom, but you can use other spices or extracts. 
This chocolate dessert recipe has HUGE potential for variations! For a chocolate mint version, try adding a few drops of peppermint essential oil.
Looking for an amazing but easy to make Valentine's Day dessert recipe? You could cut a heart out of paper and use that as a template to sprinkle powdered sugar on top!
What would YOU do?!
A high power blender makes this recipe easy, of course. 😉
Be sure to join our blending-loving tribe for more quick and easy desserts from Blender Babes!
Did you try this? Let our community know in the comments by rating it!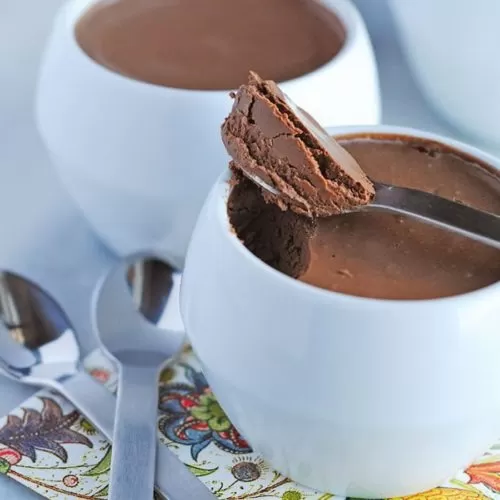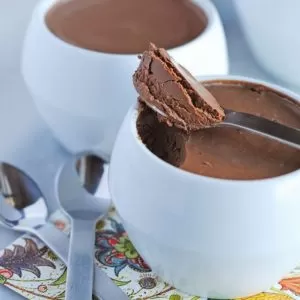 Chocolate Pots de Creme Cardamom
Ingredients
8

oz

semisweet or bittersweet chocolate chips

3

eggs*

room temperature

1

tsp

vanilla

1/4

tsp

ground cardamom**

Pinch

of salt

5

oz

very hot coffee or espresso

instant or brewed
Instructions
Combine the chocolate chips, eggs, vanilla and ground cardamom in the blender.

For

Vitamix

: Select VARIABLE speed 1. Turn machine on and slowly increase to VARIABLE speed 10/HIGH. Blend for 30 seconds or until smooth.

For

Blendtec

: Press MEDIUM Manual Speed or Speed 5 until well combined, about 30 seconds. Stop machine. Press HIGH Manual Speed.

While the blender is still running, remove the funnel cap from the top and pour the hot coffee in to the mixture slowly. The coffee must be very hot for the mixture to set.

Mix for approximately 1 minute until smooth.

Divide the mixture in to 4 small cups or ramekins.

Cool in the fridge until set, approximately 4 hours.

All done! Enjoy!! Now take a photo, rate it, and share your accomplishments! 🙂 Tag @BlenderBabes & #BlenderBabes
Notes
* This recipe calls for uncooked eggs. If safety is a concern, please use pasteurized eggs.
** You can use equals amounts of cinnamon and nutmeg, if you do not have cardamom.
Nutrition
Serving:
1
g
Calories:
351
kcal
Carbohydrates:
37
g
Protein:
6
g
Fat:
20.5
g
Saturated Fat:
11.5
g
Polyunsaturated Fat:
0.7
g
Trans Fat:
1.8
g
Cholesterol:
202.5
mg
Sodium:
98.9
mg
Sugar:
32.5
g
BLENDER BABES RECIPE TESTER NOTES
"OMG!!! Every tester loved this chocolate dessert. One had it for breakfast, gave it a 'heavenly 10'. I don't eat eggs but tried it, YUM! I'll have to find a good egg replacer for myself. Smooth chocolaty texture. The espresso really gave this a great flavor with the (dark) semi sweet chocolate chips."
"This is soooooo good! All 3 of us, my husband, 3-year-old daughter, and I all enjoyed it. It has a strong mocha taste with just a hint of cardamom (though my coffee could have been a little stronger than normal). This is really easy to make and sets into something that's between chocolate mousse and chocolate ganache. My husband compared it to truffle filling!"
CARDAMOM HEALTH BENEFITS
Cardamom is native to the evergreen forests of India. This spice is commonly used in Indian cuisine, but has also made its way into Ayurvedic medicine as a treatment for digestive problems, mouth ulcers, and even depression. Some of the health benefits of this peppery, citrusy spice are now being celebrated so it's worth taking a closer look at to consider adding to your dishes.
1. Digestion – Cardamom is related to ginger and can be used in much the same way to counteract digestive problems. Use it to combat nausea, acidity, bloating, gas, heartburn, loss of appetite, constipation, and much more.
2. Halitosis – In India they chew cardamom after meals or whenever they need to freshen their breath.
3. Diuretic – Part of the reason cardamom is such a good detoxifier is thanks to the diuretic properties. It helps clean out the urinary tract, bladder, and kidneys, removing waste, salt, excess water, toxins, and combating infections too.
4. Depression – The science behind the antidepressant qualities of cardamom hasn't been studied yet, but Ayurvedic medicine swears by the tea as a means to fight depression.