Which Vitamix Container is Best?
It's hard to decide which Vitamix container is best for all of your needs, and as they continue to expand their already rich assortment of blender containers, I constantly get asked the following questions.
Which Vitamix container is best for smoothies or peanut butter or ice cream?
Which Vitamix container is compatible with which models?
Do I need the Vitamix dry container?
Do I need an additional Vitamix container and if so which one?
For this reason, I've decided to answer these questions and review each Vitamix container, explain their purpose and then provide our expert "Blender Babes" recommendations. 🙂
You can also watch a video my friend Lenny and I made about Vitamix Containers above. He's a Vitamix Blender Babe and you can find him at LifeisNoYoke.com... Doesn't he look good in his BB gear?!
P.S. If you still need help deciding Which Vitamix to BUY <<-- Click this link.
Vitamix Container Lineup
The most notable piece of equipment for most blenders is the container, for it has the blades and holds the finished product. Blade design varies, depending on purpose, as does jar size and even base size.
While interchangeability is usually a desired trait, Vitamix does not have a "one size fits all" approach so I wanted to make clear which Vitamix container fits with which models.
The Vitamix lineup of containers varies from single-serving personal containers to the 64oz low profile jar. It's worth noting that these polar end products are not interchangeable, as the motor is built for different volume needs.
Here's an overview of the Vitamix container lineup: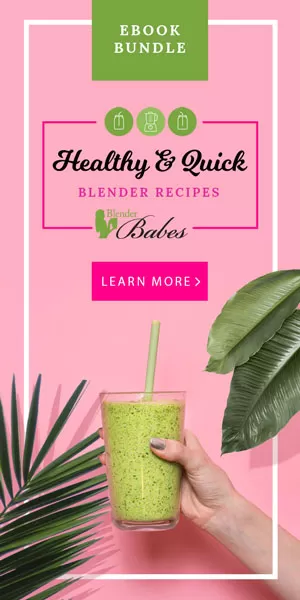 Vitamix Container Options and Which Containers are Compatible With Which Models:
Vitamix 64 oz Tall Standard Container – the original Vitamix 64 oz container, this tall jar with 3 inch base totals 20.4″ tall. Does not fit under most kitchen cabinets. Should only be used on C-Series models with a 2 peak horsepower motor.
Vitamix 64 oz Low Profile Container – newly designed compact 64oz container with 4 inch base that totals 17.4" tall on base.

Fits under most kitchen cabinets.

Fits all Vitamix G-Series models and Vitamix C-Series models with 2.2 horsepower motor* (Vitamix 5300 and 6500) as well as the Vitamix Explorian E320
Vitamix 64 oz container for Ascent Series ONLY – this is also a shorter 64 oz container that makes the unit 17" tall on base and fits under most kitchen cabinets. Due to the "Smart Detect" technology used in the Ascent Series, you cannot use any container on an Ascent base other than those made for the Ascent Series. This container also has an improved spout and transparent lid which locks in place.
Vitamix 48 oz Compact Container – smaller capacity compact container - totals 17.4" tall on base - fits all Vitamix C-Series or G-Series models.
Vitamix 32 oz Container – smallest jar option. Most recommended additional jar - fits all Vitamix C-Series or G-Series models
Vitamix 32 oz Dry Container – made especially for grinding. Great if you plan to do A LOT of grinding (otherwise usually unnecessary) - fits all Vitamix C-Series or G-Series models.
Vitamix 20 oz Travel Container – blend-and-go style cup. Use removable blade to flip over and blend then add the flip cup lid and take on the go - fits all S-Series models only for blending - but can be purchased separately as a to-go cup for any use.
Vitamix 40 oz Container – removable blade and gasket for cleaning - fits all S-Series models only (only the blade can be purchased separately).
NOTE: Sometimes I find Vitamix Containers on Amazon for less $$.
THE VITAMIX TAMPER
Each Vitamix container (except the travel cup) comes with its own perfectly sized tamper.
Certain types of tough ingredients and thicker and/or complex recipes will almost always require use of the Tamper to begin circulating into the blades properly.
That said the low profile Vitamix 64 oz container with a wider 4 inch base may require less tamping with certain blends.
Yet the low profile Vitamix 64 oz container can't do smaller portions. More on that below.
Which Vitamix Container Should You Get?
So, if you're planning to purchase a Vitamix, which jar should you get for it?
Stop! Sorry if you answered that. If you don't have a Vitamix yet, you really should research which vitamix to buy FIRST and purchase the model and features that are best based on your needs.
In other words, don't get a blender for your container, get a container for your blender.
If you already own a Vitamix or not, you may wonder which additional jars are necessary from all the products above. Let's begin by deciding whether you need the Vitamix dry container.
Do You Need the Vitamix Dry Container?
The short answer? Probably not.
There is only one dry jar and it comes in the 32 oz size.
The Vitamix dry container is designed specifically to grind grains into flour and to mix batter.
The blades on this container are different from the wet jars and is designed to push grains away from the blades, thus limiting material packing at the bottom of the container.
The Vitamix dry container blade design is also engineered to prepare dough by simulating the kneading process.
In comparison, wet jars, which come in three sizes, 64 oz, 32 oz and 48 oz - are engineered to pull your ingredients into the blades, thus aiding in the liquefying process.
So does this mean you can't make flour or mix batter in a wet jar, thus justifying the purchase of a Vitamix dry container?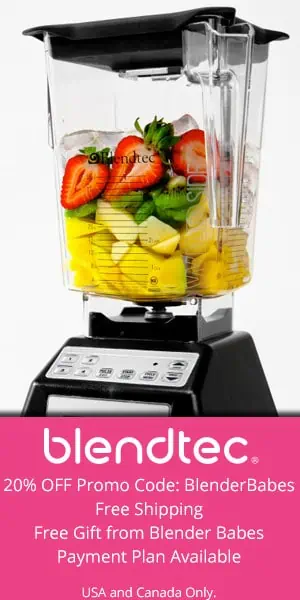 Fortunately, in our testing and experience, we have had no issues creating flour or mixing batter in our wet jars.
You can see our results grinding popcorn into cornmeal with the vitamix wet jar vs dry jar here.
It is therefore our "Blender Babes" recommendation that unless you plan on grinding grains A LOT, the Vitamix dry container isn't worth it.
The jar that comes with your Vitamix purchase will serve the purpose of occasional grinding needs just fine.
If your Vitamix container blade ever gets dull over time... you can send the jar to Vitamix and they will sharpen it! Another fist pump for the stellar Vitamix customer service. 😉
Vitamix 64 oz Container - 3 Inch vs 4 Inch Base
The Next Generation and Ascent Series low profile Vitamix 64 oz container features a larger 4 inch base vs the conventional 3 inch base of the tall Vitamix 64 oz standard container.
The wider base helps facilitate "chopping" and is more efficient for blends such as smoothies due to its wider design.
Due to the wider design, the jar is also shorter, measuring in at 10.1 inches high. This is several inches shorter than the 64 oz conventional "tall" jar. This shorter design is therefore easier to store under your kitchen cabinet.
However, the drawback to this is that it requires more volume to work properly.
For this reason, single-serving smoothies or small amounts of items such as peanut butter, ice cream, and sauces are difficult to make, as the volume is not sufficient and can get packed under the blade due to the larger base.
In contrast, the tall Vitamix 64 oz standard container with 3 inch base does not have a problem with single-serving and smaller volume needs.
However, the 3 inch base also does not do as well a job of "chopping" your materials and the taller size makes them harder to store, especially if you keep your jar on top of your blender.
Vitamix 64 oz Container Recap:
Vitamix 64oz Container Tall Standard
Has a 3 inch wide base
It can make all desired types of recipes
It's more narrow than the low profile Vitamix 4 inch wide base, making it easier to make smaller portions
Too tall to fit under most kitchen cabinets
Not

as easy

to clean by hand due to more narrow base and tall jar in the sink
Vitamix 64oz Container Low Profile
Has a 4 inch wide base
Can make all desired types of recipes BUT can't make small portions (under 2 cups) or single servings of smoothies, peanut butter or ice cream
May consider getting an additional jar (the 32oz container is my recommendation)
Easier to make certain types of recipes (such as bread dough)
Can fit under most kitchen cabinets
Easier to clean by hand
Vitamix 64 oz Container vs Vitamix 32 oz Container Blend Off
In order to demonstrate the volume necessary when blending with the Vitamix 64 oz container (low profile), my friend Lenny and I decided to have a little fun by comparing the amount required by this container vs the smallest Vitamix 32 oz container making ice cream... aka strawberry banana "nice cream".
We began with 1/2 a banana and 1 strawberry and continued to add, in these same increments, frozen fruit with NO LIQUID to these jars, using the tamper to press the ingredients into the blade.
We added and processed until we had successful, thick Vitamix ice cream.
As demonstrated, the wider low profile 64 oz jar had difficulty achieving a single-serving with the same amount of frozen fruit as the 32 oz jar.
It took 2.5 times more ingredients to be able to process properly.
FINAL THOUGHTS
If you have not yet purchased a Vitamix, begin by first determining which model is best for YOU with our comprehensive "which vitamix to buy review".
Then decide which additional Vitamix container(s) will meet your needs.
Personally I recommend the Vitamix 32 oz container (wet not dry) as the #1 only other jar you need if the model you want comes with a low profile Vitamix 64 oz container.
That said, if the model you want comes with the tall Vitamix 64 oz container you might not need an additional jar at all!
The jars obviously enhance your product, but they should not be the deciding factor.
Which Vitamix Container(s) Meet YOUR Needs?
I hope you enjoyed this Vitamix Container Review! If you have any questions let me know in the comments! 🙂 xo ~ Tarashaun