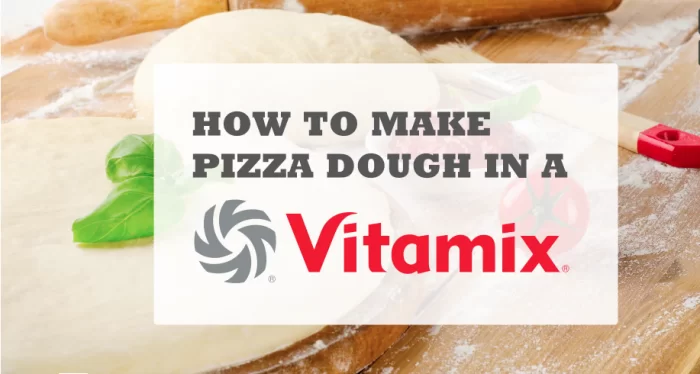 How to Make Pizza Dough in a Vitamix
You can use your high-powered Vitamix blender to make your baking a lot easier. Not only can you make some really delicious baked goods (you might want to try our easy EMERGENCY Chocolate Blender cupcakes) but you can also use your Vitamix to make pizza or flatbread. Did someone say homemade pizza? Well, we don't promise you the whole pizza but the dough will be done!
These
easy-to-follow 5 step instructions
will make the process a breeze!
DON'T FORGET: Follow YOUR specific pizza dough/flatbread recipe ingredients.
Step 1. Add flour, yeast and salt to your Vitamix jar. Use variable speed 4 or 5 and PULSE 2-3 times to combine the ingredients.
*If your Vitamix (5200 or Standard models) doesn't have a "Pulse" feature, use variable speed 4 and turn it on and off to PULSE.
*If you are using a tall 64 oz Vitamix jar, use a spatula to push ingredients towards the center.
Step 2. Slowly add a bit of hot water at a time (typically 10 to 12 oz) through the lid plug and PULSE. Continue just until a dough ball forms, but you must be CAREFUL not to over-blend.
Step 3. Add flour to work your surface and form the dough into ball.
Step 4. This step is OPTIONAL – some recipes call for it. Add oil such as olive oil and gently knead dough.
Step 5. Place the dough in a covered bowl. Keep the bowl in a warm area to rise for 1-2 hours.
*SHORTCUT! Heat microwave with a cup of water for a minute. Take the cup out and put the bowl of dough inside and let rise for about 45 minutes.
We hope these 5 easy steps will make the process a lot faster so you can sit down and enjoy that amazing pizza or flatbread recipe. Which one is your favorite recipe!? Do you have a SKINNY version? Share with us PLEASE! 😉