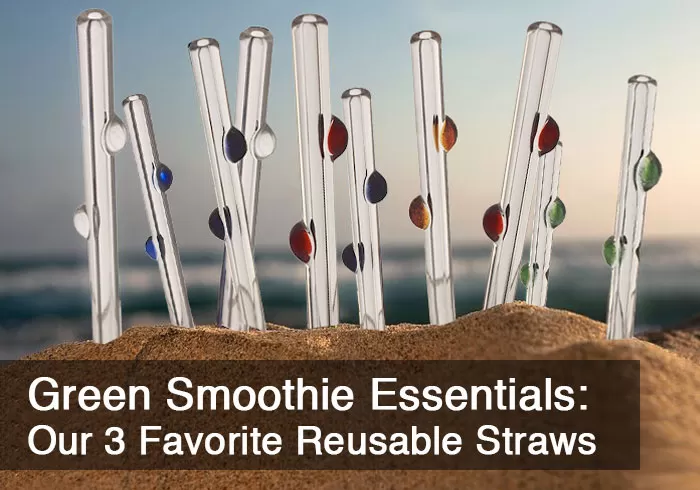 Our 3 Favorite Reusable Straws

Reusable Straws are a necessity for the eco-friendly Babe…

Here at Blender Babes, we have many focuses – providing you with the most comprehensive blender reviews and developing delicious and healthy recipes and diet programs.

We also strive to make sure that our tribe knows about the newest & best products for living a healthy and sustainable lifestyle, whether it's reviewing protein powders, granola bars, or… reusable straws!
Why buy reusable straws?
We started using straws because certain drinks, such as apple cider vinegar or your morning water lemon water, can be dangerous for the enamel on your teeth.
After discovering these amazing straws … we couldn't get enough!
They're fun for kids, reusable, and you can stick them in mason jar lids to keep your smoothie accessible yet relatively spill-proof on the go.
Either glass or stainless steel these reusable straws make our favorite green smoothie recipes and our delicious detox waters look fabulous!
By keeping one of these reusable straws in your bag, you can eliminate the need for all of the plastic straws that get thrown at you, diminishing the more than 500 million disposable plastic straws used in the United States every day.
REDUCE, REUSE, RECYCLE, right Babes?
One of Each Please!
So here it is, we have done the research for you! You can choose color, size, shape and material! We've compared the 3 best reusable straws currently in the market – Glass Dharma, Simply Straws (also glass), and stainless steel drinking straws.
1. Glass Dharma
Glass Dharma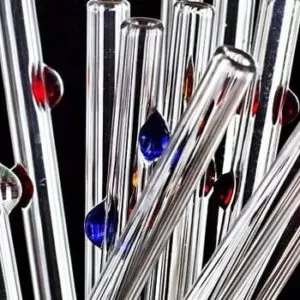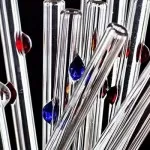 is a pretty well-known glass straw company, they use Borosilicate glass which is non-porous, hypoallergenic, and resistant to thermal shock, so you can feel free to use these straws with hot or cold beverages.
Some of the popular Glass Dharma straw have little "dots" of color on one end of the straw to keep it from slipping too far down into the glass, do you recognize them now?!
There are many dot colors available as well as several options in length, size, and shape, either straight or bent.
They also create custom straws; if you have a container that you LOVE but isn't standard, just contact them with specifications for a quote and the handmade (in America!) straw will be constructed just for you.
Pick up the Glass Dharma or other glass straw made specifically for smoothies!
CONGRATS TO THE WINNERS OF OUR GLASS DHARMA $25 GIFT CERTIFICATE GIVEAWAY! Lauren M, Norma T, and Bonnie F.
2. Simply Straws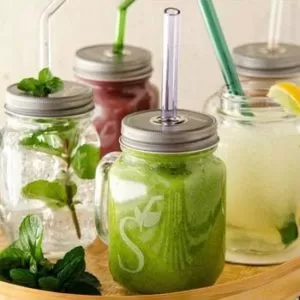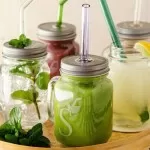 Simply Straws is a conscious company that makes deliberate choices when it comes to their product.
Their straws are made with Borosilicate Glass and the wall of their straws is slightly thicker, providing more stability and durability to an already very durable product.
Simply Straws is a B-corp (meaning they're sustainable and focused on being a beneficial corporation) and donate 1% for the Planet & Green America Business.
And beyond that, their "Party Packs" come in super cute carrying cases and the individual straws are wrapped in flax and hemp fabric that provide antibacterial and anti-fungal properties.
You can get their straws in 112 different styles including bent or straight, in 3 different diameters – and in 8 different colors!
So if you have kids or want to get cocktail straws in different colors to keep track of whose drink is whose, order your Simply Straws.
3. Stainless Steel Straws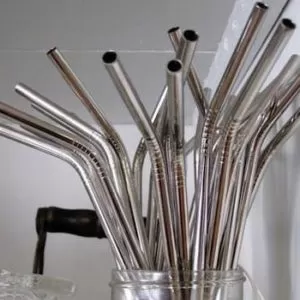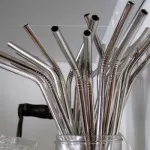 The one BIG plus about stainless steel straws is these won't break when you drop them in the sink or on the floor.
They're sturdy, don't contain BPA (none of the options listed contain BPA), and are relatively inexpensive, coming in at about $2-3 per straw – the most inexpensive reusable straw option.
Most packages of straws come with a handy pipe cleaner for easy cleaning, and these stainless steel option can go straight into the dishwasher.
Stainless steel straws come in many lengths, some bent at an angle for easy sipping. Check out the full selection on Amazon!
If you're truly a Blender Babe and love your daily juice or smoothie – you NEED a reusable straw!
It prevents your teeth from being stained, saves the Earth from the doom of one-use, throw away plastic straws, and is also super cute!
Blender Babes' Tips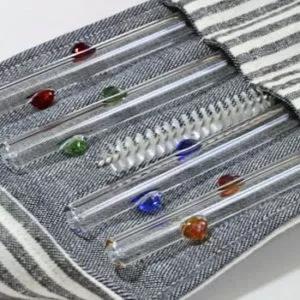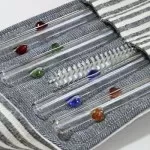 All of these straws typically come with a cleaning brush. We recommend keeping them in a mason jar to create a beautiful "bouquet" for your kitchen table – which will also encourage daily use!
Both Simply Straws and Glass Dharma will replace your straw if it ever breaks.
From our experience, they will break if dropped from 3 feet or more on a tile floor or five or more feet onto a hardwood floor, so they are NOT indestructible!
They do, however, come with a lifetime warranty (shipping not included), so once you make the $7+ investment, that investment is protected by these considerate companies.
Join our Blender Babes tribe to learn about more great sustainable products!