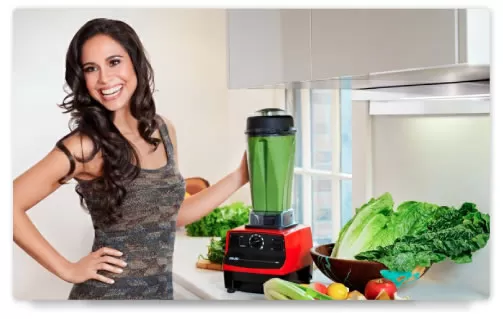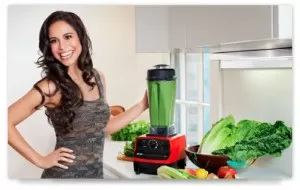 Kimberly Snyder is a celebrity nutritionist, a yoga instructor, and a beautiful person on the inside and out. Her knowledge and expertise has been featured on the Dr. Oz, Today Show, Good Morning America and many more. She brings her Glowing Green Smoothie and other food and snacks to sets of Hollywood movies and she uses and encourages all of her clients to use a Vitamix blender.
She's an honorary Blender Babe, and we've been fans of hers ever since I discovered her book – and started adhering to some of her philosophy that was presented. Suffering from IBS for years, I personally really resonated with her alternative views on digestion and eating. I KNOW everyone could benefit from her beauty advice, so here's my review of her phenomenal book, The Beauty Detox Solution.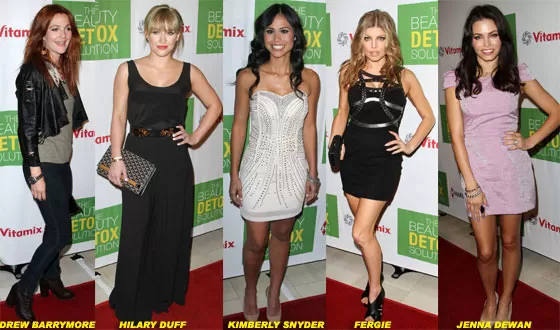 Her book promises to give you the same star treatment and top-notch advice she gives to A-list celebrities, which include Drew Barrymore, Fergie, and Channing & Jenna Tatum (hubba hubba) just to name a few. Her own story is one we might all recognize: Kim used to struggle with belly fat, acne breakouts, brittle nails and hair – even though she was on a vegetarian diet and THOUGHT she was eating "healthy". Later, after traveling the world (lucky girl!!) for several years, and learning about all different types of foods and spices, she was able to transform herself using age-old beauty secrets that you EAT, not beauty PRODUCTS. Like many before her, she learned that whole foods and a healthy diet are key to ultimate beauty. They trump any expensive topical product, every time! Kim has developed a powerful program, in different stages so you can go at your own pace, to help us rid our body of toxins and GLOW from the inside out!!!
WITH A FEW SIMPLE DIET CHANGES, YOU WILL: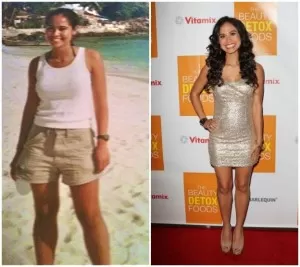 Banish acne & splotchy skin

Reduce or remove wrinkles

Display a youthful & radiant glow

Grow thicker and healthier hair and nails

Get rid of bloat and bulge

Melt away fat

Stop "dieting" and counting calories (Yipee!!)
Most people don't know that the word 'detox' in Kimberly's title might be a bit misleading- it isn't a quick one-time fix she's prescribing here. NOT AT ALL! This is about an overhaul in attitude and habit that will, if you adopt it, carry you through the rest of your days. The book examines WHY and HOW important it is for us all to eat well every day—not just for a limited 'detox' time (As if!!).
I know that Kimberly changed the way I think about food, digestion, and everything we put in our bodies. Her passion and her absolute commitment to healing and helping people find unlock their true beauty potential are evident throughout the book.
"We must respect how incredibly powerful our bodies are. Our body has the ability to heal itself, and it will achieve its highest potential if we clear the way for it to do so….. Each and every one of us has this potential for natural healing and beauty within us." Kimberly Synder
By examining and explaining how certain foods, and the order you eat them, impacts your body's ability to absorb the nutrients, Kimberly's take on nutrition and digestion is revolutionary. I learned SO MUCH!
For starters, it's important to eat certain foods in a certain order. ALWAYS start with salad, then add EITHER proteins and more vegetables, or starches and more vegetables – however she doesn't recommend eating protein, vegetables, and starches all together. VERY DIFFERENT from what we have all grown up with! Likewise, always always ALWAYS eat fruit on an empty stomach, and never after a meal! Otherwise it will literally not get digested and PUTRIFY in your intestines. GROSSSS!!!! Don't have to tell me that twice. No more apple cobbler for dessert for me… This all seems counter intuitive and goes against the way most Western menus are set up. No wonder we have such problems getting it right! Combining foods in the wrong way takes its toll on our bodies, making them work much harder to digest, which keeps us from having energy and vibrancy. Naturally, if our bodies are expending energy on digestion, there is less to go around for our hair, skin, nails, etc. A real beauty downer!!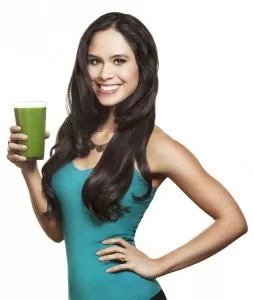 The book's main focus is to teach us how to have proper digestion which Kimberly believes is the key to good health and a vibrant life. She gives us helpful tips on how to do it right. I love the Glowing Green Smoothie, and so does our Blender Babes community! It's a quick and easy way to get your feet wet with her program if you have never had a green smoothie before.
Kimberly urges us to start light with meals and get heavy toward the end of the day. Again, not what we've been told from dear old Mom, huh? The idea of eating light meals to heavy meals was completely opposite of what I had been taught, but it seriously works! Ever since I read The Beauty Detox Solution, I am now a vegetarian… until dinner! 🙂
I also love the morning liver cleanse. It really helps!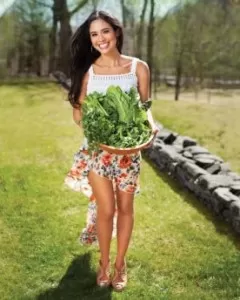 In general, Kimberly is a fan of a gluten free lifestyle, vegan-ism and eating less animal protein (however see above). She recommends eliminating gluten and dairy/animal protein within her different stages, and monitoring your digestion and how you feel. You will really notice a difference after you reintroduce these to your diet. Whatever you take away from this, I believe everyone could benefit by at minimum reducing the amount of processed foods, gluten, and animal products you eat – and replacing them with more vegetables. Kim urges everyone to NOT get carried away with superfoods, fads or special diets. It's better to be sensible and stick to wholesome food. And, of course, we should always try to support local and organic foods.
I love this about her book, and think everyone would benefit from it. Even if you just dip in and take away a few bits of knowledge and beauty detox recipes that work for you, it's sure to improve your life! Be sure to subscribe for new Kimberly Snyder recipes!