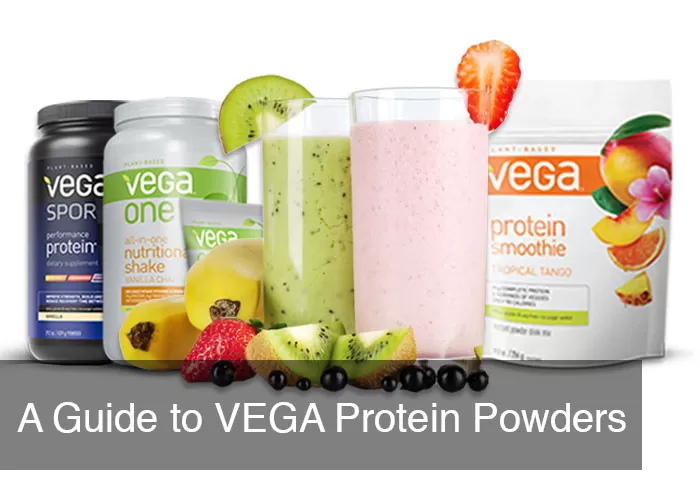 VEGA PROTEIN POWDERS GUIDE

Vega has done it again! They've created a new product, Protein Smoothie! Vega is known for their Performance Protein, Vega Sport and the Blender Babes' favorite, Vega One Nutritional Shake, but we're especially excited about their new protein-packed smoothie addition. Many of you ask us which one to use, so we've done the legwork to give you all the information you need to decide which of their protein powders is best for YOU, and your family. Just read, blend up your favorite smoothie recipe, add a scoop of Vega and enjoy!
VEGA Protein Powders
We know how difficult it is to decide between nutritional supplements, there are so many out there!
We've found that the most important thing is to first find a brand that you love — one that uses quality ingredients, tastes great, and most importantly, one that you trust.
For that reason, Blender Babes recommends Vega! They have proven (time and time again) to produce great-tasting plant-based products, all of which are consumer and environmentally conscious.
In fact, all Vega products are free of dairy, gluten and soy, and contain no added sugar, artificial flavors, colors or sweeteners, a win-win for our Blender Babes community!
We've already fallen in LOVE with the Vega One Nutritional Shake, but now that a new product has surfaced, we want to give you a breakdown of their entire protein powder line, so you can pick the one that's best for YOU and your family.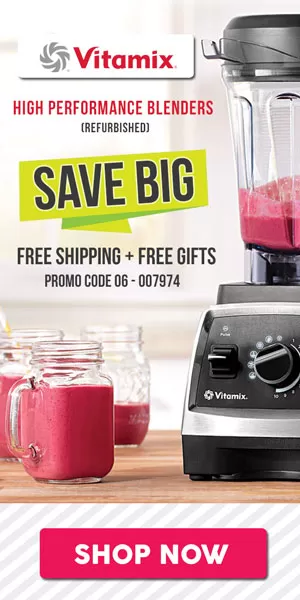 Vega One Nutritional Shake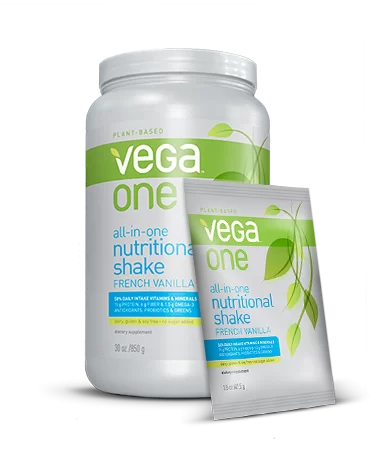 is great for anyone that leads an active lifestyle. Blender Babes recommends using this supplement daily by adding it to your favorite smoothie or juice recipes. It gives you a boost of energy that lasts all day. The vanilla chai flavor is our favorite!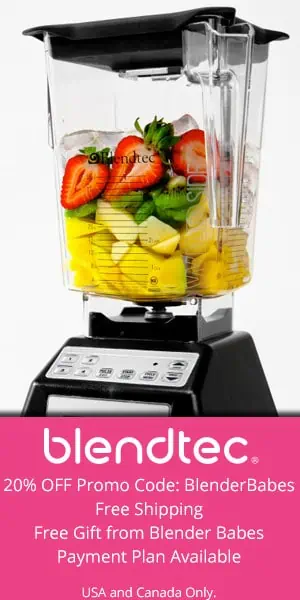 Benefits: Provides 50% of your daily vitamins and minerals, 15 g protein, 6 g fiber, 1.5 g omega-3 Antioxidants, and probiotics greens. It helps you thrive by covering key nutrient bases, providing energy, help metabolizing fats, protein and carbohydrates, supporting strong bones and muscles, promoting a healthy intestinal flora and immune system.
Flavors: French Vanilla, Berry, Chocolate, Vanilla Chai and Natural.
Cost: $3.99/pack, also available in bulk
Vega Sport Performance Protein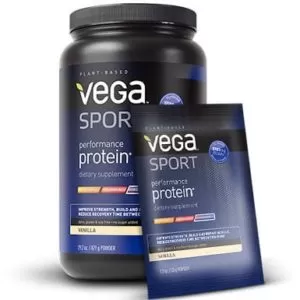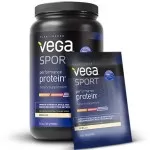 improves energy and exercise performance. Blender Babes recommends this for athletes and super-active adults who are building muscle, aka the Brendan Braziers of the world! By adding the Vanilla Performance Protein to your pre-workout smoothie (our favorite of the 3 flavors!), your body will prepare, sustain and recover in no time. If drinking this alone, we recommend mixing it with cold coconut water and ice – otherwise blend with your usual smoothie. This powder can also be used in baking!
Benefits: An amazingmulti-source, alkaline-forming, plant-based protein powder blend, with 25 g protein, 5,000mg of BCAAs and 5,000mg of glutamine per serving. This formula is sure to improve strength and exercise performance, repair and build muscles and reduce recovery time when training.
Flavors: Vanilla, Chocolate and Berry.
Cost: $3.41/pack, also available in bulk
Vega Protein Smoothie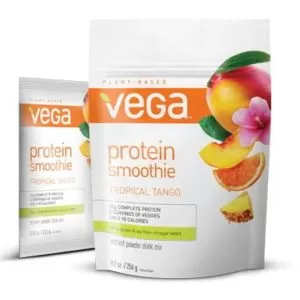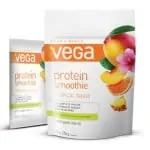 is great for children, young adults and adults who are new to plant-based nutrition and don't have time to blend, but still want a quick protein boost. Blender Babes recommends the Tropical Tango flavor in the morning or for a mid-afternoon snack. Like their other protein powders, you don't need to blend it in a smoothie (though you can if you want! And we do!), all you need is water, juice or a milk substitute. It's the perfect way to sneak a bit of kale, spinach and broccoli into your child's diet without them knowing!
Benefits: Not quite as nutrient-dense as Vega One, it still provides two servings of vegetables in every serving and has 15 grams of plant-based non-GMO protein in only 90 calories.
Flavors: Bodacious Berry, Choc-a-lot, Oh Natural, Tropical Tango and Viva Vanilla.
Cost: $1.99/pack, also available in bulk
We hope this guide helps you boost your nutritional intake and start your mornings and workouts off with a burst of energy! Vega is one of our favorite brands and we'd love to know your experience with them! Let us know in the comments what your favorite type/flavor is!
Be sure to sign up for the Blender Babes' newsletter to recipes, product reviews, how-to guides and tips for a healthier and more nutritious lifestyle!
CONGRATS TO OUR VEGA PROTEIN SMOOTHIE GIVEAWAY WINNERS! Holly E, Brian S, Ellen C, Bob, and KC!