BERRY BREEZE REVIEW

It can be extremely frustrating to do your weekly grocery shopping for your healthy meals and have fresh fruits and veggies at your fingertips, only to have them rot and mold before you can even enjoy them all. Healthy cooking and meal planning is a job in itself, and who has TIME OR MONEY to waste due to prematurely-spoiled produce? NOT US!! Learn more about how you can save money in this Berry Breeze Review
Blender Babes found a simple solution! Berry Breeze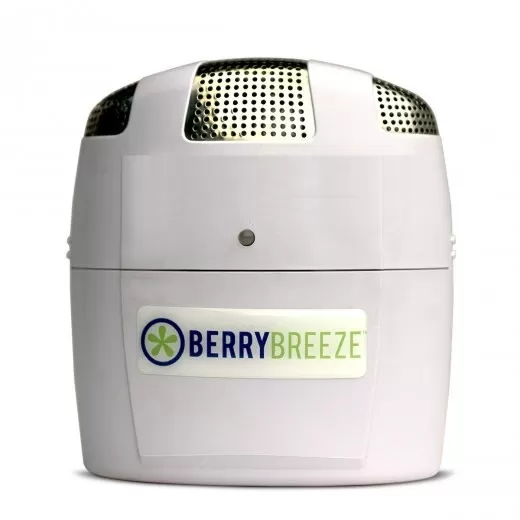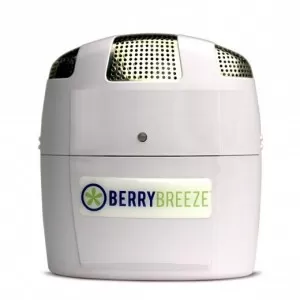 By simply placing this small, battery-operated device in your fridge you will notice a HUGE difference in the length of time it takes for produce to ripen and go bad – saving you A TON of hard earned money every month! 🙂
Berry Breeze Oxygenating Refrigerator Neutralizer is an amazing little gadget that works by using activated oxygen to neutralize the ethylene gas that triggers your fruits and veggies to ripen.
Like we did, you will be able to keep your produce fresh and crisp longer. Berry Breeze also cleans the air in your refrigerator to help neutralize odors and sanitize your fridge.
By reducing your food waste, you will be able to save money as well as diminish your carbon footprint. Lower grocery bill and tinier carbon footprint? YES PLEASE!
Bacteria Be Gone!
Did you know that 1 out of 7 people get food poisoning from their own food? Tests done in 30 different produce drawers discovered a shocking number of bacteria, including E. coli, salmonella and listeria, with an average of 7,850 bacteria colony-forming units per square centimeter. And we thought it was unsafe to eat out!
Stop Throwing Away Food!
According to a study conducted by R&D Enterprises, Berry Breeze has been proven to be "very effective" in eliminating powerful food odors as well as extending the storage life of perishable food items inside your fridge.
Activated oxygen is nature's means of neutralizing ethylene gas while combating germs, mildew, refrigerator mold along with other harmful microbes in your fridge.
Study aside, the first week we got one we could hardly believe it when the strawberries and other produce we purchased a full week prior – still looked and felt fresh! 🙂 SCORE!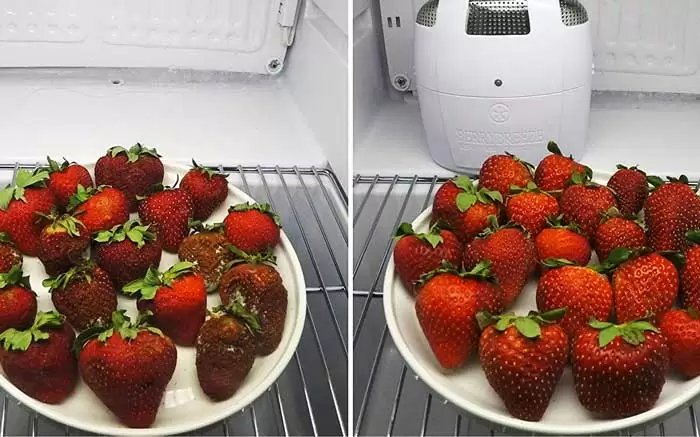 We knew we had found something AMAZING and began researching it further.
♦ The average American household wastes $2,100-$2,400 in food each year. YIKES! That's about the cost of 5 or 6 Blendtec or Vitamix blenders!
♦ Americans throw away almost 40% of all edible foods (over 33 million tons of food each year), which totals over $165 billion. By saving 15% of the food thrown away, we could feed 25 million people!
Live Healthier, Eat Healthier!
Blender Babes' main goal is to teach our community how to live healthy and be healthy, and we're always looking for the best and most cost-effective ways to maintain a beautifully healthy lifestyle.
So why not have a healthier diet on a smaller budget?
We love it! Improve your nutrition. Yes please!
Reduce grocery expenses. Sign us up!
Just stick a Berry Breeze in your fridge, simple as that. It's cost-effective AND low-maintenance, runs on batteries, no complicated manual and doesn't even have a filter to replace or clean!
Why wouldn't you start using one now? 🙂
We hope you enjoyed this Berry Breeze Review! Let us know how it's working for you in the comments.