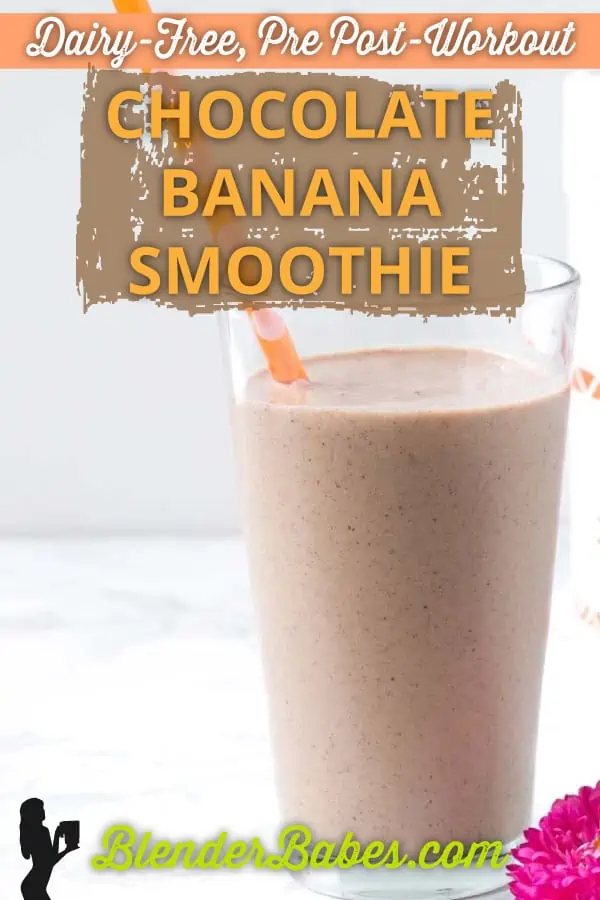 Get 20% off Rootz Nutrition Products with Rootz Promo Code "BlenderBabes" 🙂
Chocolate Banana Smoothie – Paleo, Dairy-Free, Pre and Post-Workout
Chocolate and banana go together like peanut butter and jelly!
Which is why I understand the flavor combo created by Rootz Nutrition for their paleo protein superfood powder – which I've been LOVING recently (check out my Rootz Nutrition Review)
Sometimes I crave chocolate for breakfast, even more so during my pregnancy.
With the morning sickness and nausea I experienced, sometimes smoothies were the only thing (aside from my pre-natal vitamins) providing the nutrition I needed!
WATCH A QUICK VIDEO OF THIS CHOCOLATE BANANA SMOOTHIE RECIPE:
And subscribe to my YouTube Channel for more blender videos!
Anti-Inflammatory Smoothie Too!
Of course I want my smoothies to help my community with certain health issues and I've been getting a lot of requests for Anti-Inflammatory Smoothies lately.
Rootz protein powder has A LOT of beneficial superfoods for this, but I added a few ingredients also rich in antioxidants, minerals and essential fatty acids to help fight inflammation in this chocolate banana smoothie recipe.
Anti-Inflammatory Foods in Recipe
Rootz Protein Superfood Blend for Inflammation
The Rootz Superfood Blend used in Rootz protein powder contains blueberries, chia seeds and flax seeds.
Blueberries contain quercetin which is a flavonoid that fights inflammation and cancer!
Chia seeds and flax seeds are an excellent source of omega 3s and flax seeds are also full of antioxidants.
Rootz Green Detox Blend for Inflammation
The Rootz Green Detox Blend used in Rootz protein powder contains spirulina, chlorella, kale, spinach and broccoli.
These are ALL nutritional powerhouses, filled with antioxidants, flavanoids, vitamins and minerals to help fight inflammation.
Bananas for Inflammation
Bananas contain antioxidants Vitamin C and manganese to help protect against free-radical damange.
I use banana in the recipe and it's also part of the Rootz Electrolyte Blend in their protein powder. Double whammy! 😉
Almonds for Inflammation
Almonds contain anti-inflammatory flavonoids and are a concentrated source of heart healthy monounsaturated fats.
Walnuts for Inflammation
Walnuts are an excellent source of omega 3 fatty acids in the form of alpha-linolenic acid (ALA) as well as heart-healthy monounsaturated fats.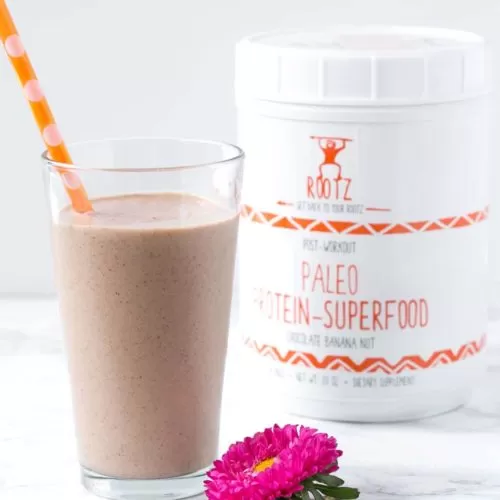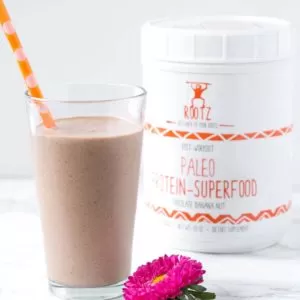 Chocolate Banana Smoothie
Ingredients
1/2

cup

milk substitute

unsweetened

1/2

cup

coconut water

2

Tablespoons

Rootz Paleo Protein Superfood

1

frozen banana

1

Date OR 1 tsp maple syrup

1

Tablespoons

raw cacao

1/2

teaspoon

vanilla

1

Tablespoon

walnuts

1/2

cup

ice

more if using fresh banana
Instructions
Place all ingredients into the blender in the order listed and secure lid.

All done! Enjoy!! Now take a photo, rate it, and share your accomplishments to enter our weekly photo contest! 🙂 Tag @BlenderBabes & #BlenderBabes
Nutrition
Serving:
16
oz
Calories:
310
kcal
Carbohydrates:
45
g
Protein:
12
g
Fat:
11
g
Saturated Fat:
1
g
Sodium:
291
mg
Potassium:
888
mg
Fiber:
10
g
Sugar:
23
g
Vitamin A:
75
IU
Vitamin C:
13.1
mg
Calcium:
190
mg
Iron:
2.9
mg
ROOTZ PROMO CODE
Blender Babes community members will receive a special 20% OFF discount on their first Rootz Nutrition purchase with our EXCLUSIVE Promo Code!
20% OFF PROMO CODE: BLENDERBABES
Image and video by Blender Babes photographer and videographer Jamie Lebowitz