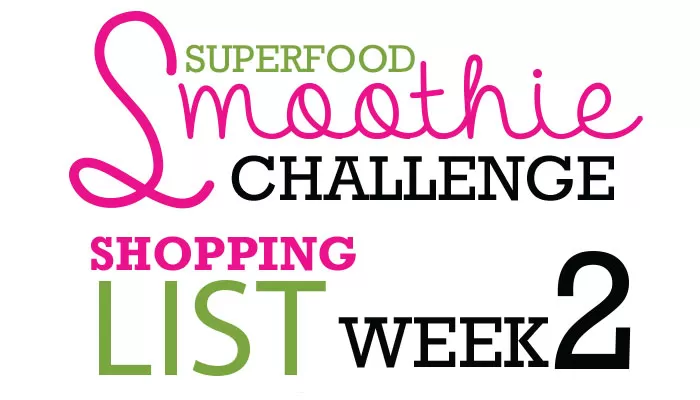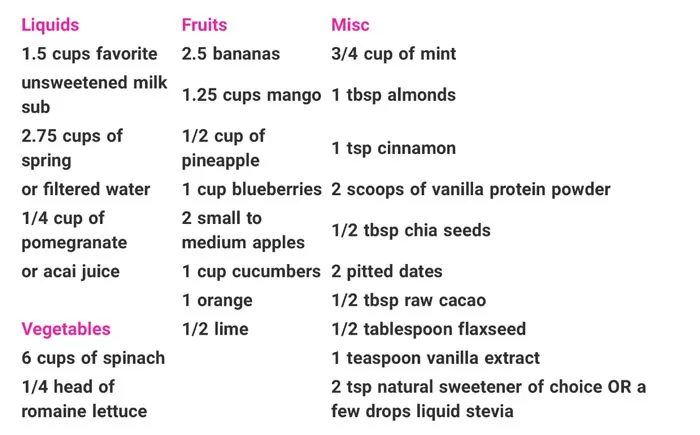 SUBSTITUTION IDEAS

Coconut water – more milk substitute
Yerba Mate – green or oolong tea or more milk subtitute
Banana – Mango or avocado
Peaches – Nectarines or plums
Avocado – Roasted (chilled) squash
Almond – Hemp, pumpkin or sunflower seeds
Mint – Peppermint extract or essential oil (food grade)
Chocolate Hazelnut Spread – Raw cacao + nut of choice
Rolled Oats – Cooked (chilled) quinoa or brown rice
Dates – Any natural sweetener (honey, maple syrup, stevia, coconut nectar, etc.)
Allergic to ? – If can't find a good substitution, just omit
WEEK 2 RECIPES
DAY 8: Blueberry Beginning Smoothie – We want to start this week off with this Blueberry Beginning Smoothie. Both sweet and refreshing, this smoothie is popular with everyone, and is low fat, high protein, and other nutrients!
DAY 9: Nutty Protein Chocolate Chia Protein Smoothie – A little chocolate never hurt anybody! This smoothie works especially well as a meal-replacement because of the high protein and nutritional content.
DAY 10: Oat Avocado Clear Skin Smoothie – Help your skin with the one two punch, with avocado and chia seeds, both of which give this drink an incredibly smooth texture.
DAY 11: The Pits Peach Cherry Smoothie – Another great breakfast smoothie, this one is full of healthy fats, which are wonderful for your metabolism! But seriously: this one is the cherry on top 🙂
DAY 12: Morning Mocha Smoothie with Yerba Mate Tea – Tired of chocolate? We didn't think so: it's a good thing too, because the raw cacao in this blend is excellent for brain function! One of the best things about the Morning Mocha is the calming effect of yerba mate tea, so sit back, relax, and revive yourself!
DAY 13: Banana Wild Blueberry Smoothie with Chia Seeds – Fill your wild self up with this WILD blueberry smoothie, which is sure to give you an energy boost, because of all the amazing antioxidants!
DAY 14: Today marks your second Solo Sunday! Stick to one of the second week recipes that you LOVE or try something totally new with what you have in your fridge from the second week.
By now, your body should be looking forward to a superfood smoothies and maybe even craving them, so tune in and listen to your body when you're making your Solo Sunday smoothie.
Are your smoothies not as smoooooooth as you would like? Interested in the the BEST DEALS on high powered blenders? All purchases come with Free Shipping + Free Gifts from Blender Babes! CLICK HERE to Learn More!