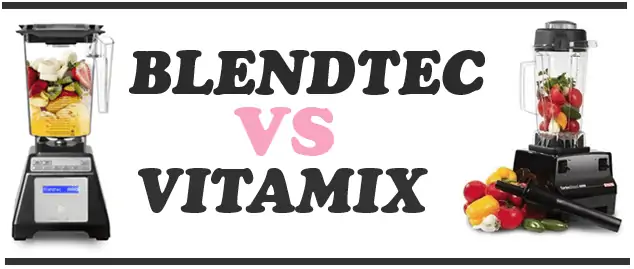 BLENDTEC VS VITAMIX HOW TO MAKE SOUP
HOW DO I MAKE HOT SOUP?
Both of these blenders make soup hot in the same way – FROM THE FRICTION OF THE BLADES!!!
We know… WHAT?! Hard to believe until you see it! 🙂
These high powered commercial blenders have powerful motors and when blending at their highest speed, Blendtec blade tips spin up to 310 miles per hour and Vitamix spins at about 250 miles per hour. The Blendtec motor is 13amps, 1560 Watts, and up to 3 peak horsepower. The Vitamix motor is less powerful with 11.5 amps, 1380 watts, and 2 peak horsepower (the newer Next Generation models have a 2.2 horsepower motor). When the powerful stainless steel blades spin this fast in such a SMALL SPACE, this causes enough friction to heat and even cook the contents. The same process is used to make fondues, syrups, and many other recipes that need to be heated – like this Caffeine Free Maca Mocha!
Psssst… The Blender Babes have worn activewear since 2013. But I still LOVE blending in my bathing suit!

BLENDER SOUP TYPES
There are two types of soup you can make in a Blendtec or Vitamix blender. One kind is to make the soup from start to finish entirely in the blender, such as our Tortilla Soup recipe. The other is to sauté or roast veggies first then either finish it off in the blender (such as this tasty Roasted Tomato Soup or Butternut Squash Soup) – or puree the veggies and broth in the blender and continue simmering in a pot.
To make soup entirely in either of these blenders you will start by adding all the necessary ingredients for your specific soup recipe. Then to make it hot from cold or room temperature liquid you will need to run the blender at its highest speed for several minutes. The longer you let the blender run the hotter the soup will become. You can literally reach almost boiling temperatures just from the friction off the blades! Both blenders have jars that are made from super tough and BPA free Eastman Tritan™ copolyester – which means it can stand boiling hot water – so you can start with hot water to make your soup, and you also don't have to wait for your cooked veggies and/or liquids to cool before pureeing. You will notice that soup instructions for a "regular" blender usually tell you to remove the inner plug and you must place and hold a towel over the hole to let steam escape and be careful not to burn yourself. Thanks to both of these well designed blenders, they have vents in their lids which will let the steam escape – so the lids won't go flying off, and you can do other things in your kitchen while these blenders handle their business. 🙂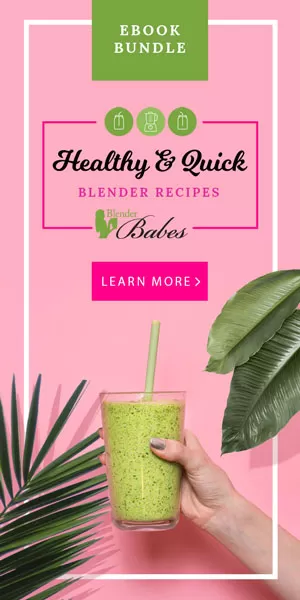 Oh and FYI – each blender can easily make a RAW soup such as this Chilled Mango Soup – just blend for 1 to 1.5 minutes and it should pulverize the ingredients but keep it under 112 degrees.

HOW TO MAKE SOUP IN A VITAMIX
There are 5 types of Vitamix models which you can purchase depending on what your needs are. All of them can make soup manually.
1) Start your blend on Variable Speed 1, slowly increasing to Variable Speed 10/HIGH
2) Blend for 5 to 6 minutes starting with cold/room temperature liquid (it takes about 1 -2 minutes starting with hot water or pureeing cooked ingredients)
3) Stop it when you see steam coming through the vents in the lid.
Recently Vitamix came out with a few models which offer automatic presets that include a SOUP setting, such as the Vitamix Standard with Programs (models 6300/500) and the Vitamix Next Generation with Programs (professional series 750 model) which are more expensive unless you get their corresponding refurbished options. This is nice because you can simply place it on the soup setting and it will shut off after 6 minutes. The automatic settings allow you to walk away from the machine or do other things in the kitchen without you having to worry about manually stopping it.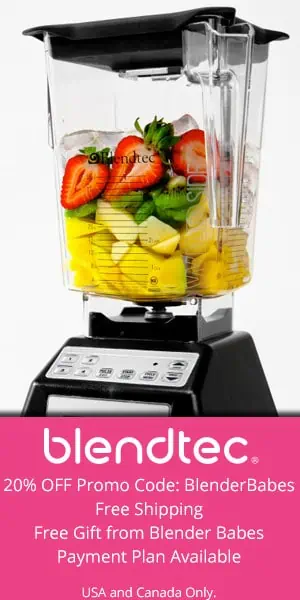 What's really nice about the Vitamix is the extremely secure gripper lid, when you snap it on – it stays on and won't go flying off – however when blending hot liquids or making hot soup, Blender Babes recommends not filling the jar too close to the rim (like you can with a raw soup or smoothie recipe), even though there's an extra couple of inches above the top of the jar. The Vitamix comes with a tamper so you can press everything into the blade, this helps if you overfill the jar, or don't add the ingredients in correctly. The best way to add the ingredients is liquid and soft stuff on the bottom and harder stuff on the top.

HOW TO MAKE SOUP IN A BLENDTEC
Most home Blendtec blender models have automatic settings, including a SOUP setting, which is the most powerful setting on the Blendtec – running for 1.5 minutes at the highest speed almost the entire time, which is equivalent to SPEED 10 or HIGH. There is no guess work involved – just place the ingredients into the jar (liquids first and harder stuff on top) secure the lid, and press the soup button.
1) Depending on whether your soup starts with cold water or liquid, or if you're blending/pureeing hot or cooked ingredients, you will press the SOUP button 2 to 3 times.
With the Blendtec, it is recommended by both Blendtec and Blender Babes to only fill your jar about 2/3 full. Otherwise if you fill it to the brim, as you blend and the blended liquid plus ingredients levels rise and become hot – your lid may come off and you'll have a soup mess all over your kitchen. We HAVE made this mistake before so we want to make sure users are aware of this! It's easy enough, just don't fill it to the brim. The vortex created by the square jar will pull the ingredients into the blade and pulverize them, and when running at this high speed for a long length of time, the friction caused by the blade will heat and cook your soup.
HOW DO I MAKE A CHUNKY SOUP?
You are not stuck with only liquid/pureed soups, both Vitamix and Blendtec are able to make a "chunky" soup.
1) Once your soup is blended (raw or hot), you will add additional ingredients into your jar (larger pieces but not whole).
2) For all Blendtec models, you will press the PULSE feature several times to lightly chop the ingredients to your desired consistency.
3) For Vitamix you will also chop your additional ingredients and, depending on your model you can either use the PULSE feature (the Vitamix 6300/500 and Vitamix 750 have a pulse feature but the older/standard Vitamix models do not) OR with the blender off you will place it on the HIGHEST setting, then quickly turn the blender ON and OFF several times to chop to your desired consistency.
SO WHICH BLENDER IS BETTER? Blendtec or Vitamix??
Both blenders make hot soup the same way, although we have found that the Blendtec is faster for heating up soup. Starting with cold/room temperature liquid it only takes 3 to 4 minutes to heat up a soup to steaming in a Blendtec blender where as in a Vitamix blender it take around 5 to 6 minutes. The reason for this being that the Blendtec has a more powerful motor than the Vitamix. That said, both blenders are able to EASILY make all types of soups, either 100% completely in the blender or more easily pureeing cooked ingredients before requiring a longer simmer.
FINAL THOUGHS
Making fresh homemade soups at home is a nutritious and filling way to cut back on processed foods, especially canned soups which are high in sodium. Many of our community members have replaced one meal per day with either a green smoothie or a soup recipe, and have reported weight loss, more energy, and better health by doing so. This one habit is a great way add more vegetables to you and your family's diets, and Blendtec or Vitamix blenders can both make soups quickly and more easily than a regular blender!! They can HEAT as well as pulverize large uncooked vegetables, and create rich soups with tons of flavor. We have many different types of soup recipes (vegan, vegetarian, raw, low sodium, etc.) so make sure to subscribe! If you have any questions just leave a comment and we will do our best to answer it.
Additional Questions
We're Here to Help. If you still have questions, please let us know in the Comments Section Below or Contact Us! 🙂
And as always, Happy Blending!
Why Purchase Through Blender Babes

Blender Babes is proud to be an affiliate of Vitamix and Blendtec blenders. Your blender purchase made using the links from our website and Vitamix Promo Code 06-007974 or Blendtec Promo Code BBGIFT gives you free shipping AND Exclusive FREE GIFTS* from Blender Babes! It's how we keep our content free and we are so grateful for your support! ♥

*You must forward your purchase confirmation email from the manufacturer to freegift@blenderbabes.com to redeem our free gifts offer.